D&Ri In Action section, January-February 2021 issue
By Steve Ducker08 April 2021
Japanese waste project a big job for MB Crusher
A mobile unit from Italian manufacturer MB Crusher has played an important role on a demolition project in the centre of a large city in Japan, where the goal was to tear down a 16-floor reinforced concrete building that was surrounded by other properties.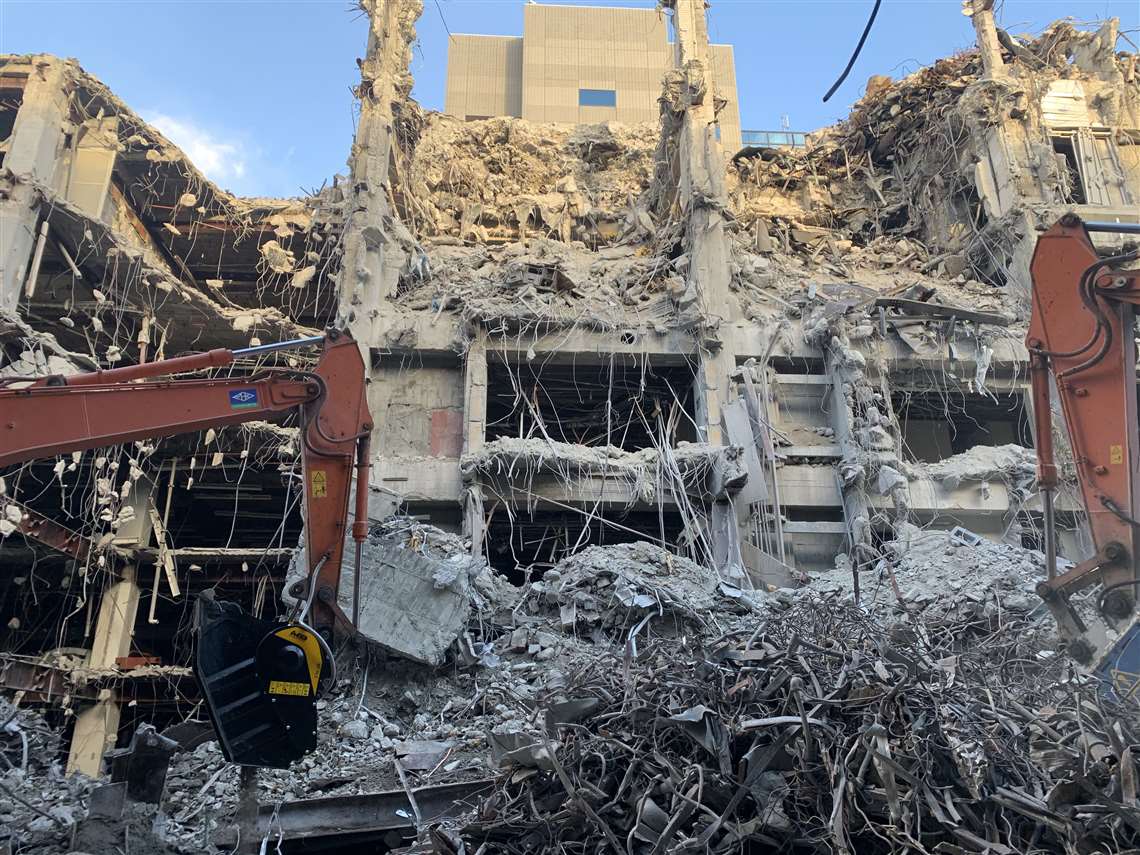 MB Crusher said that compact and agile machines were required to work on the roof of the building to demolish it one floor at a time. The demolition waste was then put down a hole opened in the centre of the building, to protect the surrounding area.
The solution was a BF70.2 MB mobile crusher that processed reinforced concrete in a narrow space. Because of its size, it was possible to lift the crusher bucket to the 16th floor with a crane.
According to MB Crusher, the result was a saving in material hauling time as well as a significant reduction in dust and sound emissions.
Epiroc helps with school takedown
Demolition and decommissioning specialist Ottl Abbruch & Rückbau (OA&R) has dismantled an old school building in Taufkirchen in southern Germany with the help of attachment specialist Epiroc.
The 1970s buildings, which were made up of a reinforced concrete skeleton with masonry infill, was demolished to make way for a new building.OA&R undertook the works over a period of nine months, during which time it selectively demolished more than 27,000 cu m (953,000 cu ft) of material.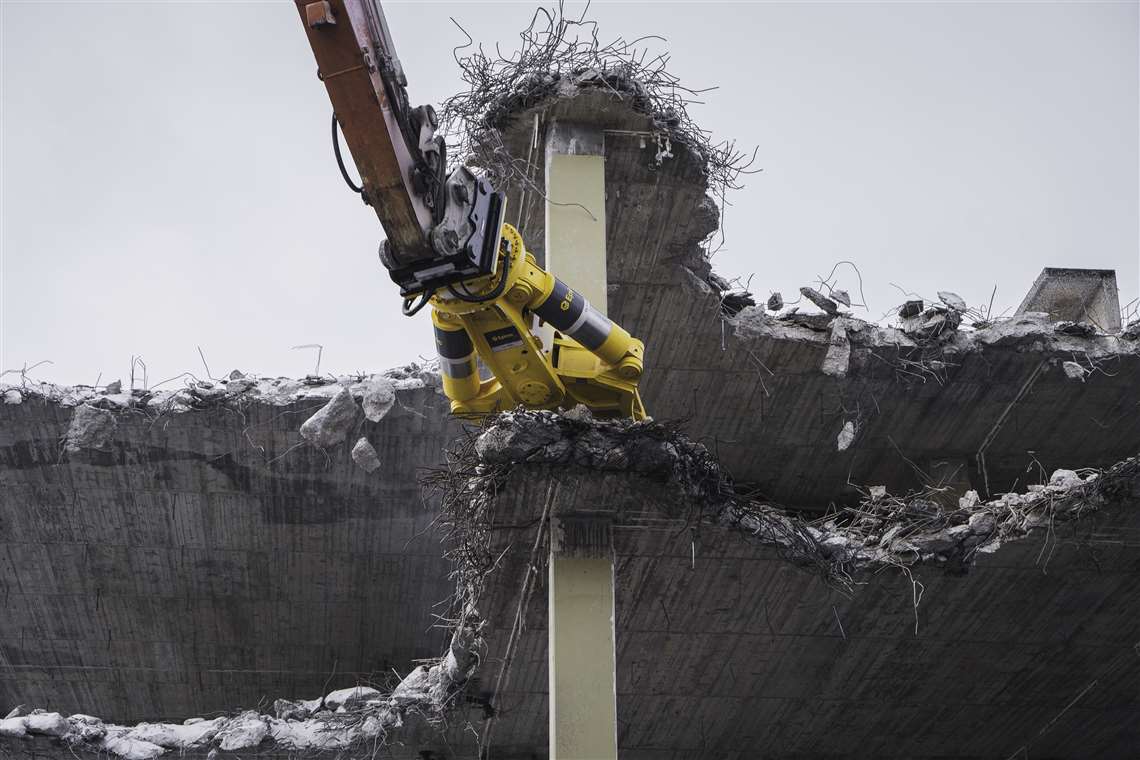 Due to the school's residential location, low-noise and vibration equipment was needed to complete the project. According to Epiroc, this prompted OA&R to use the CC 3700 cutter. It was the first time the company had used the model and Herbert Schiefer, the technical manager at OA&R, said: "That was exactly the right decision. The concrete had no chance against the CC 3700".
While the company used a Hitachi ZX800 long-front excavator with an Epiroc CC 3700 cutter attachment to take down the 18 m (59 ft) high main school building, the flat roof of the school's gymnasium required different equipment.
OA&R, which used a range of Epiroc attachments including multi-grapples and hydraulic breakers on the project, dismantled the gymnasium with an Epiroc CC 2500 combi cutter mounted on a tracked Hitachi ZX300 excavator and a Cat 336 excavator equipped with a CC 3300 cutter.
McCusker Demolition buys first Bobcats
Northern Ireland-based company McCusker Demolition has purchased its first Bobcat machines. The company, which operates across the whole of the United Kingdom and the Republic of Ireland, added a Bobcat E62 mini-excavator and an 18 m (59 ft) Bobcat T40.180SLP telehandler to its fleet.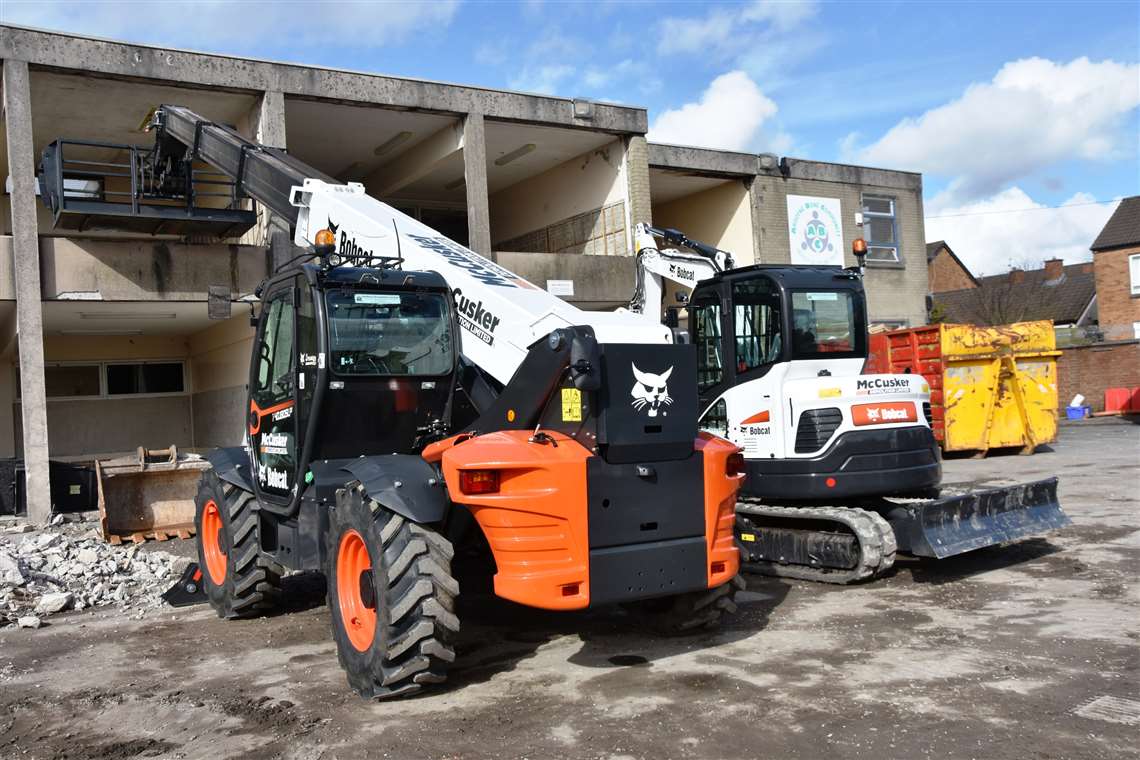 Conor McCusker, contracts manager at McCusker Demolition, said: "While the company had no experience of the Bobcat brand, some of our operators have worked with the machines in the past and, in part, it was their recommendation that influenced our decision to invest in them."
When it came to choosing a mini-excavator for demolition works on sites with limited space, McCusker decided on Bobcat's 6 t E62 mini-excavator, which features a maximum ground level reach of 6.1 m (20 ft) and digging depth of 3.83 m (12 ft).
The E62, which is a predecessor to the manufacturer's new R2-Series E60 model, is currently in operation at a church in Belfast.
Conor said: "What initially appealed to us about the 6 t E62 excavator was its compact size and its zero tail-swing which make it perfect for working on sites that are restricted or are difficult to access with a larger machine."
The company's new telehandler – one of 13 rigid frame telehandler models available from Bobcat – has an 18 m lift height and a lift capacity of 4 t. It is currently being used on the Brookfield Mill site in Belfast. The four-storey mill was built in 1850 as a linen factory and is now being converted for residential use.
Tyrolit's major role at Quay 66
Wire saws from Austrian manufacturer Tyrolit have played a major role in the demolition process ahead of the construction of a new Quay 66 at Bremerhaven port area in Germany.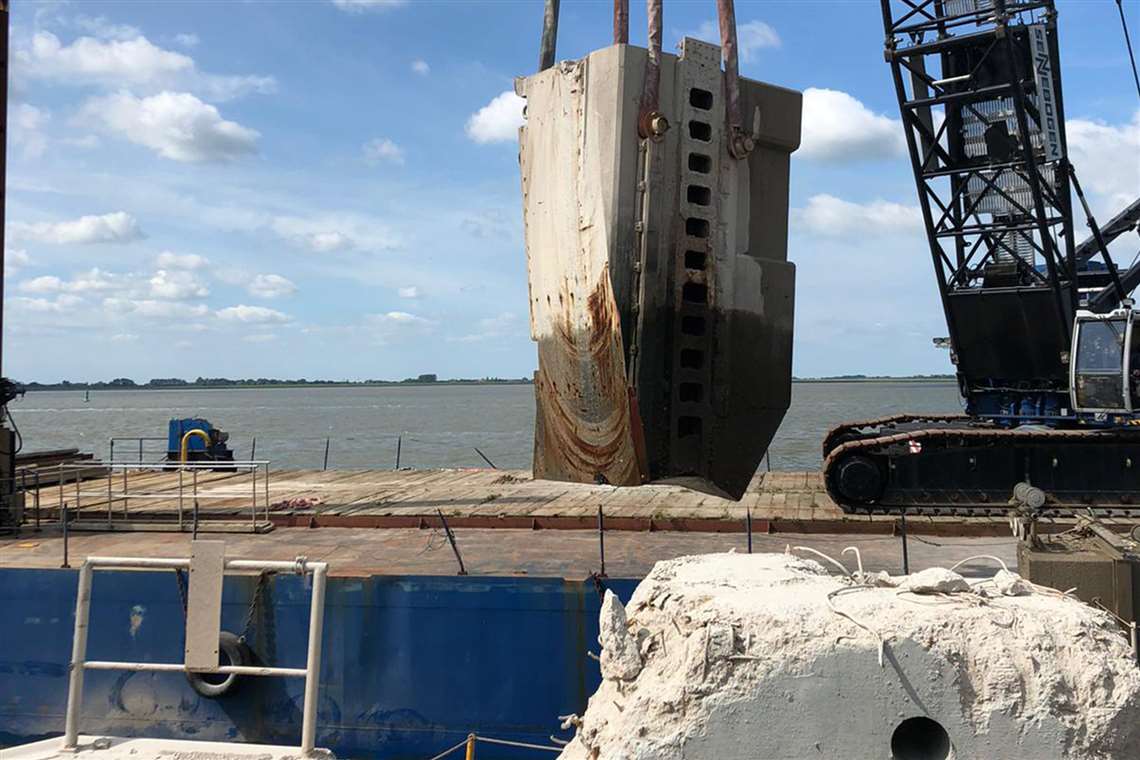 The original quay was built in the 1960s and suffered considerable damage over the years, so in early 2020 it was decided to build a new one and demolish the old quay to ensure safe shipping traffic.
Bidding consortium TAGU Tiefbau, Unterweser and Ed Züblin, together with Diamant-Technik Sanitz under managing director Frank Weu, developed a concept that included breaking up the quay using a wire saw and removing the individual parts by a crane on a floating pontoon.
With available working areas restricted to a width of 1.4 to 1.9 m (4 ft 7 in to 6 ft 3 in), the consortium decided to plan this project together with the support of Tyrolit.
In the summer of 2020, around 130 sq m (1,400 sq ft) of reinforced concrete was cut and more than 1,000 t of reinforced concrete was removed. Vertical wire saw cuts with individual areas of up to 11.4 sq m (122 sq ft) were carried out. The concrete parts, with individual weights between 26 and 87 t, were excavated via drilling holes. Tyrolit said work was made more difficult by the high demands on occupational safety and the temporary use of the floating pontoon due to the lock traffic.
However, the project was completed nine days ahead of schedule.
Saudi contract for Kiverco
United Kingdom-based manufacturer Kiverco has won a multi-million-pound contract to design, build and install a waste recycling plant in Saudi Arabia.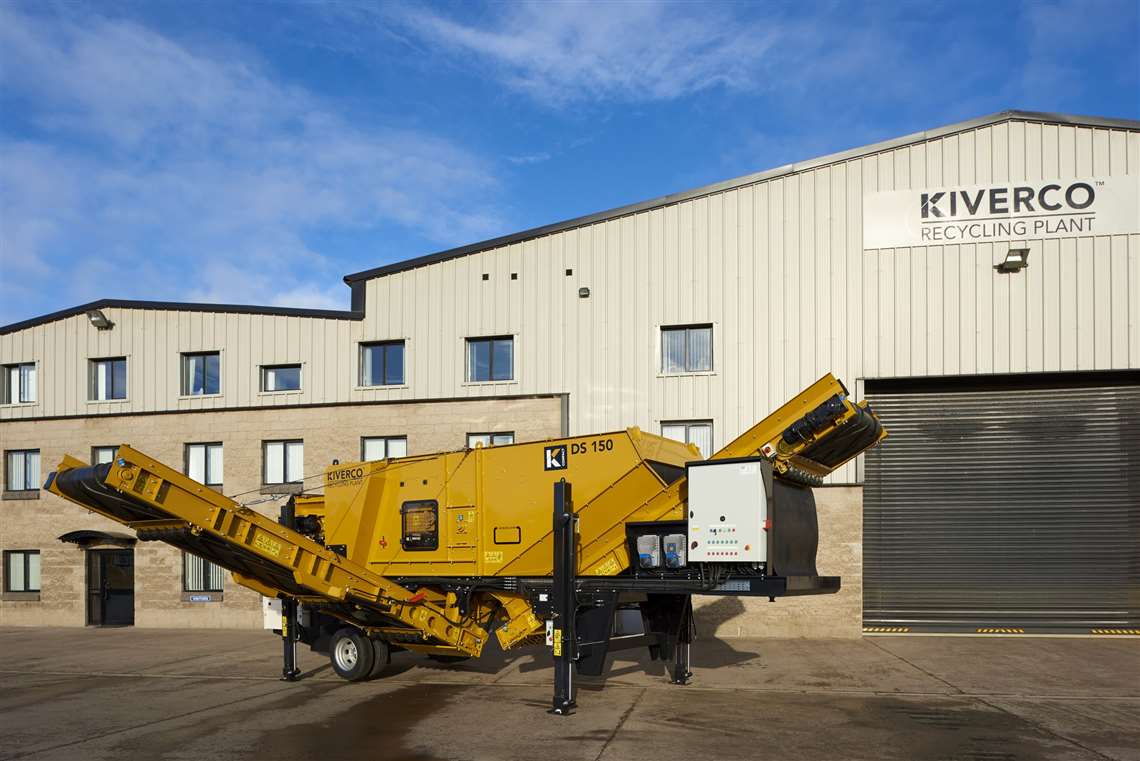 The company, headquartered in Northern Ireland, will build the plant at waste management firm Averda's new waste processing facility.
The plant will process over 150,000 t of material a year including concrete, sand, soil, wood, metals, cables, plastic bottles, film and cardboard. The materials will be recycled into new products.
Kiverco's new plant will primarily help recycle the construction waste generated by the Red Sea Project – a new tourism development in Saudi Arabia.
Kiverco won the project after several visits to the site in 2019. Gabriel O'Keefe, Kiverco export manager for the Middle East region, said: "We are delighted to be selected by Averda to design, manufacture and install this recycling solution and honoured to be associated with the Red Sea Development Project."
Electric Volvos arrive in Norway
Two Norwegian companies have become the first in the country to take delivery of Volvo Construction Equipment's new compact electric machines.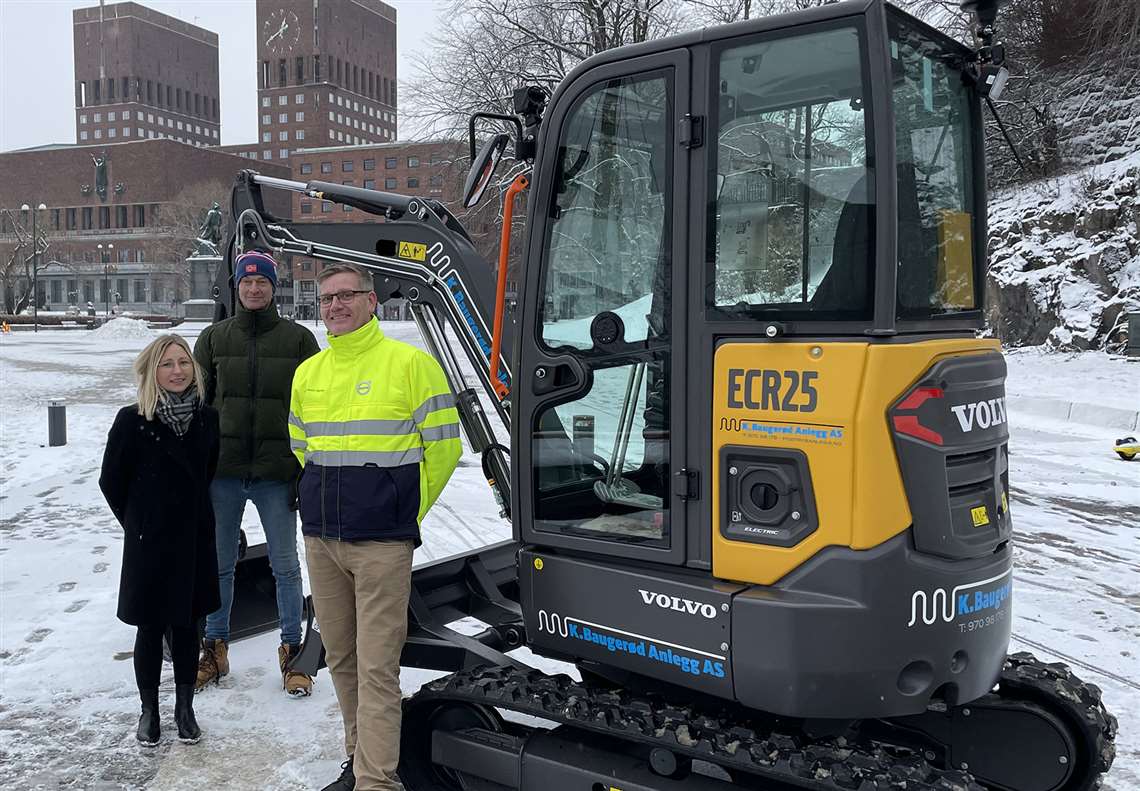 Construction firms K Baugerød Anlegg and Veidekke, which were also among the first in the world to place orders for the models at Bauma Germany in 2019, respectively took delivery of the ECR25 electric excavator and the L25 electric wheeled loader models.
The compact machines were recently given to both companies by local dealer Volvo Maskin at a socially distanced handover event.
Are Ellefsrud, machine manager at Veidekke added: "We are proud to be among the first construction companies in Norway to operate a Volvo electric machine and demonstrate to our customers and wider society that we take our role in caring for the environment and combatting climate change very seriously."
Designed for work urban environments, Volvo's 2.7 t ECR25 electric excavator and 5 t L25 electric loader are said to provide quieter operation with zero emissions. While Veidekke has plans to use its L25 Electric loader on a project for the Norwegian Public Roads Administration, K Baugerød Anlegg's new ER25 excavator will be used on its cable and pipeline construction projects in Oslo.
Sara Iselin Nysveen Bakke, general manager at K Baugerød Anlegg, said: "Our clients need more environmentally friendly solutions, and we want to be at the forefront."
NEWSLETTER
Delivered directly to your inbox, Demolition & Recycling International Newsletter features the pick of the breaking news stories, product launches, show reports and more from KHL's world-class editorial team.
CONNECT WITH THE TEAM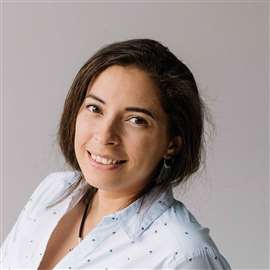 Leila Steed
Editor, Demolition & Recycling International
Tel: +44(0) 1892 786 261
E-mail: leila.steed@khl.com
CONNECT WITH SOCIAL MEDIA