Electric mini excavators: the latest models
By KHL editorial staff03 January 2023
Mini-excavator developments have featured throughout 2022, with Bobcat and Doosan amongst the busiest manufacturer brands.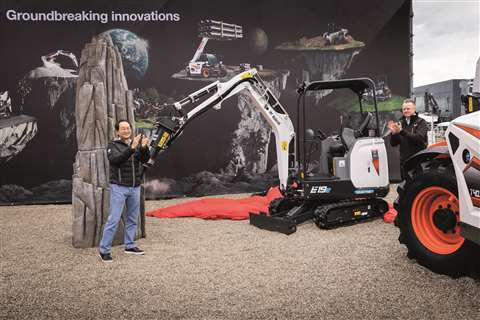 During the recent Bauma exhibition in Munich, Germany, Bobcat introduced a 2 t mini excavator to its range of electrically powered machines.
The E19e is an electric version of Bobcat's E19 internal-combustion (IC) model, which the company says offers zero emissions, low-noise operation and comparable levels of performance to its diesel-powered counterpart.
The new machine was unveiled during a special launch event at the manufacturer's stand on the opening day of Bauma 2022.
Scott Park, Doosan Bobcat CEO, said: "With the introduction of the E19e, Bobcat has expanded its larger-size electric line-up of zero emission and quiet machines that can match the excellent performance of our conventional models.
"This unit will build on the success of our smaller E10e, the world's first electric mini excavator launched during Bauma 2019.
"Our team is proud of its contributions to this segment to date, and we will continue to invest in research and development to further accelerate this important trend."
E19e electric mini excavator
The Bobcat E19e features the same profile, external dimensions and comparable performance as the popular E19 mini excavator, more than 10,000 of which have been sold worldwide.
It features a 3.5-hour battery capacity and can be recharged quickly using a super-fast charger.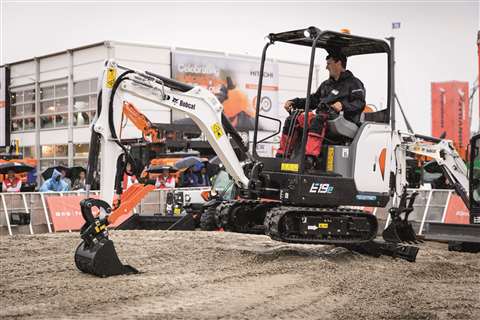 According to Bobcat, this means that by topping up the power during work breaks, the machine can be used all day for most typical applications.
Thanks to the model's ergonomic design, its battery capacity and service codes are clearly displayed, making planning simple.
The E19e is also versatile, with a wide array of compatible attachments available.
After years of research and development involved in its creation, the E19e uses components from the smaller E10e, its premium battery features technology equivalent to that employed by the world's leading electric automakers.
The E19e is powered by a 17.3 kWh battery, which is larger than the E10e's 11.5 kWh power source. It also produces very low noise levels on site, with an LpA (operator noise) of only 70 dBA, 9 dBA less than the diesel-powered E19.
The model's electrical system and components have also been optimised for work in harsh environments.
Miroslav Konas, mini-excavator product manager, Doosan Bobcat EMEA, added: "The E19e electric mini-excavator combines a safe, nearly silent, zero-emission design with the E19's suitability for working in confined spaces.
"As a result, it is the ideal machine for applications such as indoor and outdoor demolition."
Stage V compliant excavator
In a further development, Bobcat has extended the company's R2-Series of mini-excavators with the launch of the new E88 8 t Stage V compliant model, replacing the previous E85 M-Series machine.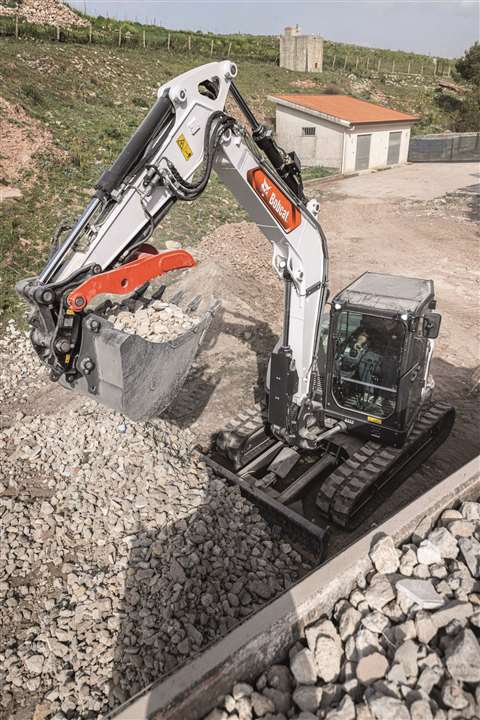 The company says the E88 provides the operator with the full experience expected of an R2-Series excavator, adding new features and options such as an optional fourth AUX4 auxiliary tilt coupler line, a fifth AUX5 hydraulic coupler line as standard and a longer undercarriage.
The D24 Stage V 4-cylinder engine offers a maximum power output of 48.5 kW (65 HP). To meet Stage V emission levels, the engine uses diesel oxidation catalyst (DOC) and a diesel particulate filter (DPF), replacing selective catalytic reduction, to achieve maximum reliability, efficiency and environmental protection.
The R2-Series E88 is designed as a balanced machine in performance, compactness and stability. The rear overhang is only 327 mm (13 in) without an add-on counterweight, allowing the machine to be used in confined space areas.
The design is said to reduce the risk of downtime, with the heavy-duty steel side channels and the counterweight acting as a bumper to protect essential components, as well as all the hoses, pipes, valves, lights, and other sensitive components that are important for excavator functions.
One of the first companies to use the new equipment is United Kingdom-based Hall Bros, based in Essex in the south east of England.
The company specialises in contract construction within the private and public sectors and already had a Bobcat E17z mini excavator with height and slew restriction safety systems within its fleet.
Indoor construction machinery
Doosan used the Bauma trade fair to show the new DX20ZE 2 t electric mini excavator. Due for full launch next year, the DX20ZE will be the first mass-produced electric excavator to be manufactured by Doosan.
At 950 mm (37 in) wide, it can pass through narrow passages and entrances or exits, making it suitable for working in confined space indoor applications such as demolition and basement construction.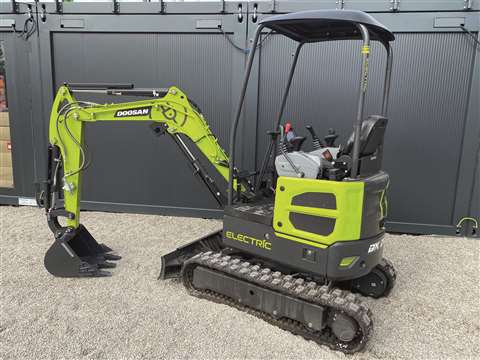 It is also being promoted as a solution for construction and rental companies operating in sensitive areas where low noise or night-time work is necessary.
As well as indoor projects, these include city centre developments and contracts in low noise areas such as hospitals, cemeteries and schools.
The DX20ZE is driven by an in-house developed 20 kWh Lithium ion battery pack, with all of the electrical system and components on the machine optimised for work in harsh environments.
A quick-charger system restores 80% of the battery power after only one hour of charging, whilst the on-board charger restores the maximum charge after six hours of charging.
Albert Roh, product director, Doosan Infracore Europe, said: "The DX20ZE is designed to meet a growing demand for electric machines."
Equipment for confined sites
Earlier, the company introduced the first of its next generation mini-excavator range, comprising the DX27Z-7, DX352-7, DX502-7 and DX55R-7 machines ranging from 2.8 to 5.7 t.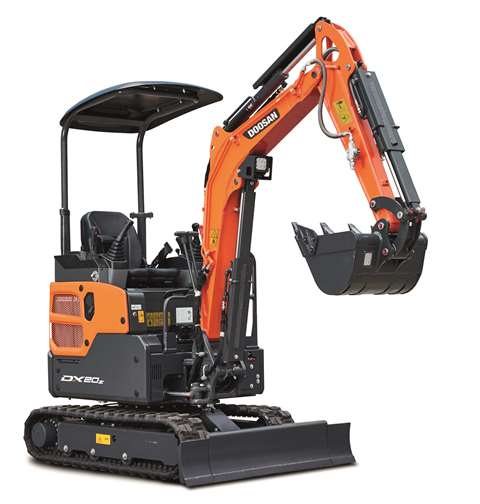 All the products feature newly designed cast counterweights to ensure balance and stability when working.
In the DX27Z-7 and DX35Z-7, long arm options are available for both models with 60 and 100 kg (132 and 220 kg) additional counterweights included, respectively.
An additional 200 kg (440 kg) bolt-mounted counterweight option is available for the DX55R-7. The range was then extended with the launch of the 2t class DX20Z-7 model.
Also offering a solution for confined space and indoor job sites, it has zero tail swing design and a detachable canopy for low height entrance.
The optimised hydraulic system in the DX20Z-7 mini-excavator uses the engine power available from the Yanmar 3TNV70 three-cylinder Stage V diesel engine providing an output of 10.3 kW (13.8 hp) at 2,200 rpm.
This results in fast cycle times combined with smooth control of breakout forces, which include a digging force over the bucket (ISO) of 1.55 t.
Article originally published in the November-December 2022 issue of Demolition & Recycling International
The mini excavator market – a Doosan Bobcat view
Robert Husar, mini excavator product line director at Doosan Bobcat EMEA, talks to D&Ri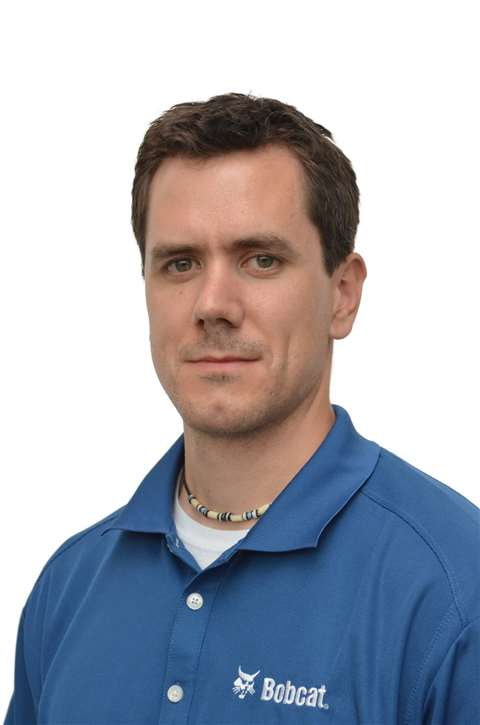 The mini excavator market in EMEA (Europe, the Middle East and Africa) is the largest compact equipment market with more than 100,000 units. We consider it very important today, and also for our growth in the future.
Recently, the key market driver has been Stage V engine emissions, which required a significant amount of engineering resources. From the customer perspective, there are different requirements, depending on the region and type of customer, but in general, the focus is on operator comfort and safe machine operation. 
We consider our customer as the centrepiece of our product development approach. A structured VOC (Voice of Customer) research is used to identify gaps and opportunities for new product development. With our engineering teams in North America and Europe, we have developed a global platforms approach, that enables us to use global design with regional customization capability.
The market has recovered from the impact of Covid, with the strongest and largest market in recent years being the United Kingdom, France and Germany. Eastern Europe has also experienced significant year-on-year market growth.
In terms of how the market will progress in the future, we see opportunities with zero emission concepts in certain applications. However, wider adoption, in the short term, will continue to be driven by changes in regulations.
NEWSLETTER
Delivered directly to your inbox, Demolition & Recycling International Newsletter features the pick of the breaking news stories, product launches, show reports and more from KHL's world-class editorial team.
CONNECT WITH THE TEAM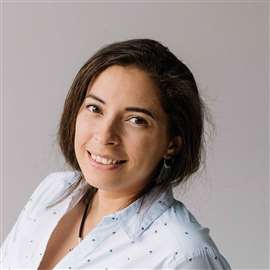 Leila Steed
Editor, Demolition & Recycling International
Tel: +44(0) 1892 786 261
E-mail: leila.steed@khl.com
CONNECT WITH SOCIAL MEDIA