New generation of excavators marks boom time
D&Ri discovers that a potentially groundbreaking boom change system from Komatsu and a range of new mini excavators from Caterpillar are among the latest product developments. 
A key individual behind Komatsu Europe's new PC490-11 K100 boom change system claims that it offers customers the chance to "look again at how they are doing demolition work".
Simon Saunders is the company's working gear product manager, based at Komatsu's plant near Newcastle upon Tyne in the north east of England, where the PC490 excavator was developed.
It was launched at a virtual event and builds on the previous boom change system dating back to 2003 by introducing several new features, which includes the significant fact that the speed at which the boom can be changed.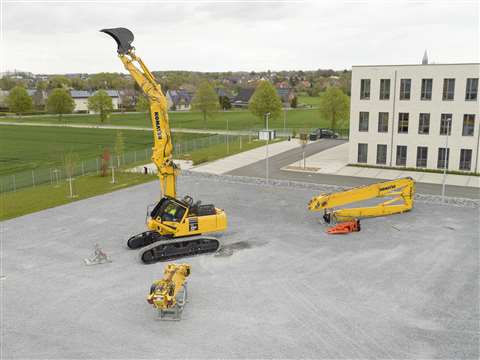 Saunders explained, "The K100 really reflects that there quite a few '100s' associated with the system. We have timed it, and in ideal conditions I believe you can change the configuration of the machine in around 100 seconds. It is also 100% developed by Komatsu in-house.
"The operator can change the boom configuration 100% by himself, and 100% from within the cab. The system itself allows the operator, realistically, to be able to change the configuration of a machine during a project.
"We expect customers to have the opportunity to really look again at how they are doing demolition work. For example, if they use the high reach equipment on the taller parts of the building, for the heavier sections they can easily drop off the high reach equipment and pick up the shorter equipment.
"This will bring a very heavy and powerful demolition tool to bear, and the work will be done more quickly. And if they can use the same machine to load the trucks to take the materials away, then perhaps they could even save an additional machine being on the jobsite.
Importance of human machine interface (HMI)
"We think that is the most important benefit of the machine. But some of the most important components are the HMI, the human machine interface in the operator cab, which is really where the operator controls the whole system from.
"That interacts with an ISO-compliant safety controller, which makes sure that the machine condition is understood at all steps of the process and that the machine always behaves in a predictable way."
The K100 offers a maximum height of 17.4m (57ft) in a straight position with a 5,000kg (11,023lb) attachment, or 14.6m (47ft) cranked.
The maximum height in high reach mode is 28m (91ft) with a 3,350kg (7,385lb) attachment, while the extended high reach option is 32m or 104ft (attachment 2,500kg or 5,511lb). Operating weight is 75,830kg (167,176lb).
Caterpillar (CAT) has introduced four mini excavators, which includes the C308 CR Fixed Boom for demolition applications.
The 308 CR Fixed Boom weighs 8 tonnes, with the other three models ranging from 2.7 t to 3.5 t. All are built on Cat's Next Generation platform of machines from 1 t  to 10 t, with the first of them available in Europe from September.
The machines were unveiled in a virtual launch from Cat's British-based facility in Leicester. The C302.7 CR replaces the C302.7 D, with the C303 CR and C303.5 CR occupying the place of the C303 E CR and C303.5 E2 CR. The CR branding denotes compact radius machines.

CAT said all three of these products offer a 10% improvement in performance together with up to 5% lower total cost of ownership, while "industry first" features include the CAT Stick Steer System to simplify machine control, choice between canopy or cab enclosure as well as interchangeable counterweight packages.
Described as providing 20% more vertical wall digging depth compared to the C308 CR Swing Boom, the Fixed Boom product is being introduced to Europe after successful operation in Japan.
CAT's Alex Macdonald, product specialist for mini hydraulic excavators (now BCP industry technical representative - Western Canada) and small track type tractors (EAME), and marketing manager Nate Tranmer hosted the event.
Macdonald said, "It offers maximum performance and power for a range of applications, and the cab is identical to other models in the C306 CR to C310 range. It is a good foot in the door for demolition with its portfolio of tools.
"For the C303 CR, rental is a big point. We have designed a lot of parts commonality to make things easier for rental companies. The flat steel panels on the product makes repairs a lot easier, and we can simplify the display so they only have to set it once."
The C302.7 CR and C303 CR models feature the CAT C1.1 turbo engine, with the larger models powered by the Cat C1.7 enging. Both engines meet EU Stage V emissions standards.
New generation of excavator design and performance
Kobelco Construction Machinery Europe introduced two new excavators in the 50 t class, expanding its product range. The Stage V compliant SK500LC-11 and SK530LC-11 crawlers are both fitted with turbocharged 13-litre Hino engines.
The engine model incorporates a repositioned radiator and cooling system, as well as a fan belt equipped with an auto-tensioner for reduced maintenance.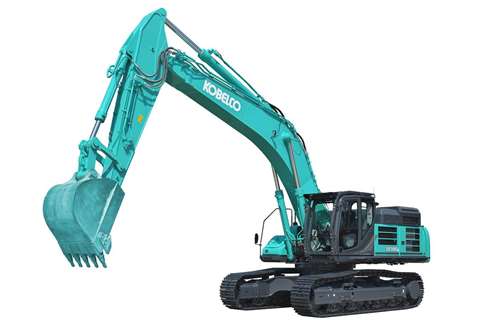 Peter Stuijt, product manager at Kobelco Construction Machinery Europe, stated, "The SK500LC-11 and SK530LC-11 represent a new generation in excavator performance and design.
"Years of research, coupled with feedback from our customers, has resulted in the development of new breed of heavy machines that excel in performance comfort and operability."
Click here to listen to an extended interview with Peter Stuijt about Kobelco's new excavator range
The SK500LC-11 and SK530LC-11 models are available with either a standard or three-arm boom variation, or as a Mass Excavation model with a short boom and short arm.
While both machines provide high hydraulic pressure for greater lifting power at close radius, the SK500LC-11 is also described as offering 6.2% high productivity, 5.4% lower fuel consumption and a 5.1% shorter cycle time than its SK500LC-10 predecessor model.
The Japanese manufacturer, which has its European headquarters in the Netherlands, said that while its SK500LC-11 is designed for general construction applications, the larger SK530-11 model is also suitable for quarrying activities. It has an operating weight of 53 t and an adjustable undercarriage allows its track gauge to be extended up to 2.89m (9ft 6in) for greater stability.
Both machines are based on Kobelco's Performance X Design concept and are fitted with a newly designed cabin, with three standard cameras on the exterior that offer users customisable views of the machine.
To help combat operator fatigue, the seat, armrests and hydraulic controls can all be moved to create a more "ergonomic workspace". The air-conditioned cab includes a 10-inch colour monitor that can be used even when operators are wearing gloves. The display screen offers operators access to machine information such as fuel consumption, maintenance intervals and digging mode. It also allows them to set attachments modes.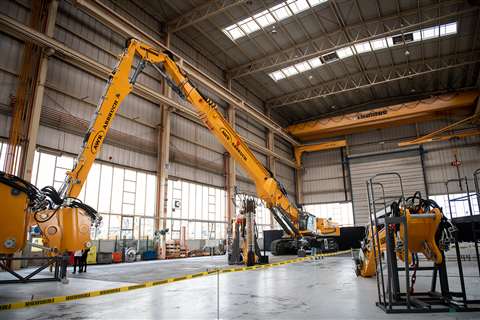 Pandemic caused delay of demolition excavator delivery
Liebherr France supplied its largest ever demolition excavator in early 2021 with the R980 Demolition machine delivered to specialist contractor AWR Abbruch, a German customer.
Philippe Boehrer, the excavator solutions manager, said, "We had a request from AWR because the machine they already had and loved was too small to do the job they wanted at the height and with the tool weight required. We did our best to produce the machine they needed and that would fulfil the request.
"We received the order in June 2018, so it took about two and a half years for our technical office to design the product and the factory to make it. Covid-19 did not help us, and we had some delays because the factory was closed."
One notable feature of the handover to AWR was that it took place in person and in the presence of a government minister.
Boehrer added, "The visit was to meet our apprentices, who will produce the R980s of the future. It is good to have that connection between the product and the factory, and it was good to do the handover at the same time.
"I think the market is already stable and despite the Covid pandemic, we sold around the same number of high-reach machines last year as we did in 2019. I would say that this year we will have at least 20 to 25, which is a little more than 2020."
Interest in the R980 Demolition excavator has already developed in other parts of Europe since handing over to AWR, with sales to a Dutch contractor and into Denmark.
Philippe concluded, "When the customer sees that there is actual machine, it is easier to make a decision than when it is on paper as a drawing." 
NEWSLETTER
Delivered directly to your inbox, Demolition & Recycling International Newsletter features the pick of the breaking news stories, product launches, show reports and more from KHL's world-class editorial team.
CONNECT WITH THE TEAM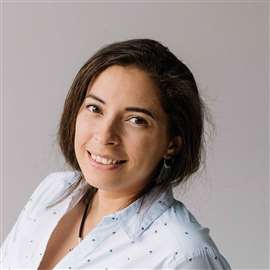 Leila Steed
Editor, Demolition & Recycling International
Tel: +44(0) 1892 786 261
E-mail: leila.steed@khl.com
CONNECT WITH SOCIAL MEDIA