Dust suppression – Suppressed is best
By Steve Ducker11 January 2021
As effective dust control continues to gain priority across a range of industries, a new equipment design has been engineered to deliver effective particle suppression for new and existing applications.
With a throw of 30 m (100 ft), the adjustable elevation angle and user-defined oscillation allow precise aiming of a powerful dust capturing mist, which comprises millions of droplets per minute in the range of 50-200 microns.
Self-contained design from BossTek 
The DustBoss Atom from BossTek is a fanless, self-contained design that incorporates remote control and 4G LTE telematics technologies as standard equipment. The compact, diesel powered unit fits in the back of a pickup truck, so it can be quickly positioned and relocated to address dust-generating activity directly at the source. It also has forklift pockets on the front and back.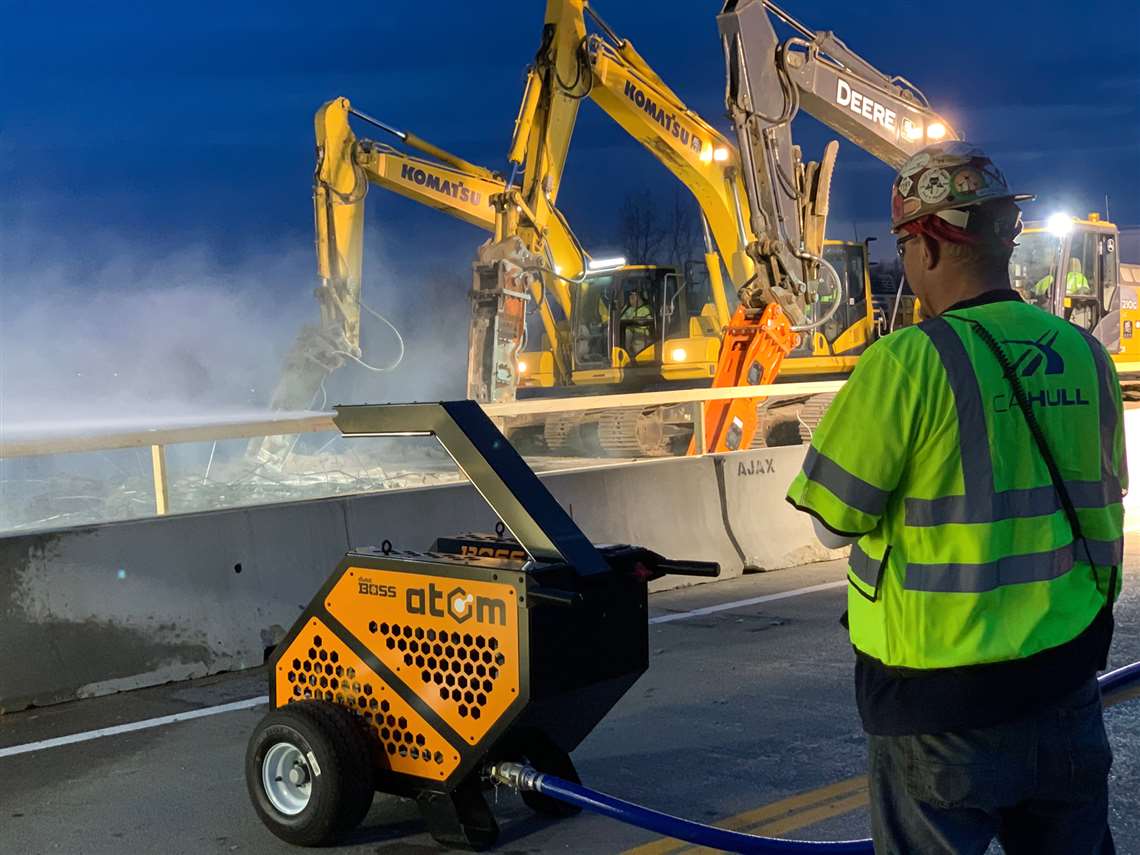 "After more than 15 years of designing purpose-built dust suppression equipment in a variety of sizes and styles, we found that some companies expressed a desired for a smaller, more manoeuvrable unit with a lower price point," said BossTek sales manager Mike Lewis.
"This machine is well suited to demolition projects, recycling operations, transfer stations, bulk material processing, ports or shipping applications, quarrying or crushing, biomass handling, concrete curing and even indoor operations where significant air movement may be undesirable."
The Atom features a Kohler KD440 power plant – a 9.1 hp air-cooled engine that meets Tier IV Final emissions standards and complies with California Air Resource Board requirements. The air filtration system increases performance and lengthens service intervals, even in dusty environments.
Its integrated fuel injection system andoverhead cam design are coupled with a cast iron cylinder liner for what the company describe as consistent service.
The engine and pump subassembly are secured by four isolation mounts that minimise vibration transfer to the frame. The high-impact stainless steel nozzle features a quick disconnect for easy replacement.
Two spray options with Motofog MFJ10
Since its incorporation in 2015, CJ Charlton Group has specialised in small to medium sized demolition jobs. Chris Charlton has used his extensive on-site experience to offer a well-planned and professional service securing repeat business with a selection of high-end housing developers in the south east of England.
Chris has built a reputation for being conscious of the environment, including dust.
And he has recently invested in a Motofog MFJ10 dust suppression unit, supplied by Inmalo.
The Motofog can come fitted with either a petrol engine or 110V electric motor, taking water from a direct feed, hose pipe or similar, or it will also draw water from a tank if needed.
Chris Charlton decided to invest in the Motofog MFJ10 because: "We opted for the Motofog as we found having the two spray options very versatile in a smaller unit. It is compact enough to fit into our vans to be transported from site to site and it has enough power to deal with the dust from most of our jobs.
"It also eliminated the need to have power on site or the need for a generator."
All MFJ10 units have two nozzles, one providing a directed spray and the other a more widely dispersed mist.
The size of a small wheelbarrow, and weighing 67 kg (148 lb) Inmalo says the MFJ10 can be moved easily by one person.
Charles Polak of Inmalo said: "The MFJ10 is often under-rated, due to its perceived size, yet its flexibility on site still packs a punch for most small to medium demolition jobs, such as the CJ Charlton site."
The Motofog range also includes; MF20D (25 m or 82 ft throw), MF40D (35 m/115 ft) and the MF60D (55 m/180 m throw) which are all powered by diesel engines.
Developing a plan to combat dust
Dutch manufacturer Dehaco says that fighting dust in demolition and recycling activities is becoming more important.
In addition to the fact that dust poses health risks, it can cause a lot of nuisance. In dry weather and wind, dust and grit are displaced, causing the environment to become buried under a layer of dust in the absence of proper dust control. A good plan to combat dust is therefore necessary and often even mandatory.
A water sprayer can then be a solution. Dehaco has different models, from small indoor jobs to huge demolition jobs in the open air.
Dehaco's Tera family consists of a variety of models, from the smallest Tera 15, which the company says with its 15 m (49 ft) range isespecially useful for indoor work, to the Tera 90, which has a range of 100 m (328 ft) and is particularly suitable for large halls or outdoor demolition projects. The latest addition to the series is the Tera 60 GTM, which distinguishes itself from all other models because of its solid and "vandalproof " finish and its self-reliance in the field due to a built-up generator and built-in water tank.
Construction dust on demolition sites
Construction dust is a big concern for demolition sites. In their bid to use innovation and technology to make working on construction sites both safer and easier, the newest product from Dragon Equipment is a mobile compact dust suppression system.
Set for launch in 2021, the DS110 is built using the same track base and design principles as its CR300 compact crusher.
The dust suppression system can spray up to 23 m (75 ft) at a rate of 29 l/min (6 gal/min), immediately suppressing any dust particles in the surrounding atmosphere. The machine is fully remote controlled, and weighs under 700 kg (1,543 lb), which Dragon believes makes it an extremely transportable and manoeuvrable piece of kit.
Finding the balance with Casella
Establishing any construction project is a careful balancing act between many legal, financial and social responsibilities. Firms not only have a responsibility to shareholders and business partners, but to their workers ,the local authority and site neighbours in the wider community as well.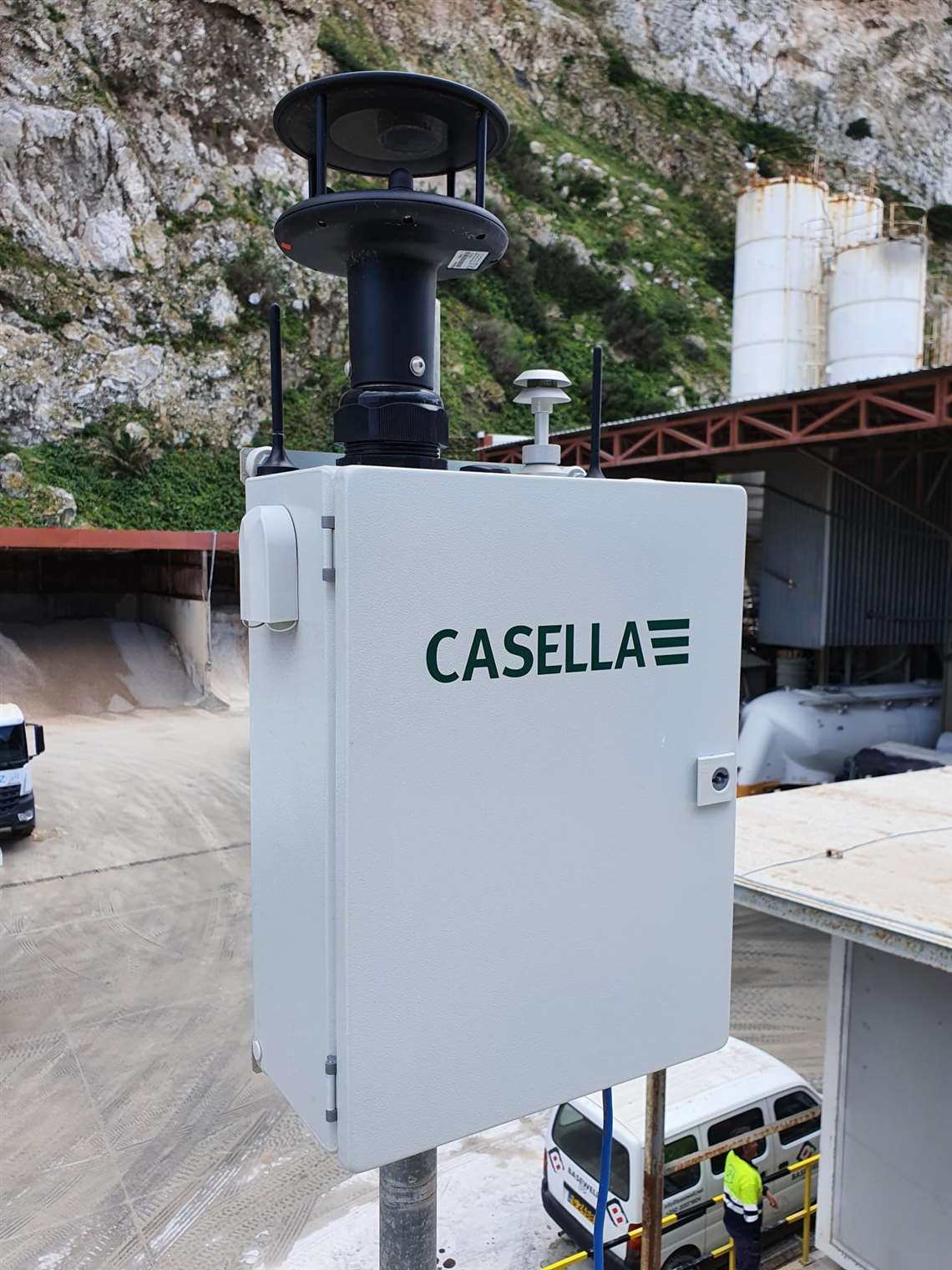 The process of managing the latter set of responsibilities, while maintaining consistent project delivery, is something that Gibraltar based concrete fabrication and construction contractor, Basewell, found to be a learning curve during the early days of the company.
Established in 2010, the company was on the ground level of Gibraltar's construction boom and has since grown to supply major construction companies on the island.
Supplying and fabricating concrete meant that Basewell was faced with managing one of the mos pervasive of construction site environmental hazards – dust.
Exposure to high levels of dust can lead to long term health effects including respiratory illnesses and more immediate health risks such as eye and airway irritation and asthma attacks.
Figures from the United Nations International Labour Organisation estimate that around 17% of global worker deaths are attributable to respiratory diseases, making the monitoring for and control of respiratory hazards such as construction site dust a vital responsibility.
There are several methods to monitor for construction site dust, which include fence line or site boundary monitoring. Several monitoring solutions are set up around the perimeter of the site and consistently monitor levels of dust, capturing data and alerting users to any breach in acceptable levels. This is the method that Basewell employed, using the Casella Guardian2 combined boundary monitoring solution.
The Environmental Agency Gibraltar sets out a need to monitor and control dust levels in the Environmental (Control of Dust) Regulations 2010. For the company to gain its certificate of approval to operate, Basewell needed to outline a dust plan policy and provide monthly dust level reports from its sites to the agency.
Prior to the installation of the Casella Guardian2, monitoring for dust levels was only conducted visually, and inspectors from the Environmental Agency would visit Basewell's sites frequently to conduct inspections.
Managing legal and regulatory responsibility, and the expectations from external agencies and local authorities, is a key part of project management. This can be very time consuming, managing site visits from inspectors and producing reports of hazard levels to a regular schedule.
The Guardian2 is equipped with a function that allows data to be captured and reports to be automatically generated and sent to multiple recipients via text or email. This also enables users to set up alerts for when parameters for a particular hazard are exceeded. This has allowed site safety managers to monitor hazard levels remotely across multiple projects and allowed Basewell to easily automate reports on dust levels and send these reports on to the Environmental Agency.
Article first published in the November-December 2020 issue of Demolition & Recycling International
NEWSLETTER
Delivered directly to your inbox, Demolition & Recycling International Newsletter features the pick of the breaking news stories, product launches, show reports and more from KHL's world-class editorial team.

CONNECT WITH THE TEAM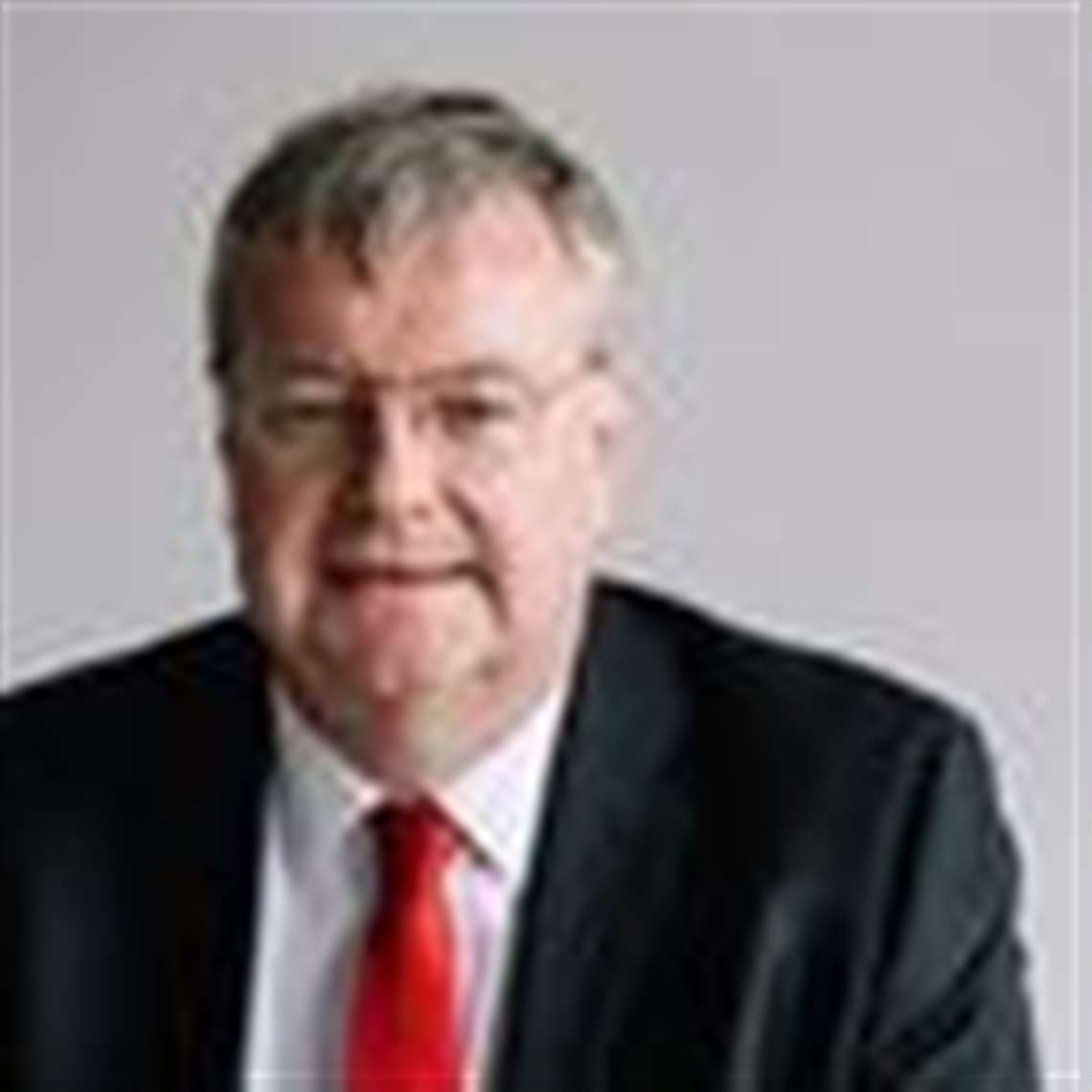 Steve Ducker
Editor, Demolition & Recycling International
Tel: +44(0) 1892 786 210
E-mail: steve.ducker@khl.com
CONNECT WITH SOCIAL MEDIA