New approaches to dust suppression
From easy-to-transport units to long term solutions, D&Ri explores the latest advancements in dust suppression.
When it comes to dust emissions, the dangers extends far beyond the site on which they are being generated.
Not only do contractors and construction and recycling sector operators have to consider the safety and wellbeing of their workers and local residents, but they also need to consider the wider impact that the dust from their activities has when it comes to air quality and damage to the environment.
While this poses a significant challenge on demolition and construction projects, which often run for a relatively short period of time, recent technological advancements – particularly in automation and digital connectivity – are helping to give rise to new and more efficient methods of dust control.
A case in point is the recently launched automatic dust management system from Italy-based company EmiControls.
A specialist in dust binding solutions, EmiControls says its CURTpro system can "revolutionise dust control in various industries".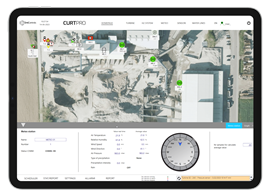 Dust control for long-term sites
CURTpro is a piece of management software that can monitor all of a site's dust control equipment and associated components, and control them in real-time.
It utilises sensor technology to receive external information about the conditions present on a site.
With its 'event'-based operating configuration, it monitors these conditions and then implements the necessary pre-programmed dust suppression response when 'event' condition parameters arise.
Alverman Soster, Dust Division Manager at EmiControls, tells D&Ri: "The CURTpro software has been developed to manage the all equipment - machines, sensors, weather stations, etc - being used where a dust or odor issue is present.
"This means recycling sites, quarries, mines, heavy industry like steel or concrete, etc. There is no limit to the possible applications, and recycling is a very big market where we can use it."
The CURTpro system, which has already been installed by waste management companies like recycled aggregates specialist BWR in Italy, offers a number of key benefits, such as freeing up personnel to do other tasks and reducing the amount of suppression resources used.
Not only can the system be customised to suit an entire site, but it can also be configured to suite specific operational areas within a site.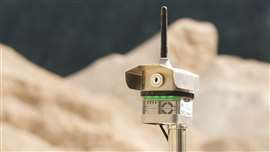 According to Alverman, the system can be used on demolition projects with a long-term operational site, "but you have to understand that it needs a communication infrastructure" in order to install it.
Alverman says: "If the site to be demolished has storage areas for dangerous materials and you want to prevent dispersion with turbines, these can be programmed by CURTpro to work in complete autonomy according to wind conditions, soil humidity, etc., without any operator on site."
Flexible dust suppression
For contractors on traditional demolition projects, where the onsite phase often only lasts for a few weeks, dust cannons are often the preferred dust control method.
Adamo Group, for example, recently carried out the demolition of Eastland Shopping Center in the town of Harper Woods, Northeast of Detroit.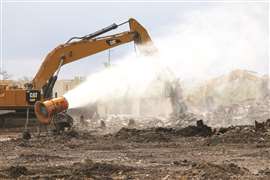 The shopping outlet closed in early 2022, with the site earmarked for a US$94 million redevelopment to turn it into an industrial distribution centre.
After carrying out asbestos abatement and the removal of all universal waste from the site, Adamo began the main demolition phase and employed two BossTek DB-60 misting cannons for the works.
These provided both airborne and surface suppression using "only a fraction of the water required by hoses or sprinklers".
The DustBoss DB-60 model produces droplets measuring approximately 50 to 200 µm from a misting ring in the front.
The droplets are propelled long distances by the unit's fan, which pushes air through the rugged barrel.
"Our business model is to employ the best practices for any project, which includes diligent recycling and effective dust control," says Al Penrod, Equipment Manager at Adamo Group.
"The basics of what it takes to complete a job successfully is talented people, high-tech facilities, and a fleet of top-of-the-line equipment."
Preventing dust dispersal
According to the equipment manager, the company's DustBoss misting cannons make up "an integral part" of its portfolio.
On its Eastland Shopping Centre project, Adamo directed one of its cannons toward the activity area, utilising the model's fine engineered mist to raise the humidity of the area, thereby preventing dust from becoming airborne.
As well as protecting workers on site from hazardous dust, it helped prevent the dust from being dispersed further afield.
A second DB-60 unit was used to reduce dust emissions from separating and piling activities.
"Materials were separated on site by mechanically picking or magnetized picking," explains Al.
"These structures collected over 60 years' worth of dust, so the separated materials can release a lot of emissions. The DustBoss really helped us control air quality so we could stay could stay compliant."
NEWSLETTER
Delivered directly to your inbox, Demolition & Recycling International Newsletter features the pick of the breaking news stories, product launches, show reports and more from KHL's world-class editorial team.
CONNECT WITH THE TEAM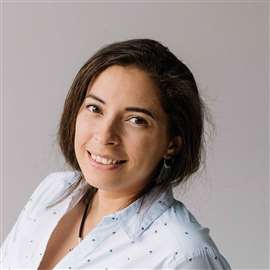 Leila Steed
Editor, Demolition & Recycling International
Tel: +44(0) 1892 786 261
E-mail: leila.steed@khl.com
CONNECT WITH SOCIAL MEDIA