Crushing and screening: Crushing it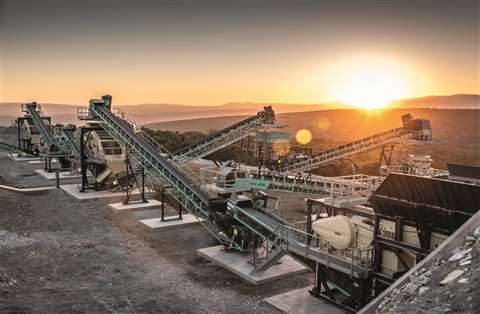 In an ever-changing industry, waste is one of the major issues for companies when it comes to maximising profits and winning tenders.
With the proper application of crushing and screening, materials can be re-used in other areas of industrial applications. Not only does the disposal of new materials cause environmental concerns, but it also can have a huge impact on costs.
It goes without saying that, in all industries and across all sectors, wasteful expenditure is a sure-fire way to hasten a company's demise. Pilot Crushtec, a crushing distributor based in South Africa, believes that the concept of 'Just in Time' manufacturing can translate to aggregate firms and aid business models.
In this method a company gears itself towards making just what is needed, when it is needed, and only in the amount needed.
The modular method
Over the last few years, the number of smaller entrepreneurs and medium-sized companies working in this sector has increased. It is these companies that Pilot Crushtec believes modular crushing plants will benefit the most, as they are easy to implement for those companies wanting to grow quickly but remain sustainable.
As modular plants are scalable they can cater to a wide variety of companies, irrespective of size or application. Components can be selected for specific applications and then these units are interlinked with conveyors – creating a solution tailored to the specific needs of a site.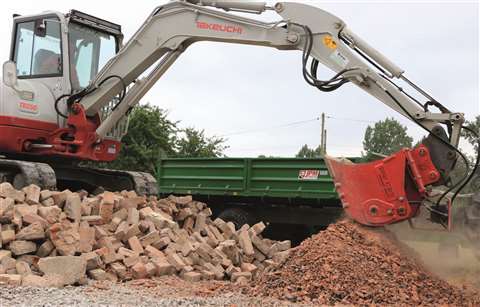 Mark Reeves, sales engineer, Pilot Crushtec, commented that, "Should your requirements change at any point within the design process, you are able to tweak the requirements, so you have exactly the right layout, equipment, and capacity to get the job done. You get to choose what you need, when you need it, and can add modules as and when required."
Another firm looking to refresh its current product line is UK-based BAV Crushers. The company began manufacturing crusher buckets in 2010, when it developed the BAV-CB3 – aimed at mini excavators from 3.5 to 6 tonnes.
The company has since released an improved version called the BAV-CB5. The new design has a redesigned smaller chassis, new jaws and rams but maintains the same weight and width for use on the same sized excavators.
When asked what the methodology was behind selecting a new and smaller chassis, BAV's director, Marcus Clay said that this is important for an attachment used on mini excavators. A crusher bucket is necessarily heavy for durability, but re-packaging to reduce the overall dimensions pays dividends in machine stability and manoeuvrability.
Clay said that the jaw aperture is 600mm wide and it can cope with material – brick or concrete rubble – up to 300mm in thickness. It can also render rubble down to two different grades, either 0-75mm (fastest output) or 0-50mm (fine grade) and can be easily adjusted on site.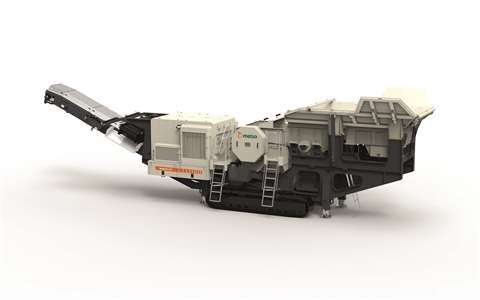 Clay also commented that, "Revisions to the jaw geometry and hydraulics mean cycle times decrease by over 30%, when compared to the outgoing BAV-CB3."
Power to weight ratio
Brokk, renowned for its remote-controlled demolition machines, has also launched three new concrete crusher models – the CC440, CC480 and CC580. Manufactured by Brokk's German-based sister company, Darda, the crushers have been designed to offer contractors a high-performance tool for Brokk's Next Generation SmartPower series intended to improve safety on demolition jobs.
Lars Lindgren, Brokk Inc's president, said, "At Brokk, we strive to prove you don't have to sacrifice power for safety or vice versa. The new crushers are a prime example of how you can achieve a high power-to-weight ratio and still ensure operator safety."
The company says that the CC series sets new standards of ruggedness and performance. All three new crushers are equipped with a newly designed pressure booster, which allows them to operate independently of the carrier's working pressure, resulting in increased speed and crushing forces. When used in high pressure mode, the new models are reported to offer faster operation and jaw closing compared to their predecessors.
Another new launch is from Xcentric, the Spanish manufacturer of crusher attachments. The company has developed a new series of crushing buckets that are said to be simpler in terms of internal assembly than the firm's previous generation.
The new mechanical operating system of the XC design does not need lubrication, nor a drainage line, meaning that it requires less maintenance. Better access has also been afforded to maintenance operators as the bucket can be completely opended to replace the jaws in case of wear.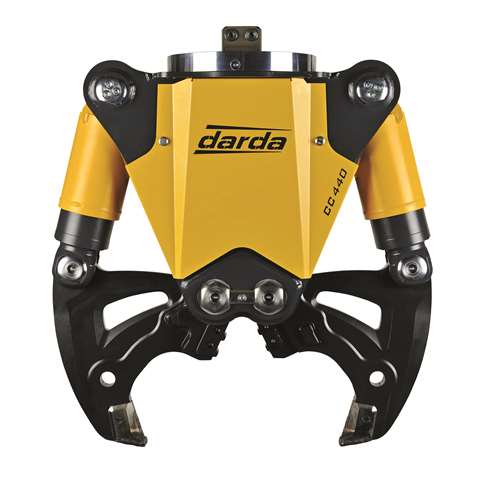 The new models include the XC8, which can function whilst attached on a telehandler, the XC9 and the XC24, with more models in development.
The external design has been slightly modified with respect to the previous series, and the number of grading settings for the granulometry have been significantly increased. The different positions have also been numbered to make these adjustments easier. As a result of this improved variety of grading levels, the crushed material can now be broken down to such a small size that in some cases it creates sand.
Elsewhere, it has recently been announced that UK-based AR Demolition has invested in new crushing and screening equipment for its sister aggregates recycling company, AR Aggregates.
The demolition contractor purchased two Kleemann machines, an MR 110 Z EVO 2 impact crusher and an MS 953 EVO screening plant, in a move to make improvements to AR Aggregate's safety and productivity performance.
The track-mounted MR 110 Z EVO 2 crusher, which is designed for processing blasted natural stone, asphalt and demolition waste, features a Tier 3/Stage IIIA diesel engine and an input capacity of 350 tonnes per hour.
With feed capacities of up to 500 tonnes per hour Kleemann's MS 953 EVO screening plant has a hopper capacity of 8m3 and a triple-deck vibration.
At a cost of £800,000 (US$1.03 million), AR Demolition said the new equipment would also help the company to realise the value of recycled construction waste products.
Diversifying the range
Finnish machinery manufacturer Metso has expanded its mobile crushing and screening solutions offering for the aggregates industry with a new product portfolio that introduces 19 new products. Touted as the new Nordtrack range, these products have been designed with general contractors in mind.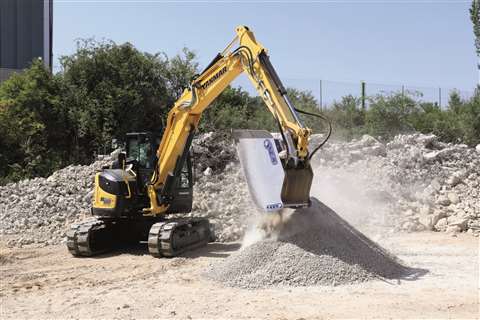 The main aim of the portfolio is to make the contracting business more productive. This has been attempted by standardising designs for 'off-the-shelf' availability, implementing plug-and-play features and offering an extensive Metso support network.
The Nordtrack solutions are intended for a variety of applications, such as recycling, demolition, and the processing of sand and gravel and includes jaw crushers, impact crushers, screens and conveyors.
Vesa Tuloisela, director, Metso Nordtrack product offering, said, "The Metso Nordtrack portfolio is designed especially for the needs of the construction and demolition contractors as well as for smaller aggregates quarrying applications.
"Their business models typically require compact size and light-weight equipment that can be easily transported and operated. We see that the demand for crushing and screening equipment is growing in this segment, especially in those markets where recycled aggregates are becoming more acceptable."
He said that as a result of the construction industry being very diverse many small and medium sized construction companies have synergies with aggregate production which they haven't utilised. For example, transportation and landfill costs that form a major part of the costs related to demolition and recycling can be reduced by crushing concrete at the demolition site instead of hauling it to a distant location to be processed.
In agreement with Pilot Crushtec, Metso's main distributor, Tuloisela believes that a circular economy is driving the development for crushing and screening to be done at the worksite.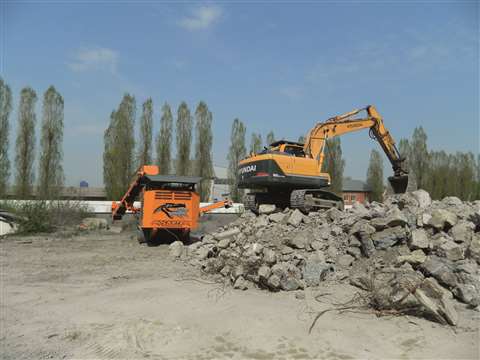 Tuloisela added, "We wanted to make the Nordtrack offering as easy to buy and own as possible, thus it is purpose-designed for particular applications. The products include all the necessary features off-the-shelf, making it easier also for entry-level customers who don't have a lot of expertise in crushing to move into this business."
Elsewhere, US-based crushing and screening solution specialist Rockster has also demonstrated how important on site crushing and screening is becoming. The company provided one of its customers with an R800 track-mounted jaw crusher, to be involved in the demolition process on a jobsite in Russia, processing 280,000m³ of highly reinforced concrete and saving money in the process.
After falling victim to bankruptcy, Kombinat, a large supplier of reinforced concrete products in Russia, left behind old factory buildings which needed to be demolished.
Rockster's customer was a domestic private demolition company. The demolition experts had the choice to either hand over construction waste for disposal by paying of 150 Rubles (US$2.34) per cubic metre for delivery to landfill sites, or to produce rubble, which can be sold at an average price of 450 Rubles (US$7.03) per tonne and to sell on the reinforcement as a scrap metal. That's a choice of either losing or potentially earning money.
Rockster says that its R800 Jaw crusher with screening system allows the customer to precisely define the final fraction. The advantages of this crusher are compact transport dimensions and little weight that does not have special restrictions for transportation. An increased maintenance interval to 1,000 hours, low service and usage costs is a result of little wear, according to Rockster Russia dealer Maksim Perminov.
Environmental preservation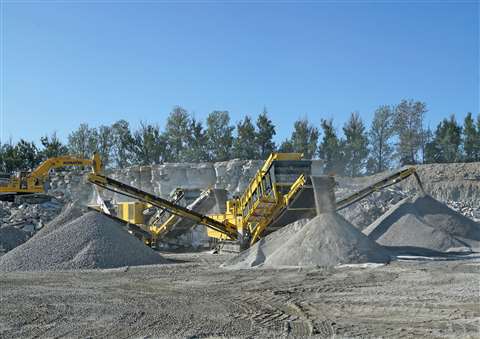 In the Väo quarry of the Paekivitoodete Tehas company (Limestone Factory) near Tallinn in Estonia, there is a steady stream of high-quality mineral and aggregates produced for the Estonian road and construction industry – around 750,000 tonnes per year when combined with the nearby Maardu quarry.
As the limestone company is capable of extracting 400 tonnes per hour, this operation has become problematic. The mining zone, with its dust and noise emissions, has been moving ever closer to the equally rapidly expanding Tallinn residential district of Lasnamäe with a total of 120,000 inhabitants.
To minimise the impact of the quarrying activities, the company relies on low-emission technologies. Instead of blasting, the stone is mostly quarried by hydraulic hammer.
Keen on further minimising the quarry's environmental impact, purchasers at the quarry have also selected some of Keestrack's new diesel-electric drive crushers – the new track-mounted Keestrack R6e with a connected 3-deck classifier Keestrack C6e – to reduce carbon dioxide (CO2) output.
A 250kW electric motor drives the crusher and the pump units of the central plant hydraulics as well as electric belt drives. Ancillary units enable complete emission-free operation.
If the plant combination has to be relocated in the course of the extraction process, both plants disconnect from the grid and follow the excavator on their own, using their on-board diesel/generators units.
The Keestrack 'e' version also offers a plug-in option to the local power grid. Johann Prüwasser, CEO of Keestrack Engineering, said, "We were able to realise the customer's intended all-electric operation in the Väo quarry with all the advantages of our proven track-mounted technology."
Three-man working teams now reach the quarry's daily target of 3,000 tonnes in one long or two short shifts; before this required a 15-man team working over three shifts.
In direct comparison to the diesel-electric operation there is said to be a significant operating cost advantage thanks to cheaper grid power. The reduction of pollutant emissions on site is also significant: around 400 tonnes per year of CO2 is avoided by the fully electric processing alone, which does not include the elimination of haul truck traffic.
New Colt 1600 from EvoQuip: New Scalping Screen will be available to customers in early 2020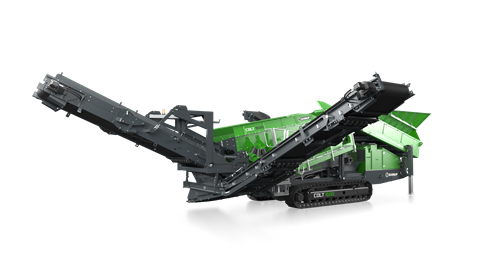 EvoQuip, part of the Terex brand, has announced it will soon be manufacturing the Colt 1600 scalping screen, now scheduled for production in the coming months.
The Colt 1600 will be the largest screen in the EvoQuip range, capable of processing up to 600 tonnes per hour, depending on application. With a high capacity incline apron feeder as standard, the machine has been rigorously tested, according to EvoQuip, in heavy-duty applications.
Matt Dickson, EvoQuip business line director, said at the launch event, "I'm proud to officially reveal the Colt 1600 as a brand new EvoQuip model, the first of which will be available to ship to customers in early 2020."
The scalper has been designed to work in both primary and secondary screening applications, incorporating an aggressive double deck screen of 4.8m x 1.53m. The variable screening angle and numerous screen media options enables the machine to operate in both heavy-duty scalping and precision screening applications.
The Colt 1600 is also available with hybrid technology giving the flexibility to be powered by an external power supply or the standard on-board engine.
The shape of the industry: Vesa Tuloisela, director, Nordtrack product line, Metso
Is there a particular geographical trend concerning orders?
In general, we expect the biggest demand for the Nordtrack equipment to come from developed Western markets, where recycled aggregates and small aggregate production are going strong. Globally, there has been interest from all of the regions, which has been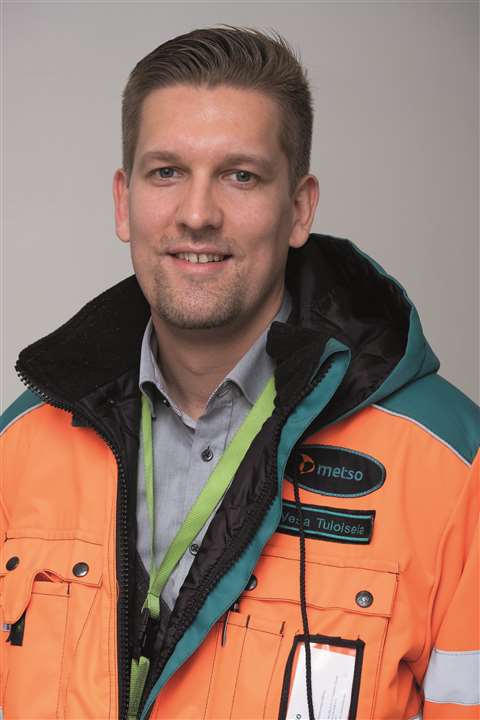 promising and given us the indication that we are on the right path.
Are regional material requirements vastly different and, if so, how does that impact the development of equipment?
For recycled aggregate, the markets with the most potential are the developed Western markets, where circular economy and sustainability issues are gaining ground. At the moment, we don't see a need to make regional variations of the products available, but that can be re-evaluated if the market demand changes.
What role does Metso seek to play in the industry? How important is the recycling of material through these solutions?
With the new Nordtrack offering, we are complementing our Lokotrack solutions portfolio, making our mobile portfolio the widest on the market and covering a wide variety of applications of different scale. Today, recycled aggregates are quite a small part of the total aggregate production volume, but we see it as one of the major growth areas in aggregates production in the future.
NEWSLETTER
Delivered directly to your inbox, Demolition & Recycling International Newsletter features the pick of the breaking news stories, product launches, show reports and more from KHL's world-class editorial team.
CONNECT WITH THE TEAM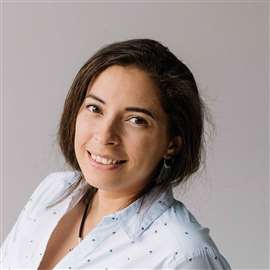 Leila Steed
Editor, Demolition & Recycling International
Tel: +44(0) 1892 786 261
E-mail: leila.steed@khl.com
CONNECT WITH SOCIAL MEDIA