Decomissioning project claims two new world records
By Niamh Marriott05 April 2023
A major logistical challenge in the decommissioning of an old FPSO weighing more than 20,000 tonnes turned out to be a double record-breaking project. Alex Dahm reports.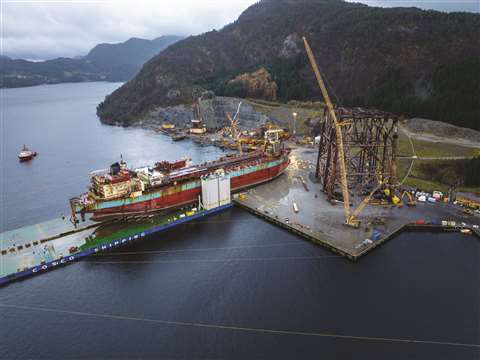 Not one but two world records were claimed for an FPSO vessel decommissioning project completed by Mammoet in Norway, writes Alex Dahm.
The Netherlands-headquartered international specialist moved a vast floating production and storage offshore (FPSO) vessel weighing 20,300 tonnes. It had to be moved into AF Offshore Decom's decommissioning and recycling facility in Norway. It will be dismantled with a focus on environmental responsibility.
To carry the giant ship it was loaded onto a record-breaking 748 axle lines of self propelled modular transporter (SPMT). Power for the move was provided by a total of 30 power pack units. Mammoet claims it as a double world record: for the heaviest load carried on SPMT and for the most axle lines ever used together on one transport.
The Curlew FPSO operated in the North Sea between the UK and Norway for more than 20 years. It helped supply oil and natural gas to European countries. At the end of its operating life owner Shell was looking for an environmentally responsible way to dismantle it and recycle as much as possible.
The main contractor appointed for the work was AF Offshore Decom. Mammoet was awarded the load-in and set-down work. Curlew had to be transported to the AF Environmental Base Vats facility in Norway. There the work could be carried out in a controlled manner and a recycling rate of more than 95 per cent was claimed.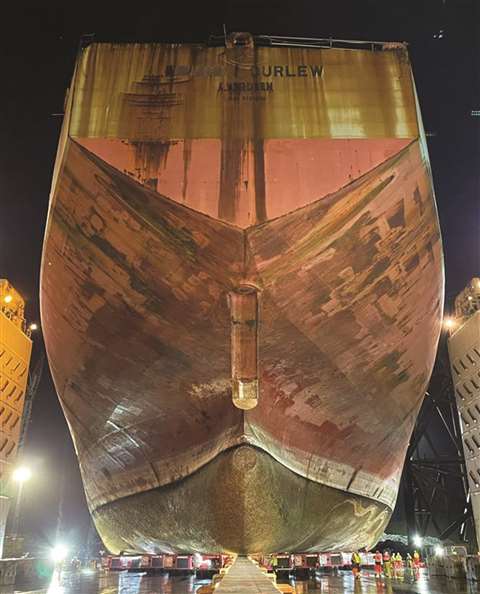 Getting Curlew in to its final position for dismantling was a massive logistical feat. The vessel was 235 metres long, weighed 20,300 tonnes and it had to be lifted and moved from a semi-submersible transport vessel onto dry land.
How was it done?
Dorien Frequin, Mammoet Norway branch manager, explained the procedure, "The load-in of Curlew to the decommissioning yard presented some major challenges – not only in terms of its size and scale but also because the nature of its structure meant that it would deflect when moved around, potentially jeopardising the transport operation.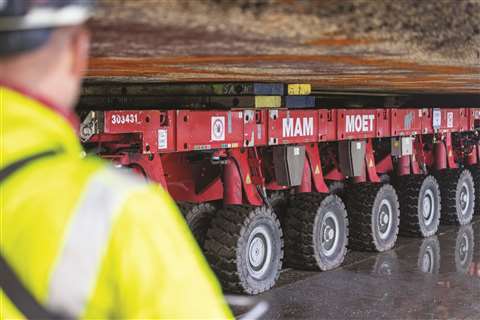 "It was recognised that specialist expertise would be needed and so we began our involvement with AF Offshore Decom and COSCO Shipping Heavy Transport early in the project to ensure we had the best possible approach in place."
Detailed planning work started years before the project came to fruition. It covered the engineering scope and the operational challenges.
Commenting on the work Ludo Mous, Mammoet Europe operations director, said, "Safety was our first priority and we identified that having a single professional operating all SPMT would be the best method to use. This meant that risks from miscommunication between operators were removed but required a high level of expertise to ensure all electronics worked together and maintained accuracy – especially as performance of the SPMT would need to be adapted during the move. We also had to adapt the SPMT technology to work in this way – it is a world first, after all.
"Alongside the operator there were thirteen other Mammoet professionals placed at specific points around the vessel to monitor progress and communicate with the operator when needed."
Testing the plans
In addition to comprehensive planning, rigorous testing was also completed prior to executing the move. Initially this was done onshore where the crew tested the full trailer arrangement, and then again on board with Curlew in position. It entailed Mammoet's attendance at site several days in advance of the execution date so as not to impact the schedule.
With the FPSO vessel out of the water pre-engineered filler pieces were put in between it and the SPMT to correct deflection in the hull so the trailers were at the same level to optimise their required suspension travel stroke. These fillings allowed fine adjustments to keep the huge structure stable and in the correct shape as well to best accommodate the anticipated deflection of the hull, Mammoet said.
Ludo Mous continues, "As a team and as individuals we have a lot of experience in delivering large scale load-ins, and this background was key to us developing the most effective plan for moving Curlew. But it is always critical to test methodologies in practice wherever possible, and it was particularly important here given such a procedure had never been attempted before.
"We needed to test exactly where and how the SPMTs could best support the vessel, observe how this impacted movement in the hull, and make any necessary adjustments to ensure the move went smoothly," Mous explained.
Good timing
All the extensive planning, engineering and testing work was rewarded when Curlew was moved on schedule into position for the dismantling process to begin.
Dorien Frequin explained how Mammoet's load-in was a key element, "Moving an entire 20,300 tonne FPSO from a semi-submersible vessel to a yard was an ambitious goal that had never been completed before. It was critical in allowing AF Offshore Decom to achieve the most sustainable decommissioning programme possible.
"We were proud that Mammoet's expertise was key to achieving this – both in terms of the engineering knowledge to find a safe methodology, and also the incredible operational skill of our professionals on site in executing it accurately," Frequin concluded.
NEWSLETTER
Delivered directly to your inbox, Demolition & Recycling International Newsletter features the pick of the breaking news stories, product launches, show reports and more from KHL's world-class editorial team.
CONNECT WITH THE TEAM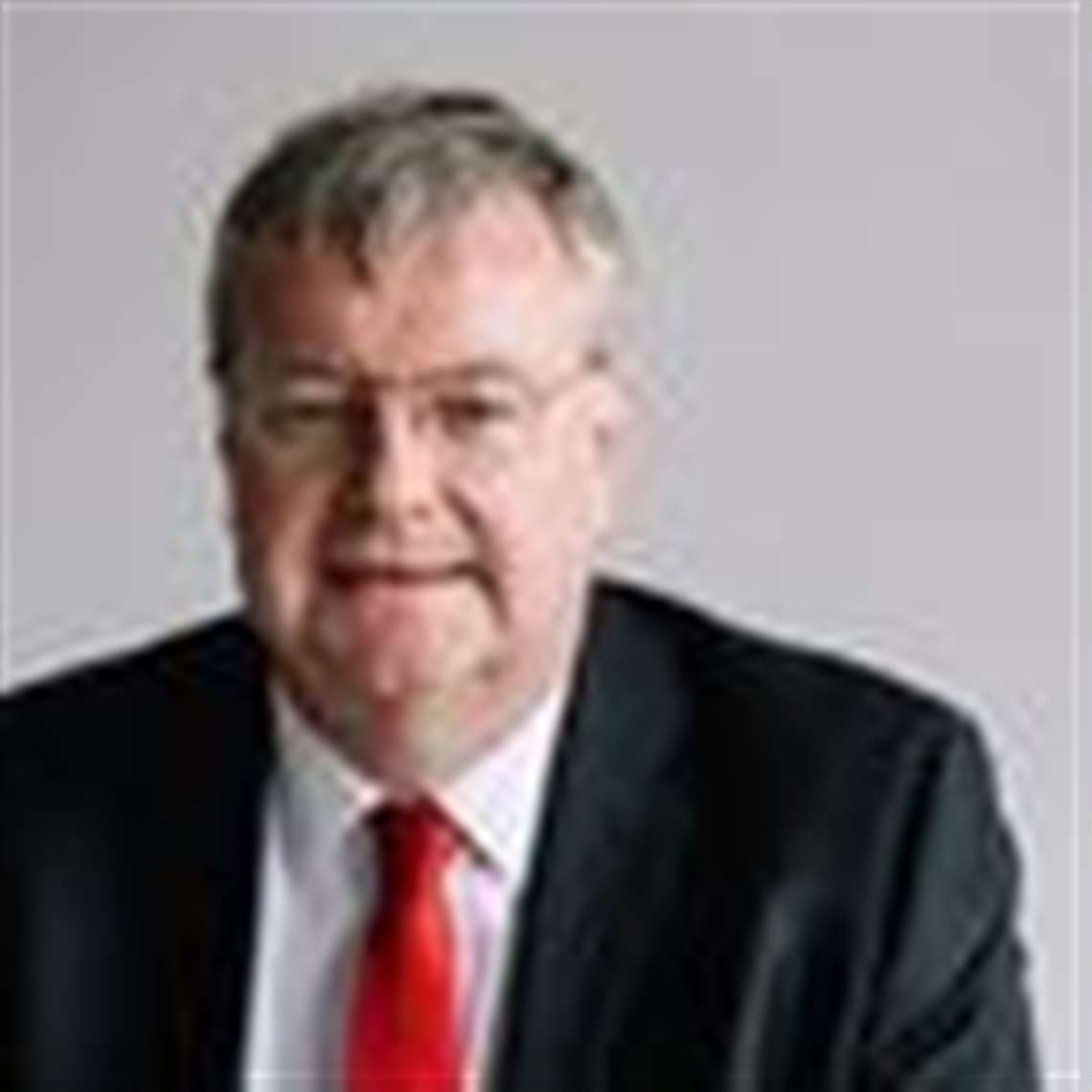 Steve Ducker
Editor, Demolition & Recycling International
Tel: +44(0) 1892 786 210
E-mail: steve.ducker@khl.com
CONNECT WITH SOCIAL MEDIA