Bauma 2022: rolling news on the Munich exhibition
By KHL editorial staff12 September 2022
KHL Group is providing a rolling news update for Bauma 2022 as the massive show prepares to open its doors on Monday 24 October. We will report on new products being launched and any other news relating to the show. If you have stories and photos to share, please e-mail to murray.pollok@khl.com, andy.brown@khl.com, mike.hayes@khl.com, alex.dahm@khl.com leila.steed@khl.com or lewis.tyler@khl.com, or any KHL journalist.
Manitowoc to launch new tower cranes (Thursday 6 October)
Manitowoc is to launch two new tower cranes at global trade show Bauma. While the company has decided to keep details back until the show opens its doors next month, it has revealed the details of other equipment models it will be bringing to the show. Find out more here.
Hinowa to display electric spider lift (Wednesday 5 October)
Tracked platform manufacturer Hinowa will display its electric drive TeleCrawler TC22S spider lift at Bauma 2022, the manufacturer has confirmed. More details here.
Perkins highlighting engines, batteries at Bauma (Wednesday 5 October)
The company plans to display a range of low-carbon fuel engine options, connectivity solutions and new battery concepts. Find out more here.
Bauma set-up on camera (Wednesday 5 October)
The photo below right is a view from today of set-up underway at the Munich showground. You can follow progress in real time at Bauma's webcam, which is sponsored by Liebherr. See the webcam here.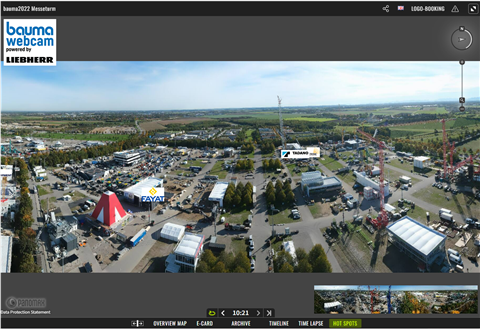 Kohler to present energy roadmap (Tuesday 4 October)
Kohler will use Bauma to present its new roadmap to transform from a power systems producer to an energy supplier. More details here.
International debut for battery-powered curb machine (Monday 3 October)
Having been launched at the beginning of the year, the GOMACO CC-1200e will be shown to an international audience for the first time at Bauma. Read more here. 
Sany to show electric mini excavator (Monday 3 October)
Sany will be presenting its entire portfolio currently available in Europe at Bauma 2022, as well as a number of machines that will be on sale next year, including the electrically driven SY19E mini excavator. To find out more, click here.
Backhoe loaders by Hidromek set to feature (Monday 3 October) 
Hidromek will exhibit its K4 series backhoe loaders in Europe for the first time, the company has announced. Read more here.
Jaso to premiere flat top crane (Monday 3 October)
Crane manufacturer Jaso is to unveil the latest addition to its range of flat top cranes, the J235.12, at Bauma 2022. Read more here. 
Zero-emission excavator from Hitachi (Saturday 1 October)
Hitachi Construction Machinery (Europe) is to show its first zero-emission battery-powered excavator in Europe at Bauma.
The ZX55U-6EB is able to operate via 39kWh lithium-ion batteries or a wired connection to a CEE 400VAC 3-phase power source, which enables it to work whilst charging. Click here to read more.
Electric focus for XCMG (Friday 30 September)
China-based XCMG will showcase its biggest ever overseas lineup, with 39 products on show – with ten of them powered by alternative sources. For more information click here. 
Off-Highway Research to hold Bauma briefing (Thursday 29 September)
Off-Highway Research is to hold a briefing to give an update on equipment markets around the world. Booking is required for the event, which takes place at 10.00 am on Tuesday 25th October in Conference Room B11. Read more here. 
Zeppelin to represent Caterpillar (Wednesday 28 September)
Zeppelin, the German dealer for Caterpillar will represent the manufacturer at Bauma. Under the theme of 'Let's Do the Work', over 70 pieces of equipment will be on show. Read more here. 
Electrification high on the Komatsu agenda (Tuesday 27 September)
Technology, electric equipment and the future of its range of wheeled loaders are all key topics for manufacturer Komatsu at Bauma 2022. The company will exhibit 27 new and existing machines at the show. Read more here.
Wacker Neuson to launch wheeled excavator at Bauma (Tuesday 27 September)
Wacker Neuson is to launch the EW100 wheeled excavator at Bauma. The machine is to be unveiled alongside the WL20e compact wheeled loader. Read more here.
Grove's latest addition to all terrain range (Monday 26 September)
Crane manufacturer Grove will be premiering the GMK6400-1 all terrain crane at Bauma, the company has said. The crane is an upgraded version of the GMK6400. Read more here.
Comansa to unveil its first hydraulic luffing jib (Sunday 25 September)
Visitors to global exhibition Bauma will get an exclusive look at the first hydraulic luffing jib crane, the LCH300, from Spanish tower crane manufacturer Comansa.
Capable of lifting loads of up to 16 tonnes, more details about the model can be found here.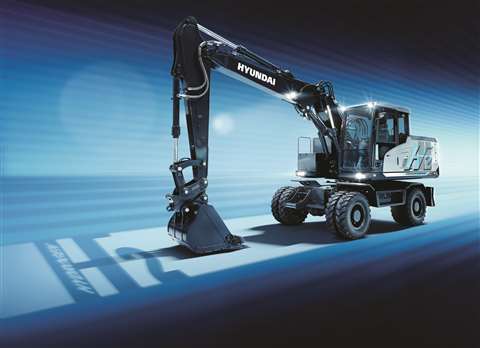 Hyundai to reveal hydrogen loader (Thursday 22 September)
South Korea-based manufacturer Hyundai will reveal a concept hydrogen-fuel-cell-powered wheeled loader at Bauma in October. Read more about it here.
Caterpillar's new electric prototypes (Thursday 22 September)
At an online press event Caterpillar announced that its construction industries division was working on four new electric equipment machines, two excavators and two wheeled loaders. Several of these machines will be on display at Bauma Munich in prototype form. More information can be found here.
Tyrolit to launch cutting and drilling tools (Thursday 22 September)
Tool manufacturer Tyrolit will showcase a variety of new products and upgrades in concrete drilling and cutting, floor grinding and digitalisation at Bauma. Find out more here.
Electric focus for Liebherr (Thursday 15 September)
Seventy machines on show will include six new 'Unplugged' products for piling, drilling and lifting. Read more here.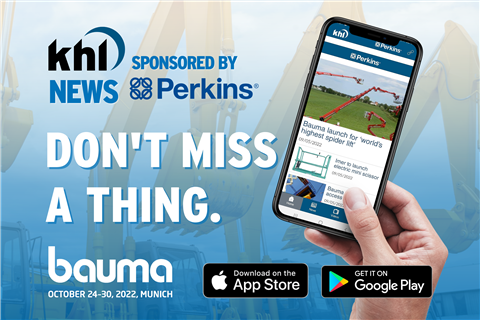 Download the KHL Bauma App (Thursday 15 September)
App is available for Android and Apple devices and will provide the latest news and videos in the run-up to the show and during the event. More details here.
A step closer to 'Autonomous crushing' (Thursday 15 September)
SBM Mineral Processing will use Bauma to showcase its new REMAX 600 crusher, which it says represents the next step to autonomous crushing. The 600t/h-capacity impact crusher serves as a technology platform for the first fully automatic production monitoring and control system.
The system incorporates sensor and video technology, automatic gap adjustment, communication and IT networks. Learn more here.
Sennebogen to present battery-powered material handler (Wednesday 14 September)
Sennebogen will present its new mobile electric material handler to the public for the first time at Bauma. Jointly developed by metal recycling specialist Cronimet, the 825 Electro Battery allows for autonomous working in battery operation as well as connection to the mains. Click here to find out more.
Demarec to introduce EcoLine attachment range (Tuesday 13 September)
Demolition and recycling attachment specialist Demarec is to introduce the first of its new EcoLine range of crushers at this year's Bauma trade fair in Munich, Germany. Find out more about the model here.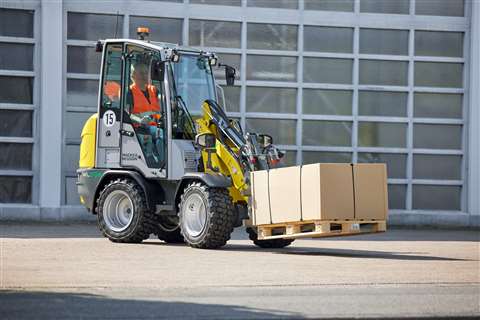 Wacker Neuson to launch updated electric loader (Tuesday 13 September)
Wacker Neuson is to launch an updated version of its fully electric WL20e compact wheeled loader at Bauma. Click here to read more.
Zero emissions forum at Bauma (Tuesday 13 September)
The European Rental Association (ERA) and the Committee for European Construction Equipment (CECE) are to host an event on zero emissions in rental and construction as part of the Bauma Forum on 28 October. Read more here. 
Shortlist announced for Bauma Innovation Award (Tuesday 13 September)
The shortlist has been announce for the prestigious Bauma Innovation Awards. On the eve of Bauma, one winner will be selected in each of the following categories: Climate Protection, Digitalisation, Mechanical Engineering, Building and Research. Find out who's made it to the shortlist here.
Doosan to launch 4x4 DA45-7 ADT (Tuesday 13 September)
The South Korea-based company has announced that it will launch its new 4x4 DA45-7 ADT at this year's Bauma. The new machine is less than 4m wide to avoid the need for special transportation. Read more here.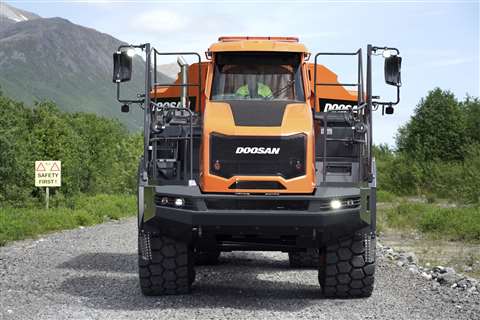 Weber MT's 'Smart Assist' (Tuesday 13 September)
German compaction specialist Weber MT will use Bauma to launch Weber Smart Assist (WSA), a system to prevent damage to machines and provide troubleshooting guidance. Read more here.
'Mystery' transport platform from Geda (Monday 12 September)
Aiming to "set new standards for the future", Geda is to launch a new transport platform model at Bauma, that it says is characterised by new special features and an optimised load capacity. Find out more here.
Show guides (Monday 12 September)
All KHL magazines are publishing guides to the show, covering general construction equipment, cranes and transport, access equipment, demolition, power and the rental sector. First off, see Access international's guide to access equipment.
Rubble Master to highlight electrification (Wednesday 7 September)
Mobile crushing equipment manufacturer Rubble Master will reveal its new RM 50X hybrid screen and RM 110X jaw crusher models, and showcase its X Smart software solution, and other digital developments. Find out more here.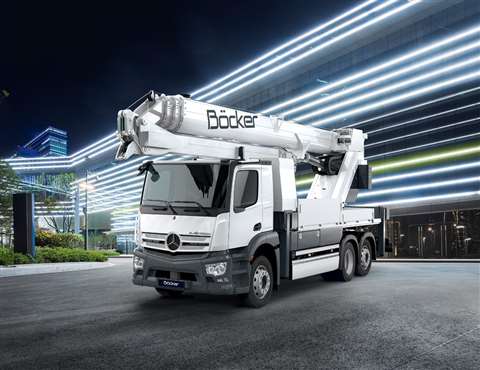 New fully electric Böcker truck crane and work platform (Wednesday 7 September)
German manufacturer Böcker in Germany will launch its new AK 48e at this year's Bauma exhibition. The AK 48e is a fully electric crane and aerial work platform mounted on a 27 tonne 6 x 2 Mercedes eActros truck. For more details click here.
Bauma launch for 'world's highest spider lift' (Monday 5 September)
Easy Lift is to launch what it claims is the highest spider lift in the world at the Bauma construction exhibition in Munich, Germany.
The RA53 features a double telescopic boom and jib, and has a working height of 52.4m with a maximum outreach of 20m. More information on its specifications can be found here.
Imer to launch electric mini scissor (Monday 5 September)
Italy-based manufacturer Imer is to launch its new IM 5080 mini scissor lift model at Bauma 2022. The IM 5080 machine is one of two models in the company's new series of self-propelled electric mini scissor lifts. Read more here.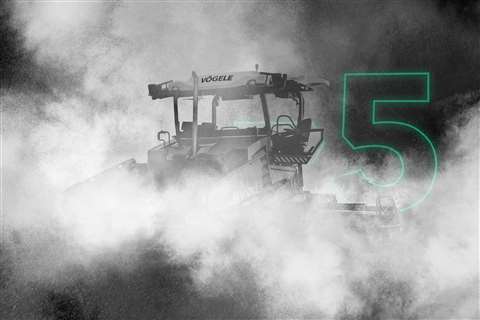 Vögele to debut road pavers (Tuesday 23 August)
Vögele is to premiere new road pavers and screens as part of its new Dash 5 generation at bauma 2022.
The Super 1900-5(i) and Super 2100-5(i) highway class pavers, and the AB 500 and AB 600 extending screens, will be among the equipment on show. Find out more here.
Bauma launch for 3.5 tonne hybrid truck mount (Friday 19 August)
Aerial platform specialist Ruthmann is to show a new 3.5-tonne Steiger truck mount at this year's Bauma exhibition. The Steiger T 300 XS Hybrid truck mount offers a 30m working height with a maximum outreach of 23m. More details can be found here.
50-tonne electric crane from Sennebogen (Monday 15 August)
The Sennebogen 653 E Electro Battery is a 50 tonne capacity machine with a telescopic boom. It will be launched at the Bauma construction equipment exhibition in Munich, Germany, this October. To find out more about the crawler crane, click here.
Zoomlion to introduce 58m boom lift (Friday 12 August)
Among the equipment launches from Chinese access equipment manufacturers will be the new ZT58J Ultra model from Zoomlion. 
Boasting a working height of 58.8m, the telescopic boom lift is a four-wheel-drive unit that can handle rough terrain. It will be presented alongside three new lithium-battery powered MEWPS, on which more information can be found here.
Kleemann premieres Mobirex crusher (Wednesday 10 August)
German crushing and screening machine specialist Kleemann is to demonstrate its new Mobirex MR 130(i) Pro impact crusher for the first time at Bauma 2022.
The MR 130(i) is the latest addition to the company's existing Pro range, which now comprises nine models. Click to find out more. 
What to expect this year? (June 2022)
KHL journalist Lucy Barnard talked to Messe Munchen and some prominent exhibitors about what visitors can expect to find at this year's show. It's a fascinating, detailed account which you can read here.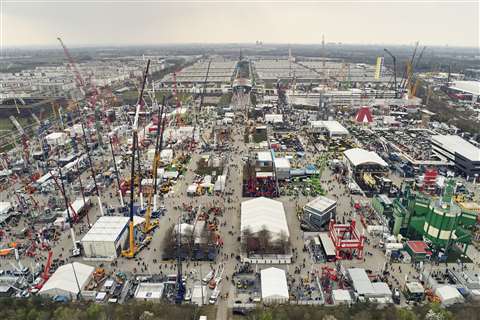 Buy your ticket (Monday 12 September)
A one-day ticket for Bauma costs €29, although there are numerous ticketing options, including special rates for groups. See the details here.
Webcam of showground (Monday 12 September)
Stand construction work is already getting underway at the exhibition site in Munich. A webcam shows the progress being made, although still at an early stage. View here.
Five new machines to watch for (Tuesday 30 August)
International Construction magazine has highlighted five new machines getting their launch at Bauma.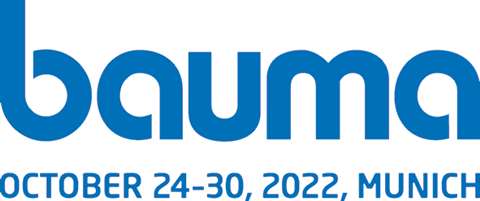 NEWSLETTER
Delivered directly to your inbox, Demolition & Recycling International Newsletter features the pick of the breaking news stories, product launches, show reports and more from KHL's world-class editorial team.
CONNECT WITH THE TEAM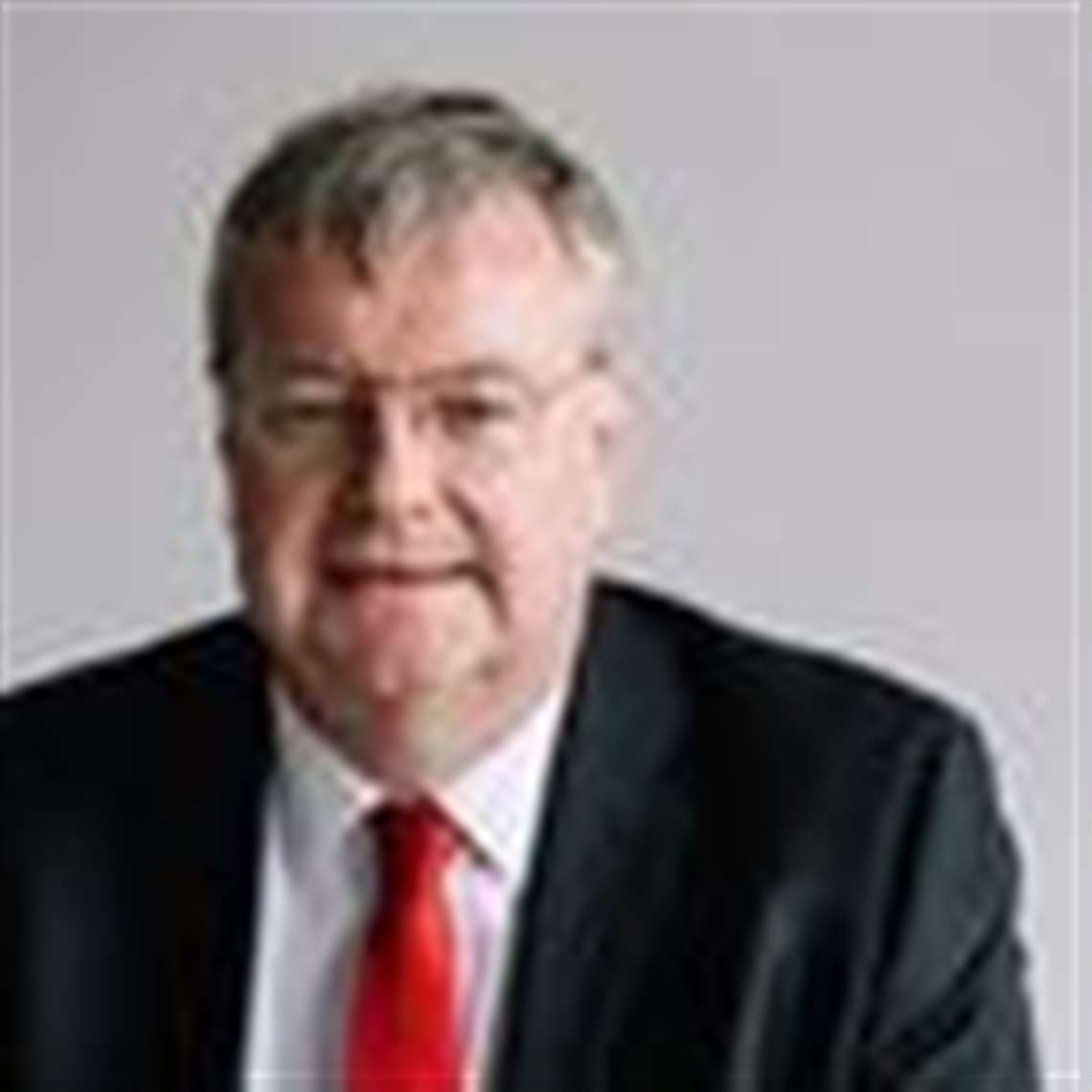 Steve Ducker
Editor, Demolition & Recycling International
Tel: +44(0) 1892 786 210
E-mail: steve.ducker@khl.com
CONNECT WITH SOCIAL MEDIA