What demolition and recycling equipment was on show at Bauma 2022?
By KHL editorial staff06 December 2022
Despite reduced visitor numbers, Messe München declared itself 'thrilled' with the outcome of the 2022 edition of Bauma in its unfamiliar October slot. And there were lots of reasons for the exhibitors to be positive as well.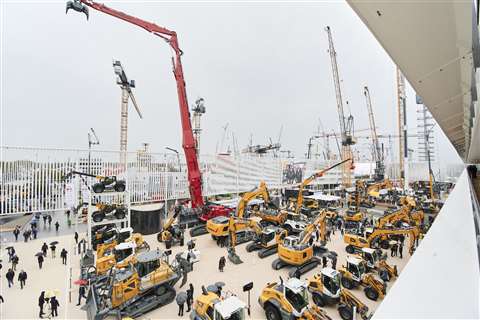 Bauma organiser Messe München said more than 495,000 visitors attended the show from 24 to 30 October, with around 50% being international visitors.
The last time the show was held, in April 2019, there were 627,603 visitors.
Given that, since then, the world has experienced the Covid-19 pandemic and numerous trade shows have been postponed or cancelled, Messe München said it was "thrilled" with how the event went.
A total of 3,200 exhibitors from 60 countries showed their products.
Stefan Rummel, CEO of Messe München, said, "After the world fundamentally changed following the last Bauma, we're really thrilled that Bauma 2022 demonstrates the trade fair remains a powerhouse of the construction-equipment industry thanks to our customers' great variety of innovations, good business deals and many visitors from all over the world."
The top ten exhibitor countries were: Germany, Italy, Turkey, Great Britain and Northern Ireland, the Netherlands, France, the US, Austria, Spain and China. The share of international exhibitors was nearly 65%.
Alternative powered machines at Bauma
One of the main themes of the show was alternative power, with many exhibitors showing electric and hybrid models – although many of these were prototypes and not yet commercially available.
Joachim Schmid, managing director of the Construction Machinery and Building Material Association of the German Engineering Federation (VDMA), said: "The exhibitors are offering solutions to address current challenges related to CO2 neutrality as well as tackling the issue of skilled worker shortages with automation and digitalization. This is the future."
The future of demolition equipment
The future was also very much on the minds of numerous exhibitors, not least those with connections to the demolition and recycling industry. Take for instance Kobelco Europe.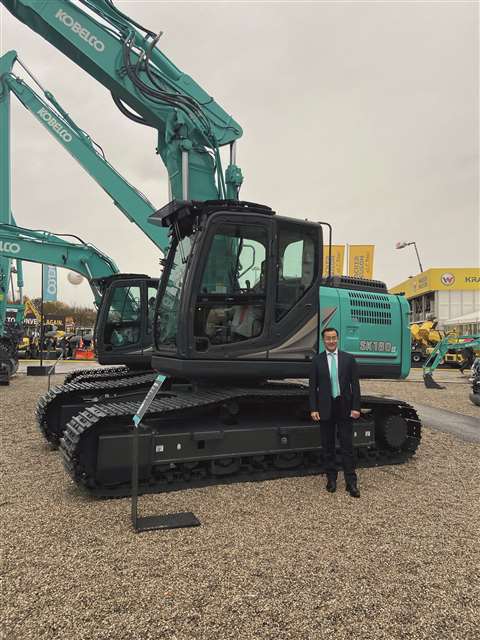 The company's Japanese managing director reiterated his company's ambition to become the continent's number one demolition excavator manufacturer in Europe.
Makoto Kato said customers want to go higher and higher with their equipment – and he believes that Kobelco Construction Machinery Europe has the machines to help them do so.
In recent years, the company has launched three new products into the demolition market.
This year has marked the European launch of the SK1300D, which made its debut in Japan last year.
The introduction of the new product has taken place against a background of supply chain issues that surfaced during the Coronavirus pandemic and have got worse since the Russian invasion of Ukraine in February.
However, Mr Kato views this as a problem that is common to everyone, praising the company's "brand-loyal customers" for their understanding of the situation and being prepared to wait for delivery of the machines.
It is targeted at the major European markets of France, Germany, Italy, Norway and the United Kingdom, and the growing sectors of power plant and oil rig decommissioning.
Consisting of a base machine with six boom variations of pin heights ranging from 8 to 40 m (26 to 131 ft), it is suited to maximum tool weights between 12 and 4.3 t.
Other innovations include high tool performance achieved with a four-piece UD Demolition boom configuration.
Kobelco described the SK1300DLC as currently the world's largest OEM manufactured building demolition machine and delivers superior productivity, versatility and the ability to use more powerful crushers at new heights.
The SK1300DLC is a common base-type machine but the integration of the Kobelco-developed Next Advance system means that it can be adapted for multiple applications on the jobsite, including high elevation demolition projects as well as breaking up building foundations.
The machine's modular design also allows easy transport with fast set-up and disassembly, which is a significant benefit to operators working on multiple jobsites or on different projects.
Once disassembled, the SK1300DLC's base machine has a transportation weight of less than 32 t and a width of around 3.2 m (10 ft 6 in), which makes travelling between jobsites in urban environments, or in countries where there are strict regulations, possible.
High reach excavators
German manufacturer Sennebogen was also active in the field of demolition excavators. At the demolition site, two factors determine the success of a project: high safety and time- and cost-saving solutions.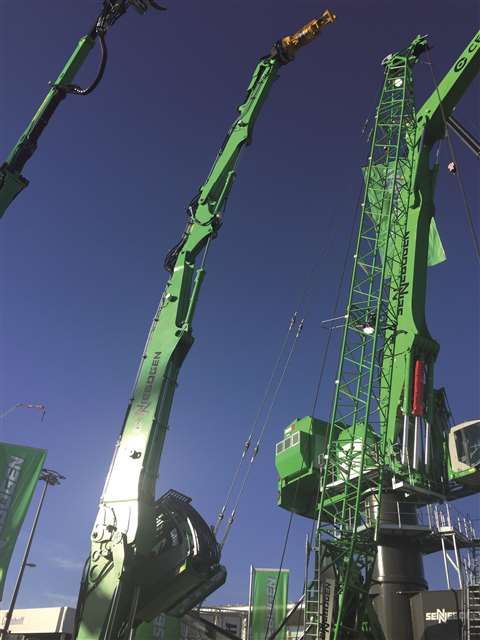 Sennebogen believes it has met both requirements with its multifunctional 830 Demolition machine.
It showed the 48 t demolition machine at the recent Bauma exhibition with two new equipment features.
In addition to three-part demolition equipment with a maximum pin height of 23 m (75 ft), the machine also features a fully hydraulically unloadable counterweight.
The 830 Demolition machine, which is described as suited to applications in inner-city sites, has an outrigger with a standing width of up to 4.5 m (14 ft 9 in).
The elevating cab that can be tilted up to 30 degrees and give the operator a view of the equipment that keeps them clear of the danger zone.
An optional unloadable counterweight reduces transport weight by around 10 t.
According to Sennebogen, the new longfront equipment for the 830 Demolition enables "even greater distance from the demolition object and thus even more safety.
"With the AB23 three-part demolition equipment, the 830 Demolition offers higher reach than previous models and work over projecting edges with the new articulated boom," the company said.
Zero-emission excavators
Another German company, compact equipment specialist Wacker Neuson, also declared the event a success.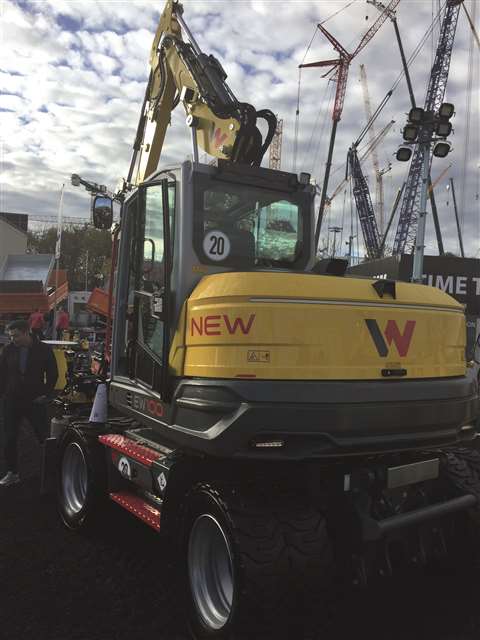 "After more than two years of pandemic, we were particularly looking forward to Bauma – for us the trade fair home game," says Alexander Greschner, chief sales officer of the Wacker Neuson Group.
"Already on the opening day we were really overwhelmed: Visitors streamed to our stand, we had many very good conversations and saw sales success from day one at 2019 levels and above."
What the company describes as a "successful" Bauma was based on three elements, all under the "Meet the Future" banner.
Visitors to the "Meet Green" section were able to find out about the zero emission offering, which was expanded at Bauma to include a number of machines and services – such as special zero emission financing offers but also solutions in the field of charging infrastructure.
"With our zero emission portfolio, an entire inner-city construction site can now be operated with no local emissions," explains Alexander Greschner.
"The next step for us is to provide the entire ecosystem for our customers: From charging infrastructure to services, financing offers and different usage models, to a life cycle approach of the battery."
In the "Meet Innovation" area, Wacker Neuson and Kramer were demonstrating products including the Wacker Neuson EW100 compact wheeled excavator, a 10 t excavator said to perform tasks that would otherwise require a 14 t model.
Visitors also learned how digital solutions bring greater efficiency and transparency to the construction site under the heading "Meet Connectivity".
Crushing and screening equipment
Among several developments in crushing and screening, Belgian crushing and screening equipment manufacturer Keestrack exhibited a range of electric machines under its "Join the e-volution" banner, after a busy period of product development in the past two years.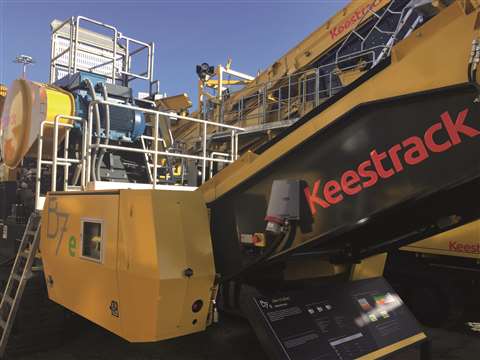 Marketing manager Marcel Kerkhofs said: "We have a strong reputation for cost-effective equipment with a relentless search for the best performance at the lowest cost per produced ton, using the best drive system possible.
"Today this means going electric."
Keestrack introduced electric drives in 2012 by the e-drive; electric plug-in with onboard diesel/genset in case there is no electric plug-in available.
The e-driven machines evolved into equipment with a drop-off engine or genset unit which could be placed next to the equipment, in less dusty surroundings, or on the frame of the machine.
With its zero-drive systems, there are no combustion engines on board, as electric motors drive most of the mobile crushing and screening equipment and power some necessary hydraulics systems.
Zero-drive options developed by Keestrack include cone crushers, impact crushers, scalper screens and jaw crushers.
"At this point electric drive systems are the greenest and most effective options on the market, as they are more efficient than conventional hydraulic systems," said Keestrack group president Kees Hoogendoorn.
"But it also makes the end-user less dependent on a specific engine supplier."
Heavy duty jaw crusher
McCloskey International unveiled the new J4 as the latest entry into its range of jaw crushers.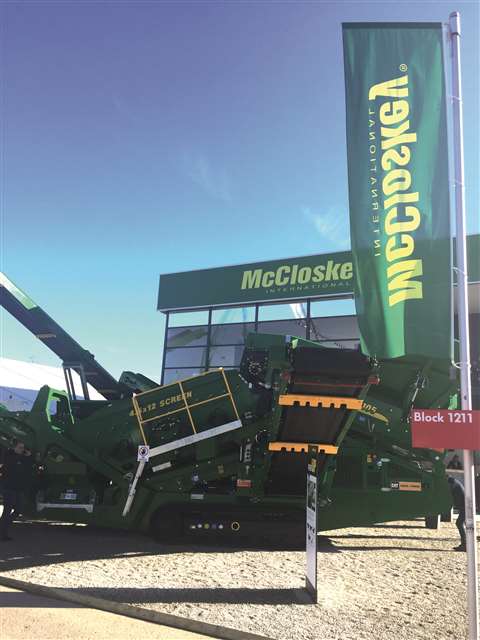 The J4 is said to build on the robust features of the existing product range, with an exciting line-up of features aimed at boosting productivity and offering enhanced durability across applications.
Features include a 1,060 x 700 mm (42 x 28 in) jaw opening accommodates large feed sizes, contributing to higher production in material processing.
"It is a jaw crusher that is very suitable for heavy duty applications," said senior vice president Toni Laaksonen.
"We have had a lot of orders through dealers.
"The J4 continues the momentum for our jaw crushing product range, as we continue to develop new products that meet the evolving needs of our customers across industries."
The J4 follows the launch of the J6 model into the North American market earlier this year, while electric crushers are currently being field tested with a view to their introduction in the first quarter of 2023.
Also at Bauma, McCloskey announced that its aggregates processing brand Lippmann will enter the rest of the world crushing and screening market after signing agreements with multiple distributors outside the USA.
McCloskey Environmental also has a new range of trommels planned for early 2023.
Innovations for concrete drilling and sawing
The 205 sq m (2,200 sq ft) Tyrolit indoor booth and an additional 160 sq m (1,720 sq ft) outdoor area were the venues for experiencing and testing Tyrolit machines.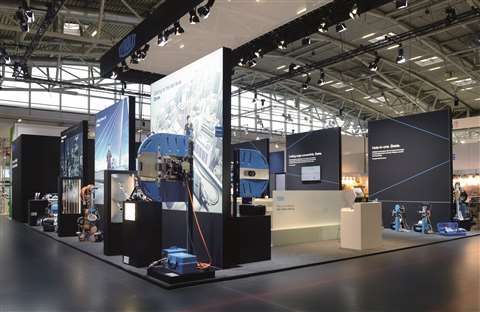 In addition to solutions for the core business of concrete drilling and sawing, the system provider offered insights into the developments of its in-house MoveSmart Technology.
The manufacturer's Bauma innovations for concrete drilling and sawing included several modified specifications of various drill bits, wall saw blades and floor saw blades.
Of course, major highlights such as the brand new high-frequency core drilling motor DME38/40, the impressive wall saw WSE1621 and the ATEX-certified SB wire saw were also part of the exhibition.
This article originally featured in the November/December edition of Demolition & Recycling International. Click here to read the full issue. 
NEWSLETTER
Delivered directly to your inbox, Demolition & Recycling International Newsletter features the pick of the breaking news stories, product launches, show reports and more from KHL's world-class editorial team.
CONNECT WITH THE TEAM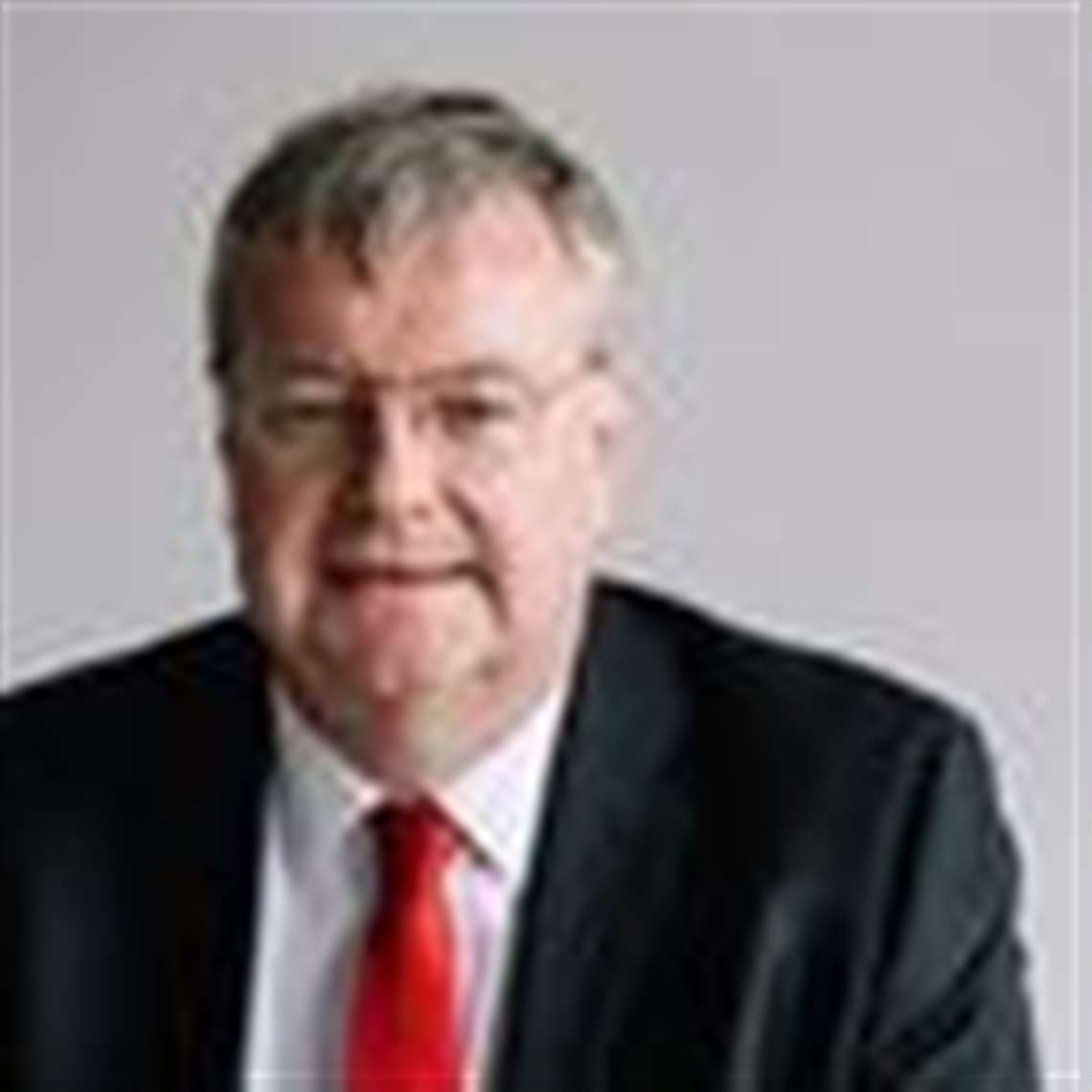 Steve Ducker
Editor, Demolition & Recycling International
Tel: +44(0) 1892 786 210
E-mail: steve.ducker@khl.com
CONNECT WITH SOCIAL MEDIA