Three ways to demolish offshore wind farms with hydrodemolition
Offshore wind farms are now critical to meeting the United Kingdom's electrical energy requirements for the rest of the 21st century and beyond. New turbine farms are being installed at a rapid rate.
Meanwhile, the first farms, installed two decades ago, are already reaching the end of their lives and are being decommissioned, creating new and demanding demolition challenges.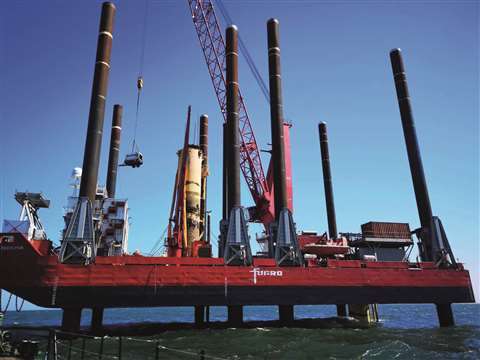 Ultra-high water pressure (UHP) jetting specialist RGL, a member of the Water Jetting Association, is developing technology that enables power companies and demolition contractors to overcome these challenges safely and sustainably.
Once the above-sea-level turbines have been lifted away, what is left is a steel or concrete monopile that has been driven into the seabed many metres below sea level.
Jeremy Twigg, commercial director of RGL, which is based in Hampshire in the south of England, said: "Removing these monopiles is the big challenge, not least because of the overriding need to do it safely.
"In most cases, they have to be cut below the seabed to ensure they don't pose a risk to or can snag on fishing nets. In many cases, they must also be removed without the use of divers.
"We're developing bespoke ultra-high pressure water jet cutting tools that allow us to cut these monopiles remotely no matter how big they are or what the depth of water."
Removing monopiles at Blyth Offshore Wind Farm
An example has been the project to remove two monopiles from the Blyth Offshore Wind Farm, sited a mile off the coast of Northumberland.
It became the first wind farm to be built in UK waters, developed by a consortium comprising of E.ON UK Renewables, Shell Renewables, Nuon UK and AMEC Wind.
After 18 years of service, two of the wind turbines had reached the end of their lives and it was decided they were to be decommissioned.
E.ON appointed marine contractor Fugro Geoservices to carry out the demolition work. In turn, Fugro Geoservices appointed RGL to undertake the subsea cutting.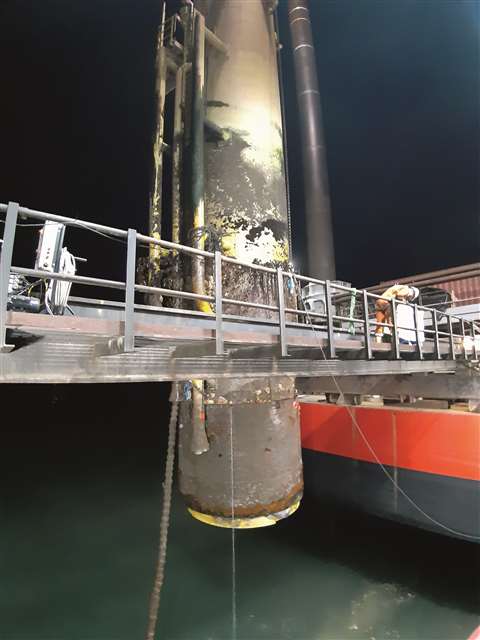 RGL manufactured a bespoke abrasive water jetting tool to cut through the 50 mm (2 in) thick steel walls of the 3.4 m (11 ft) diameter monopiles.
The challenge was complicated by the presence of a 200 mm (8 in) cementitious grout annulus. This also had to be cut through at the same time.
Working from an offshore jack-up maintenance barge alongside Fugro Geoservices colleagues, the RGL team's first task was to use a different water jetting tooling to cut through redundant grout tubes and electric power cables inside the monopile so they did not interfere with the cut line location.
Water jetting was also used to create holes used as lifting points.
The pile cutting tool could then be lowered inside the monopile to the specified one metre (3 ft) below the sea bed and fixed into position with hydraulic arms.
The rig has two jetting heads to accelerate the cutting process. The combination of potable water jets, operating at 2,800 bar (40,600 psi) with a flow rate of 24 l/min, and an abrasive additive of garnet chips, easily cut through the grout and the steel pile in less than 12 hours.
"Once the water jetting has started, we want to complete it in one sweep," said Jeremy Twigg.
"This ensures we have a clean and complete cut. Once the cut was complete, each monopile could be lifted from the seabed, with our cutting tool still in it."
High pressure water jetting at Horns Rev 2 in Denmark
In another project at the Horns Rev 2 wind farm off the coast of Denmark, RGL had to first dredge a monopile to remove silt and sludge. Its teams used UHP water jets and compressed air to push the material out of the pile, a process that is faster and more thorough than the conventional use of a grab bucket.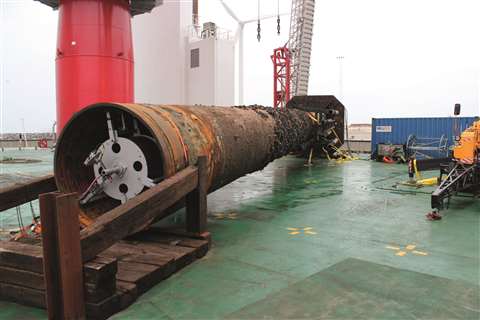 High pressure water jetting was then used to clean the inside of the pile so the cutting rig could be safely lowered into position at a depth of 24.2 m (79 ft) from the top of the 44 t pile. Eight hours later, the cut was complete and the monopile could be lifted to the surface.
Jeremy Twigg said: "Hydrodemolition is proving to be the most sustainable, safest and most certain method for removing wind turbine piles.
"We have removed piles where previous attempts using diamond cutting had failed.
"Over the coming decades, there is no doubt hydrodemolition will be crucial to maintenance and development of off-shore wind farms."
Getting power quickly back on track in north-west England
Back in the United Kingdom, in Cumbria, using an ultra-high pressure water jetting robot to remove refractory from a biomass furnace has allowed its operator to resume power generation quickly and efficiently.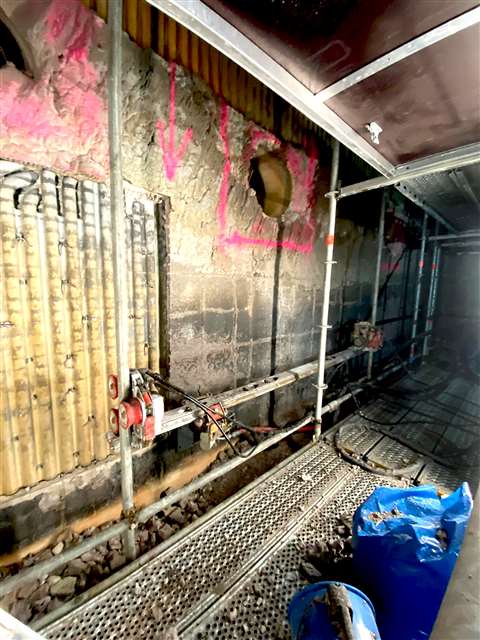 Water jetting contractor Hydroblast said removing the heat-resistant material using ultra high pressure water jetting proved quicker and more effective than mechanical demolition.
Hydroblast removed 110 sq m (1,184 sq ft) of refractory at the biomass energy plant located at a cardboard paper mill in Workington, in nine 12-hour shifts, a day ahead of schedule.
The company's operations director, Ross McDonald, said: "The conventional method for removing refractory is to use handheld mechanical breakers.
"This approach greatly increases the risk of damaging the furnace and could not be completed in the timeframe we achieved with just three personnel per shift."
Refractory removal is become an increasingly important industrial process as more biomass plants are opened to burn waste or renewable materials for energy generation.
The refractory at the biomass plant was being replaced as part of planned maintenance.
It had to be completed in as short a time as possible to meet energy generation commitments.
The material was 85 mm (3 in) thick and covered a 3 m (10 ft) high section of the walls at the base of the furnace which measured 9 x 9 m (29 x 29 ft) and was 29 m (95 ft) high.
Hydrodemoltion with a robotic water jet frame
Hydroblast, based in North Yorkshire, and a member of the Water Jetting Association, used an Aquajet Ergo robotic water jet frame to carry out the hydrodemolition.
The equipment was passed through a 600 mm (24 in) diameter access hatch into the furnace, where a scaffold work platform had been installed above the burners located across the floor.
The water jet frame was attached to scaffolding erected to Hydroblast's specification and allowed a 3 m wide section of refractory to be removed at a time.
A very fine jet, called a pencil jet, delivered water at 2,20 0bar (31,900 psi) with a flow rate of 90 l/min onto the refractory in pre-programmed sweeps.
Waste material was removed by the biomass energy plant's own personnel after each section had been water jetted and the next one was being set up.
Ross McDonald said: "Another significant benefit of hydrodemolition is that the water jet is very efficient. It takes the furnace wall back to bare metal so very little surface preparation is needed before the new refractory is applied."
Hydroblast is a UK leader in the use of robotic water jet systems which can deliver significant benefits over conventional hand-held lance water jetting.
Using the semi-automated water jetting systems, as they are also called, moves the operative away from the water jet, enhancing safety. For many repetitive tasks, refractory removal being one, robotic jetting is often said to be more productive.
The Water Jetting Association
The Water Jetting Association is the member organisation for the UK high pressure and ultra-high pressure water jetting industry.
Its codes of practice – the Blue Code for high pressure and ultra-high pressure water jetting and the Red Code, for water jetting in drains and sewers – set internationally-recognised standards for safety and productivity.
It is also the UK's largest water jetting and pressure washing training provider. City & Guilds-accredited courses are delivered by registered training providers and approved instructors. More details at www.waterjetting.org.uk.
Article first published in the July-August 2021 issue of Demolition & Recycling International
NEWSLETTER
Delivered directly to your inbox, Demolition & Recycling International Newsletter features the pick of the breaking news stories, product launches, show reports and more from KHL's world-class editorial team.
CONNECT WITH THE TEAM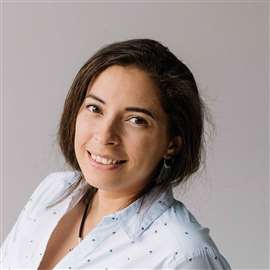 Leila Steed
Editor, Demolition & Recycling International
Tel: +44(0) 1892 786 261
E-mail: leila.steed@khl.com
CONNECT WITH SOCIAL MEDIA