Site report: Rosenlund meets high-rise demolition challenge
Follwing the successful demolition of multiple high-rise buildings in Brisbane, Australia, Rosenlund Contractors was shortlisted in the Urban Demolition under US$10 million category of the 2021 World Demolition Awards. Here is how they executed the project.
In April 2020, Rosenlund Contractors was engaged as principal contractor to demolish four high-rise buildings in the heart of the CBD (central business district) of the city of Brisbane, Australia.
These concrete and steel structures were built in the 1970s. As such, they were also heavily contaminated with friable and bonded asbestos which Rosenlund remediated before it started demolition works.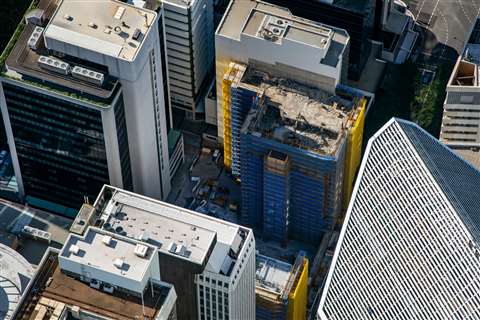 Approximately 60,000 cubic metres (2.12 million cu ft) of buildings were demolished using multiple means of demolition including craning, high-reach, top down and traditional demolition techniques. It was a complicated demolition requiring coordination between multiple teams and trades to complete.
The project had a Green Star rating requirement to recycle a minimum of 90% of all generated waste. The works generated nearly 26,000 t of waste, of which more than 96% was recycled.
Innovative aspects to the demolition work included using cantilever scaffold to protect neighbouring lower buildings while beginning top-down demolition works and engineering a specialised arm to allow for a 12 m (39 ft) reach by a 12 t excavator, which also helped in conducting works to remove an asbestos mastic between buildings during a top-down methodology.
Managing a high-rise demolition project
Rosenlund reached substantial completion in October 2020. The client provided variation directions post-demolition works to improve the site and Rosenlund completed additional works in full in March 2021. A total of 213 workers were inducted to site, working almost 38,000 hours on the project with no lost time injuries.
At the height of the project around 40 workers were on site representing a range of trades that had to be managed on multiple fronts. The works were completed on-time and on budget with no health and safety incidents.
According to Rosenlund, there have not been many large scale multiple adjacent high-rise demolitions in the city of Brisbane. The company was chosen for its experience and capabilities in undertaking high-reach demolition and top-down works safely and efficiently.
Developing a demolition strategy
The success of the project relied heavily on the planning stage, with Rosenlund using engineering to determine the best means of conducting the works. Three-dimensional structural scans were used in key areas such as the basement structures to be able to build a methodology of the works and to fill in the gaps where as-builts did not exist.
Extensive destructive audits at the start of the job revealed an asbestos mastic on 380 Queen Street. The 12-storey building had been planned to be demolished through high-reach methodology, but the mastic was on the outer wall. As such, Rosenlund had to quickly redesign its demolition methodology to allow for the structure to be demolished top-down while also allowing for continual removal of exterior asbestos mastic in a difficult location.
The company developed a strategy to install cantilever scaffolding to progress top-down works while the adjacent building was demolished through high-reach. This was all done in negotiation with a client to ensure that any extra cost and time proponents were minimised.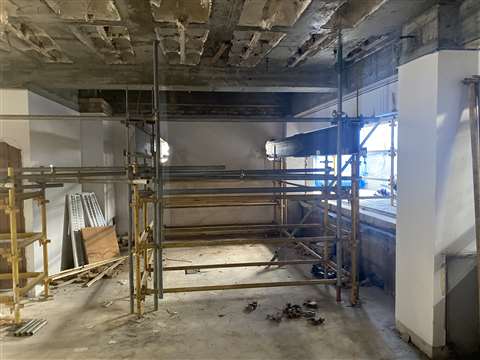 A long arm boom was engineered in-house for a 12 t excavator to conduct the works and to allow it to reach upwards of 12 m out in the gap where the mastic was to be removed and lowered into the bucket.
This engineered arm also allowed the excavator to demolish the upper plant floor level. This machine allowed Rosenlund to drop a floor every seven days on the top-down demolition works.
The contractor also managed friable asbestos removal through the structures – achieving clearances while ensuring that the areas were air monitored with no exceedances.
Due to the coordination works there were weeks in which Rosenlund was managing strip out crews, asbestos and hazmat crews, demolition crews, scaffolders, propping teams and services contractors.
This was made more challenging with the onset of the Coronavirus pandemic and restrictions implemented that were new to the demolition industry, so the demolition company quickly implemented its own policies and procedures for controlling Covid-19 in the workplace. The outcome for the project was no cases of Covid-19 amongst the team.
Prioritising public safety
Demolishing four large structures next to residential and commercial office buildings on a small urban footprint was always going to be a challenge.
This was overcome through devising means in which to manage noise, dust and ensure that the footprint of the site was used to the best of the company's ability to minimalise any impacts.
Rosenlund installed a pedestrian gantry and 740 t of containment scaffolding to ensure that the public was protected from falling objects and to help negate dust while allowing for the adjacent footpath and main road to remain trafficable. This involved using a narrow alleyway at the back of the building for all truck movements, which minimised any impact to streets. 
The main road was shut down for just a single weekend, when a 450 t crane was used to partially demolish a plantroom before lifting machines up onto the building to begin top-down demolition.
A scaffold waste chute was installed within the containment for 380 Queen St to use during the top-down demolition to contain dust and to lessen noise of falling debris.
Dust was maintained using a specific dust suppression methodology for the project in which sprinkler systems were installed for the project and through the aid of machine-attached dust suppression equipment.
Key challenges
Demolition of four large buildings on a small urban footprint in the heart of the city
Tight budget and project schedule to maintain to complete works
Ensuring safety to workers and public during Covid-19 pandemic with new and consistently changing legislation
Dealing with an external asbestos mastic on the outside of a high-rise structure during top-down demolition
Meeting a 90% recycling rate to achieve Green Star rating on the project
Noise was managed with consideration for an urban environment that consists of office buildings and residential units, with pulverisers being used where possible, and the hammering of ground slabs limited to the hours of 9 am to 3 pm.
Achieving the Green Star rating
With the Green Star rating requiring a minimum 90% recycling rate, the environmental impact of the project was deeply considered, and the project finished with a recycling rate of 96.54%.
Rosenlund met with stakeholders including large tenants in the adjacent buildings. Consideration was made to three car parks that shared the alleyway, public transport along the main road and numerous offices, businesses, and residences. Ultimately it conducted a year of work using large machines and large workforces without any major incidents or complaints from neighbours.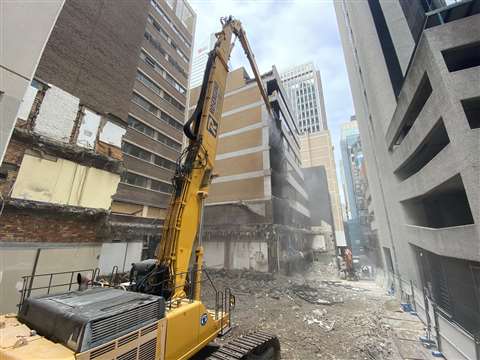 In addition, Rosenlund worked to share a narrow lane with a neighbouring contractor that was completing a full façade upgrade to a high-rise without any major interference to one another's programme of works, and there were no complaints or issues with the local council or health and safety.
Rosenlund says the client was totally satisfied with the work done and awarded a further five months of variation work to remediate inground contamination and provide landscaping and fencing to the site.
"There were no client disputes and variations were mainly client-driven," Rosenlund adds.
"There were no workplace issues, council dramas, injuries, damage to neighbouring buildings or incidents."
Rosenlund was the subject of multiple third-party audits by the client and passed each one with positive feedback, while other developers in Brisbane have similarly approached the company on the back of this job.
Article first published in the March-April 2022 issue of Demolition & Recycling International
The equipment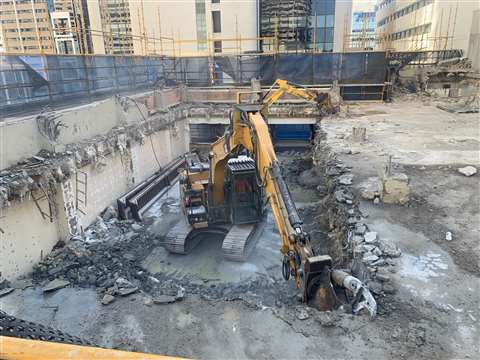 80 t Case high-reach machine
50 t Hitachi
45 t Komatsu
30 t Hitachi
30 t Cat
12 t Cat 12 m (39 ft) reach
5 t Volvo
Toyota skid steer
450 t mobile crane
NEWSLETTER
Delivered directly to your inbox, Demolition & Recycling International Newsletter features the pick of the breaking news stories, product launches, show reports and more from KHL's world-class editorial team.
CONNECT WITH THE TEAM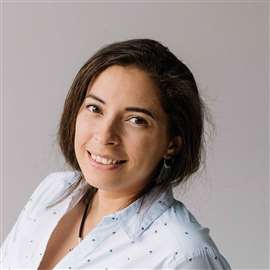 Leila Steed
Editor, Demolition & Recycling International
Tel: +44(0) 1892 786 261
E-mail: leila.steed@khl.com
CONNECT WITH SOCIAL MEDIA