Silicosis: 'the biggest risk to construction workers after asbestos'
Governments around the world are coming under increasing pressure to tighten safety rules for construction workers cutting and drilling some types of engineered stone. Lucy Barnard finds out how a craze for the material has meant that silicosis has become the biggest risk to construction workers' health after asbestos.
For 27-year-old stone worker Leobardo Segura-Meza, time is running out.
The Mexican father of three who immigrated to California in 2012 is waiting for a lung transplant after being diagnosed with a severe and debilitating illness caused by breathing in the powder from cutting and grinding worktops for the last 10 years.
In February 2022 Segura-Meza had such difficulty breathing that he was rushed to hospital where a biopsy revealed that he has silicosis – a debilitating and progressive lung disease suffered by workers exposed to large concentrations of silica dust.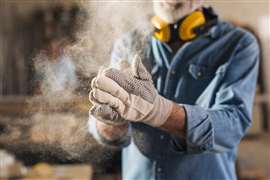 Since then, he has been unable to work, relying on an oxygen tank for air and in June 2023 was again hospitalized with a collapsed lung,
"Every day I hope that the phone rings telling me to come to the hospital to get my new lungs," he says in Spanish.
But Segura-Meza is losing hope. Two fellow stone workers have already died while on the transplant waiting list and stories abound of others whose health is failing.
In July, a joint study by UC Los Angeles and UC San Francisco released a study into the cases of 52 stone workers in California, identified by the California Department of Public Health who, like Segura-Meza, had been diagnosed with silicosis.
Their findings were stark: Of the 52 men identified whose median age was 45 years old and who had worked in the industry for an average of 15 years, ten died before they could undergo treatment, eleven were referred for lung transplants.
The researchers found that each of the men who had developed silicosis had been working with engineered stone, a manmade material made from crushed stone held together with a resin binder. The material, primarily used for kitchen countertops has an appearance similar to natural stone but often contains high levels of silica and, when cut, generates large quantities of silica dust.
Silicosis among stone workers
"Increasing case counts of silicosis among stone fabricators over the last 10 years and accelerated progression of disease transforms the paradigm of an all-but-previously-forgotten disease in the US," said Jane Fazio MD, a pulmonary specialist at UCLA Medical Centre and co-author of the study. "Our study demonstrates severe morbidity and mortality among a particularly vulnerable group of young under-insured and likely undocumented Latino immigrant workers."
"Our paper raises the alarm," said Sheiphali Gandhi, a UCSF pulmonologist and co-author of the study. "If we don't stop it now, we're going to have hundreds if not thousands of more cases. Even if we stopped it now, we're going to be seeing these cases for the next decade because it takes years to develop."
And Californian workers are not alone. Although silicosis is an occupational lung disease known since Greek and Roman times, over the last decade, doctors have noted high incidence of the disease among workers cutting engineered stone. Moreover, many of these cases are among younger workers, often in their 20s, 30s and 40s.
The UK's Health & Safety Executive describes silica as "the biggest risk to construction workers after asbestos," and estimates that it was responsible for the deaths of more than 500 British construction workers in 2005.
In 2015 a study presented to the International Society for Environmental Epidemiology reported 203 cases of silicosis linked to engineered stonework in Israel between 2012 and 2014. Of these, nearly two fifths had been working in the industry for less than 10 years.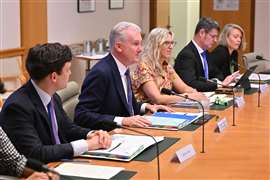 More recently, an April 2022 report by Perth-based Curtin University and commissioned by the Australian Council of Trade Unions, predicts that between 83,090 and 103,860 Australians will be diagnosed with silicosis over the course of their lifetimes as the result of their exposure to silica dust. Of these, more than 10,000 Australians will develop lung cancer.
"While a complete ban on engineered stone would be the best option, it is possible to reduce the health impacts of working with engineered stone by various methods such as mandatory wet-cutting or on-tool dust extraction, as long as these methods are combined with the consistent use of high quality respiratory protection," said Lin Fritschi, co-author of the report.
In February, Australia became the first country to make moves towards a total ban of the manmade material after work, health and safety ministers of all states and territories unanimously agreed to ask government agency Safe Work Australia to prepare a plan to outlaw engineered stone with a high silica content. Ministers in New Zealand too have said that they are looking at following suit.
"Effectively, the experience we went through with asbestos is now going to be with us as we work through the legacy items on these engineered-stone benchtops, workplace minister Tony Burke said when announcing the decision to work towards a nationwide ban on some types of engineered stone in Australia. "The risk is real, and we do not currently have the rules in place to make sure that it's safe."
In the US, the government is looking to tighten existing regulations regarding the safe use of engineered stone and increasing inspections.
OSHA steps up enforcement programme
In September, the US-based Occupational Safety & Health Administration (OSHA) announced that it was stepping up its enforcement programme ensuring that employers protected workers against breathing in silica dust which can cause silicosis – a progressive lung disease and sometimes fatal lung disease.
As part of the initiative, OSHA announced that it would require staff in eight of its 10 regional offices to inspect at least five businesses working with engineered stone in the next twelve months to check that workers were equipped with and using the correct protective gear to protect them from breathing in crystalline silica dust particles.
Under the latest OSHA rules, employers are required to limit workers exposure to RCS through a variety of measures such as using water to keep dust from getting into the air or using a vacuum dust collection system to capture dust.
"Many workers in the engineered stone industry are experiencing illnesses so severe that they're unable to breathe - much less work a full shift - because of their exposure to silica dust," said Doug Parker, assistant secretary for occupational safety and health, announcing the new measures.
NEWSLETTER
Delivered directly to your inbox, Demolition & Recycling International Newsletter features the pick of the breaking news stories, product launches, show reports and more from KHL's world-class editorial team.
CONNECT WITH THE TEAM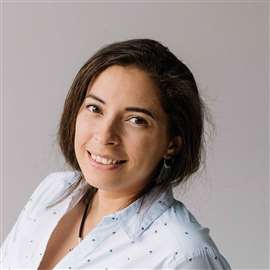 Leila Steed
Editor, Demolition & Recycling International
Tel: +44(0) 1892 786 261
E-mail: leila.steed@khl.com
CONNECT WITH SOCIAL MEDIA