Interview: Miguel Lambert - Reaching for the next level
By Steve Ducker21 June 2023
D&Ri talks to Miguel Lambert, president of USA-based recycling company Repurpose Aggregates, about recent developments at his company, including working with Northern Irish wet processing specialist CDE.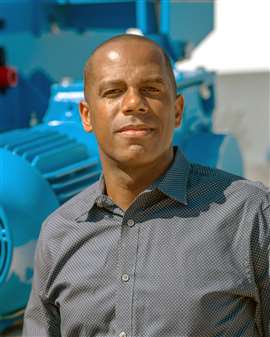 D&RI: Tell us about yourself and your background
Miguel: I've been in the industry for about 15 years, primarily focused on the mid-Atlantic where we support a lot of large infrastructure projects.
These include tunnels, bridges, highway expansion projects, demolition of buildings and making way for newer developments, and over the years I've seen large amounts of material discarded and placed into landfill rather than being repurposed.
That puts tremendous pressure on logistics and if you layer in all the recent price increases – fuel, labour, and the shortage of drivers – this has really placed even more pressure on construction.
In the past five years I have been looking at solutions for the beneficial use of aggregates or excavated materials.
We found CDE through an internet search initially. But it wasn't until attending ConExpo in Las Vegas in 2020 that I had an opportunity.
That was the ConExpo just before Covid began in the USA.
That was almost the worst time to start a conversation with somebody...
It really was! But it depends where you are – was it the worst or the best?
It wasn't until the middle of the year that I said "hey, I really like that product."
And I really started to work with the team at CDE to look at buying equipment, to see what would be doable for the materials we were receiving at one of our recycling plants, and we spent three or four months designing and working up a proposal for a solution.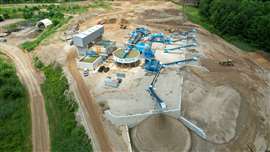 Was it a specific solution, bespoke for the operation?
Yes, it was specifically engineered for us and there were some specific things I wanted to make sure the design of the equipment and the layout of the equipment had so it would help us with our processing of materials.
So there were three or four months between design and quoting and I think it's record timing because by the end of 2020 I was receiving a couple of shipments from Ireland. I wanted to hit some timelines and I wanted to start developing the site.
We needed to do a lot of site preparation, and as we were working with our subcontractors during that Covid timeframe everything took a little bit longer. The supply chain had some tough times, but with CDE we had almost weekly calls.
Did things change because of Covid? Did both sides need to be flexible in terms of the conversations you were having?
The lack of travel across the world made it a little more difficult.
We did a lot of virtual tours of CDE's existing installations, and I was able to talk to some of the other owners of facilities around the world to get their experience.
I didn't even get to see a plant before I made that purchase, because everything was on lockdown.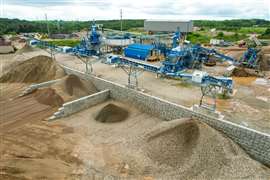 What has the plant brought to Repurpose Aggregates? What has it added to the business?
It has exceeded my expectations of the final product. But that didn't come on day one.
It came with commissioning and spending time configuring and fine tuning the equipment. And I think if you look at our final product today, we've tested it for American standards and if you compare it to the virgin aggregates being provided in our local area it exceeds in terms of cleanliness and the final product.
We're doing testing with some of the local pre-casters and users, and they have had good experiences with the material.
We spent probably a little bit more than we needed to in terms of the appearance of that facility and the way we wanted the materials to flow, the openness.
We are blessed with having a lot of land –we have a good-sized area for raw material feed coming in, a great area for stockpiling the material to reduce additional handling post-processes, and it's paying off.
What is driving Repurpose just now? Is it circular economy, is it net zero? Is it avoiding landfill? Is it a bit of everything?
With the circular economy we are one of the trailblazers right now in terms of making that investment to bring it into the US or at least into the mid-Atlantic area.
And we see the demand coming. We've been successful even in the materials we have currently to sell those products, but we know as we educate stakeholders and end users about how the material is just as good or even better as existing virgin materials, that demand will come and I think there is a stigma sometimes in engineering firms when you use the words "recycled products".
How are customers reacting to what you are telling them about the new recycled material?
We've got some good wind behind us.
You pick up the Wall Street Journal and you read about the country's carbon footprint and how we need to focus more on the circular economy.
Developers are hearing it and they are looking for solutions, but at the same time they don't want to jeopardise the entirety of their development.
They want to make sure that the owners of these properties, the states, the agencies, they have a very high standard.
And as an aggregates supplier we have to get our materials to that level and give them that confidence.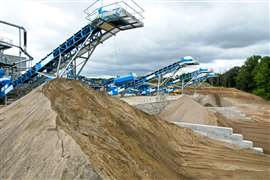 How was the Open Day that you held with CDE? Showing off a 250 t/hr construction, demolition and excavation waste plant is quite a brave thing to do.
Preparation was obviously nerve wrecking, but we had CDE's full support leading up to the event and we were blessed with good weather. The people who attended – we had visitors from all around the US and even from Canada as well – asked great questions, provided great follow up, and we have been able to support them with follow up visits.
I want to be part of the solution, but at the same time we won't be able to own every CDE plant in the US. So if we can support other people to see that vision, I think that's a positive thing.
Article first published in the April-June 2023 print and digital issues of Demolition & Recycling International
NEWSLETTER
Delivered directly to your inbox, Demolition & Recycling International Newsletter features the pick of the breaking news stories, product launches, show reports and more from KHL's world-class editorial team.
CONNECT WITH THE TEAM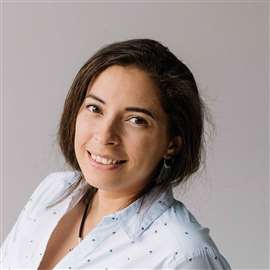 Leila Steed
Editor, Demolition & Recycling International
Tel: +44(0) 1892 786 261
E-mail: leila.steed@khl.com
CONNECT WITH SOCIAL MEDIA