D&Ri In Action section, November-December 2020 issue
By Steve Ducker11 February 2021
Hyundai takes down college building
Demolition and construction contractor Maanrakennus Mykrä has used its new Hyundai HX520L excavator to demolish a college building in Finland.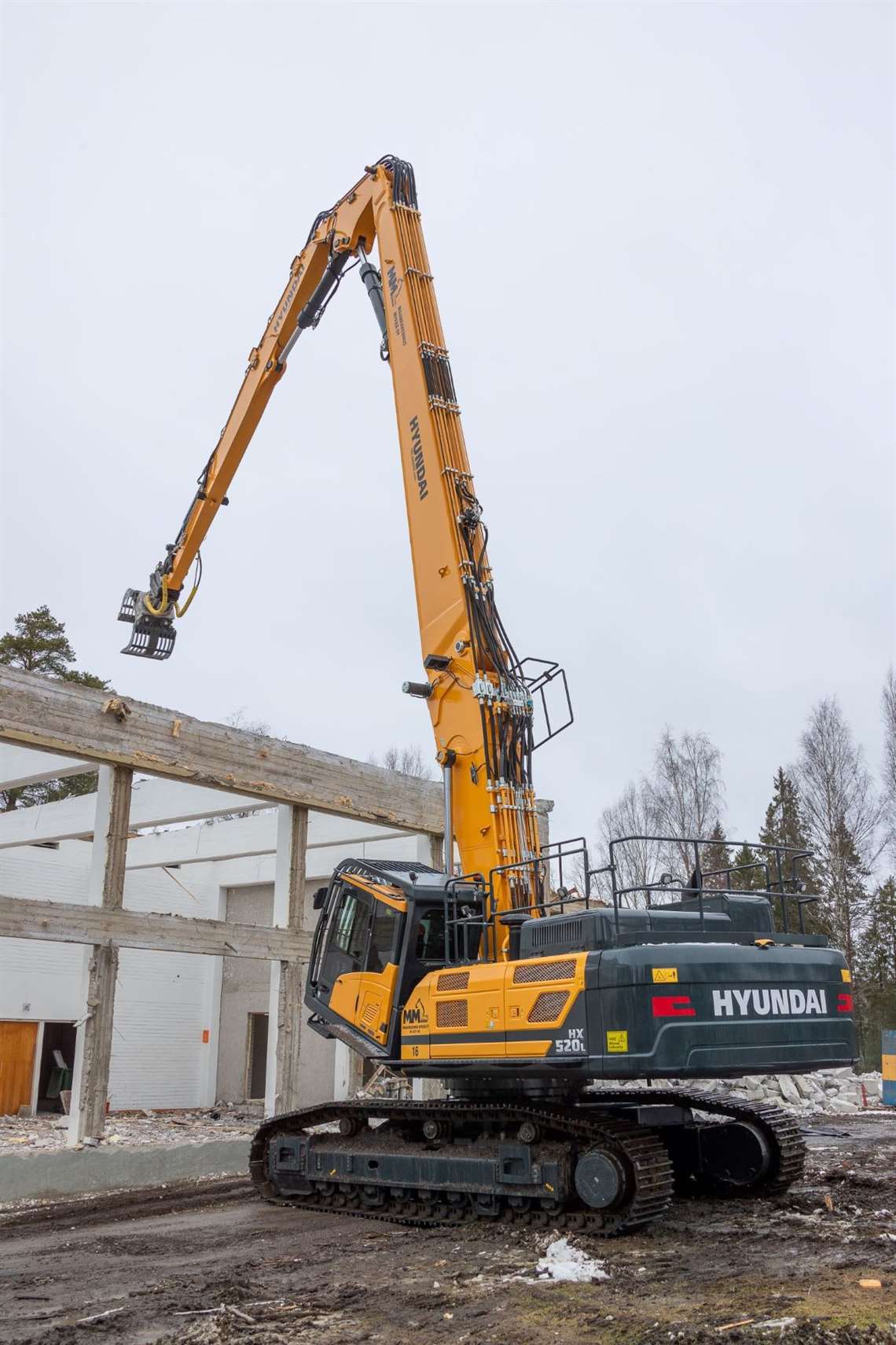 The latest addition to the company's growing Hyundai fleet, the 52 t machine is the largest piece of equipment operated by the company and is fitted with a customised 28 m (91 ft) boom.
The company used it to bring down the main building of the Kullaa College of Forestry – located in Ulvila on Finland's west coast – as part of a redevelopment project that will see a new college building in the near future.
Juha Mykrä, CEO of sales at Maanrakennus Mykrä, said: "Twenty-five years after purchasing our first demolition machine, we have bought our first excavator with a high-reach demolition boom."
Juha added: "Previously, we used an ordinary long-boom machine for high-work demolition, and we extended the machine's reach by 'piling up slopes'. This procedure is now a thing of the past thanks to the new Hyundai HX520L and its high-reach demolition equipment. However, the design with its modular boom joint, makes it possible to swap to the traditional Hyundai boom on site quickly – making it very versatile."
An 8 t counterweight was added to the rear of the machine, along with an extendable undercarriage for increased stability.
In addition to the high reach boom, Maanrakennus also had several other modifications made to the HX520L, including the installation of an on-board dust suppression system. The counterweight was added to the rear of the machine, along with an extendable undercarriage for increased stability. The company also added Hyundai's 360 degree Advanced Around View Monitoring safety system and the tilting cabin modified with automatic air conditioning and a heated air seat, to provide added comfort for the operator.
Hyundai said the extra equipment, plus a Daemo DMR800 sorting grapple, raised the machine's basic operating weight to 65 t. The extras and bespoke boom were supplied and installed by Kocurek Excavators, a specialist company based in the United Kingdom.
Roberts Waste chooses Kiverco for C&D waste recovery plant
Northern-Ireland based company Kiverco has installed a new construction and demolition waste recovery plant at Roberts Waste in Somerset in the south west of England.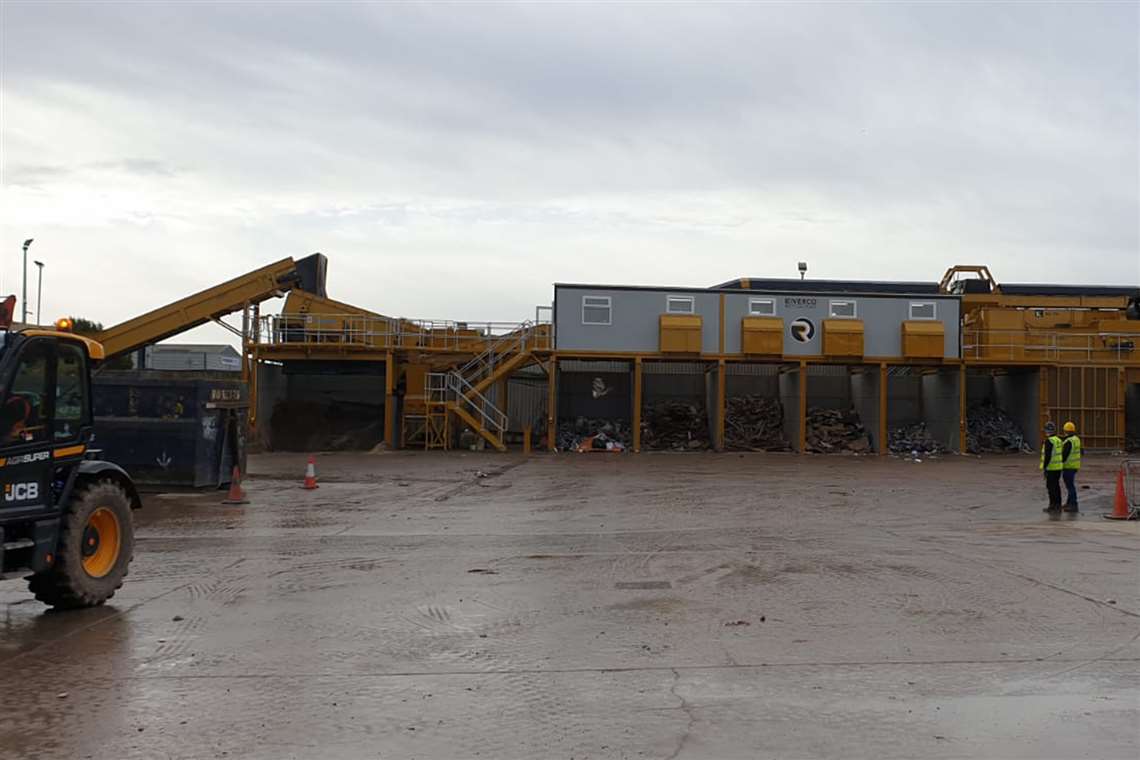 The plant was purchased to replace an older waste plant with the objective of processing current volumes more efficiently and increasing capacity, allowing the company to grow the waste business over the next three years.
Roberts Waste has been in business for more than 80 years and this latest investment from Roberts Waste will enable the company to handle more waste each day from the local area.
The Kiverco plant consists of a hopper/feeder, Combi waste screen, five-bay picking station for manual sorting, two overband magnets to remove ferrous metals, an air density separator (ADS) to remove lights material from the mid-size fraction and a powerful fan blower to remove any lights found in the oversize hardcore material at the end of the recovery process.
"The UK has been and continues to be Kiverco's most important market and we are delighted to once again secure this order from the region," said global sales manager Con Gallagher.
"Roberts are committed to recovering as much clean waste product as possible from their incoming waste stream and help contribute to a more sustainable future for everyone."
The Kiverco plant is designed to process more than 60,000 t a year of construction and demolition waste.
The system will recover fines, hardcore, ferrous metals, non-ferrous, hard plastics, plastic bottles wood and cardboard.
Beccy Roberts, director of Roberts Waste, said: "This is a really important investment for us to continue our growth plans by handling more waste.
"The Kiverco plant will certainly help us achieve our goal."
LEK moves fast
Netherlands-based demolition company LEK Sloopwerken has crushed 2,000 cu m (70,000 sq ft) of concrete in just 48 hours, as part of a bridge demolition project.
LEK Sloopwerken, a sustainable demolition company that operates internationally, used a specialist 140 t crusher attachment manufactured by MBI Group subsidiary Mantovanibenne to undertake the viaduct works.
The CR140R attachment was custom-built for the demolition of reinforced concrete and is equipped with double cylinders, a twin-pin system and rebar cutting blades.
LEK Sloopwerken used mounted the CR140R on a Liebherr 974 excavator to carry out the high-reach works, which were undertaken using only low-noise equipment due to the bridge's urban location.
Kick and cut works for AR
United Kingdom-based company AR Demolition has demolished a building using military-grade hypersonic "kick and cut" explosive technology.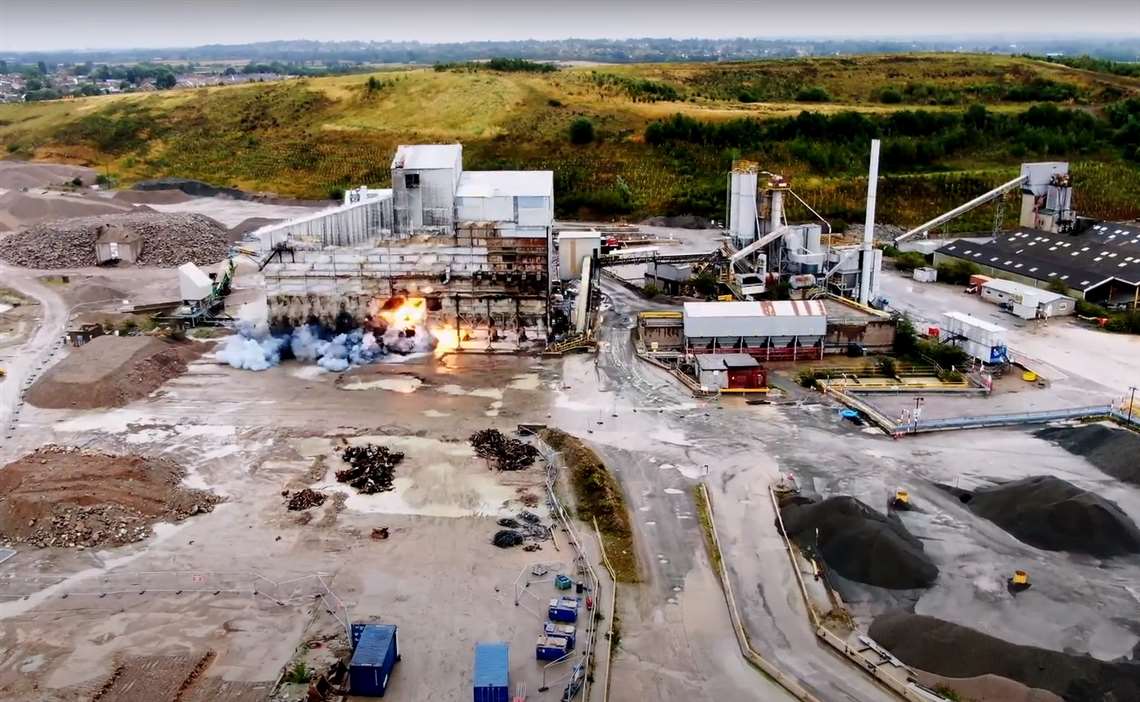 The 1,200 t screen house structure was taken down as part of decommissioning works at the Croft Quarry in Leicestershire.
The project, which was commissioned by the site's owner Aggregates Industries, also included the demolition of 150 m of conveyor belts located at the bottom of the quarry's pit.
The "kick and cut" technique uses two types of explosive charge. It was designed by specialist explosives company Alford Technologies, based in Wiltshire in the south of England.
Roland Alford, managing director, said: "We used our Dioplex charges to make a hypersonic blade which cuts through steel like butter, eliminating the need to burn and weaken steel beams.
"When combined with the Wallhammer kicking charge to remove the columns, the speed of these military grade munitions means they are relatively easy to control.
"Without the need to use human beings on weakening work, safety is greatly increased. If necessary, the charges can be placed by robots thereby removing the human element completely."
According to AR Demolition, Alford Technologies had been developing the explosive demolition method for a long time. It added that the explosive techniques would revolutionise safety in the industry and said that its newly formed relationship with the firm was the most recent "manifestation" of its mission to bring pioneering change to the industry.
City Circle doubles up on bridge demolitions
Australian demolition and decommissioning company City Circle has demolished two pedestrian bridges in Melbourne and a vehicular bridge at the Duncan's Road Interchange in Victoria as part of major infrastructure projects.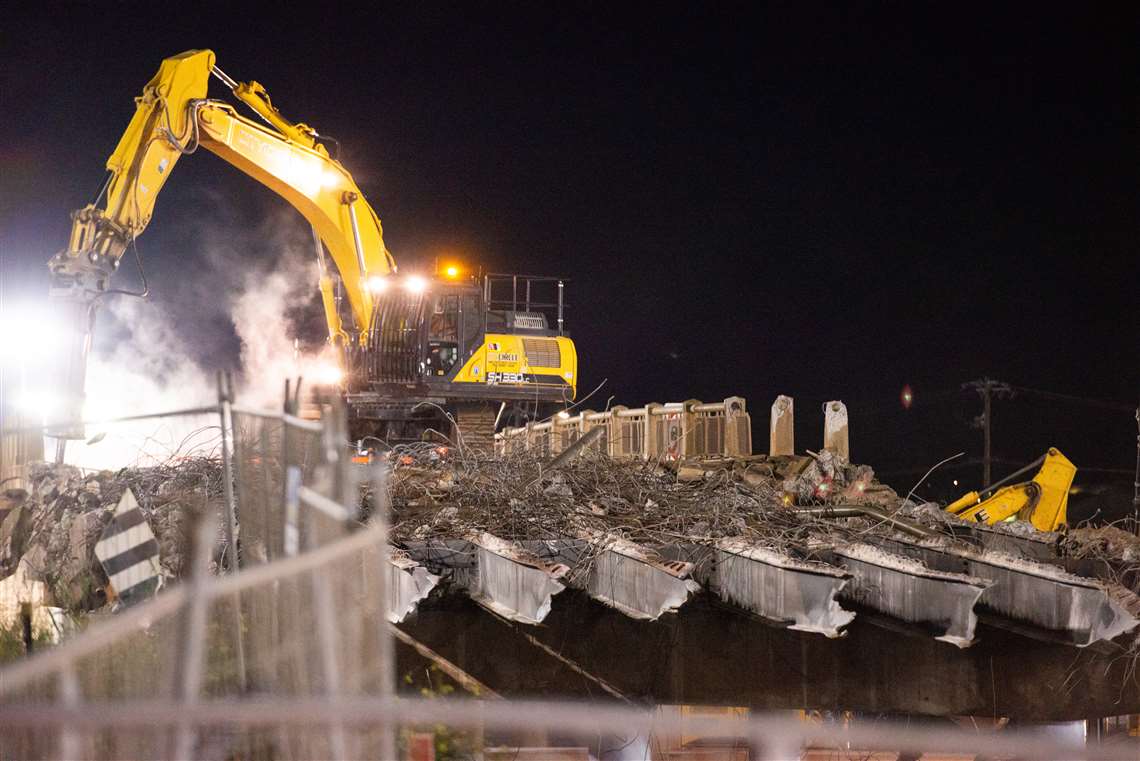 The company's demolition of the pedestrian bridges form part of the West Gate Tunnel development. It is a five km (three mile) toll road currently under construction in Melbourne. When complete, it will link Melbourne's western suburbs via an alternative route to the largest bridge structure in Victoria; the Westgate Bridge. The A$6.7 billion (US$4.8 billion) project was proposed as a means of alleviating congestion on the region's major arterials.
City Circle's demolition of the vehicular bridge at the Duncan's Road Interchange is part of the Western Roads Upgrade project. The $1.8 billion (USS$1.3 billion) investment is part of Major Road Projects Victoria's current scheme to improve the state of the commuter network in the western suburbs of Melbourne.
Both projects will see the demolition of numerous existing structures.
Power without noise' at German job site
Germany-based demolition company Servisa recently purchased several Indeco attachments for job sites across the Berlin-Brandenburg region.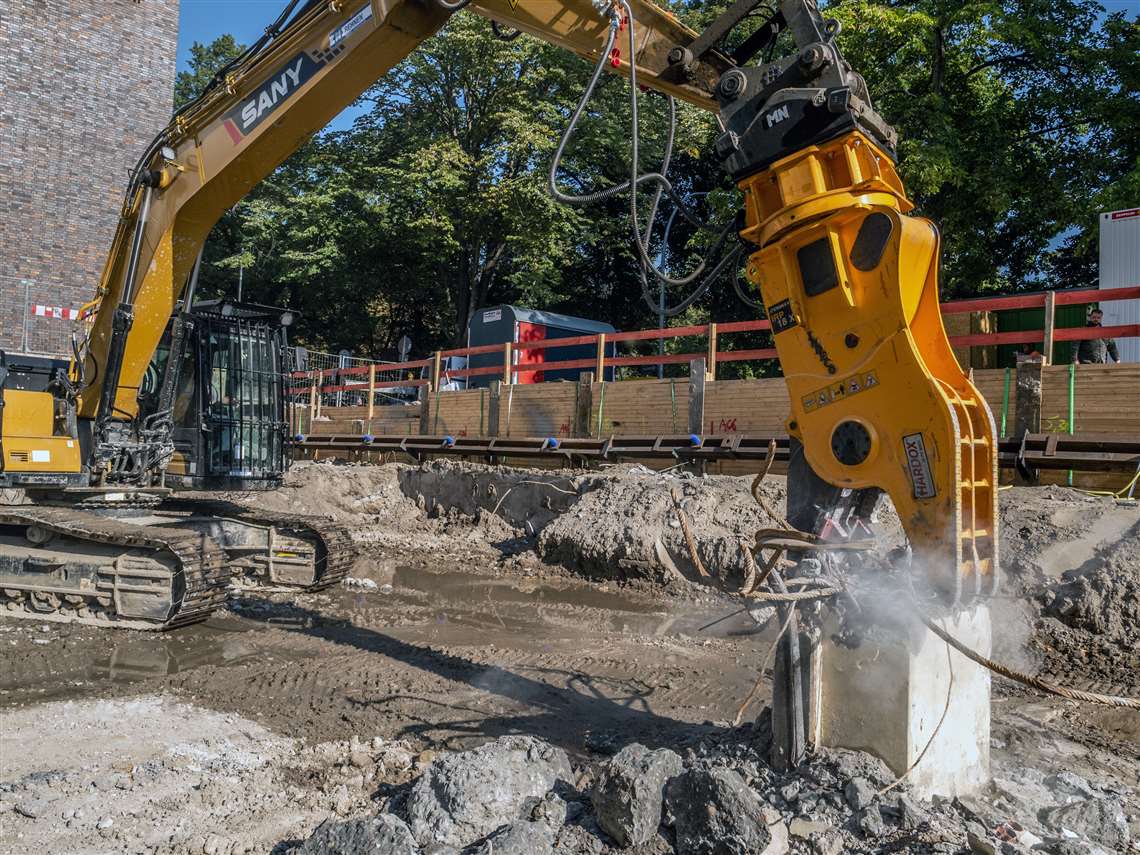 The products included an IRP 18 X pulveriser, used in the demolition of an eight-storey building on Meierottostrasse in the German capital.
With this being a residential neighbourhood, using a hydraulic hammer was not considered due to the inevitable noise and vibration and the disturbance it would have caused to people in their homes nearby.
According to Indeco, thanks to its power in proportion to its size – maximum jaw opening of 820 mm (32 in), maximum force at tip of 65 t, maximum force at cutters of 210 t with the ability to cut reinforcements up to 40 mm (1.6 in), the IRP 18 X pulveriser successfully completed the project.
First for Hitachi Zaxis-7
The first Hitachi Zaxis-7 medium excavators in the Netherlands have been successfully delivered to Grondverzetbedrijf Oosterveld, based in Bornerbroek in the east of the country.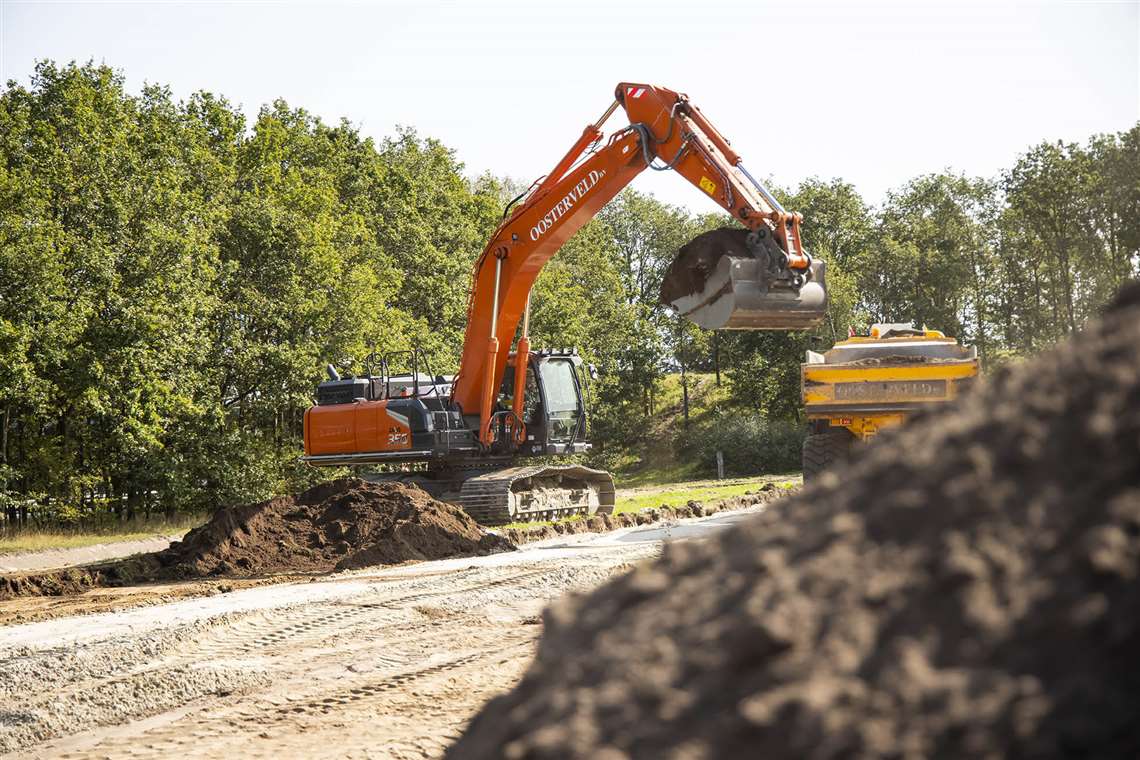 The ZX350LC-7 arrived in May and was followed in September by the ZX250LC-7. Both machines were supplied by Timmerman, an authorised sub-dealer of Hitachi Construction Machinery Nederland.
Grondverzetbedrijf Oosterveld specialises in earthmoving and infrastructure, and sister company Oosterveld Sloopwerken focuses on demolition activities.
They operate in their home country and Germany, as well as Denmark, France and the United Kingdom. Company directors Frank and Tom Oosterveld, who took over from their father, Jan, earlier this year,
decided to invest in the new Zaxis-7 models after attending an event in Amsterdam.
They chose the ZX250LC-7 and ZX350LC-7 as much of their work requires machines compliant with the latest Stage V emission regulations.
NEWSLETTER
Delivered directly to your inbox, Demolition & Recycling International Newsletter features the pick of the breaking news stories, product launches, show reports and more from KHL's world-class editorial team.
CONNECT WITH THE TEAM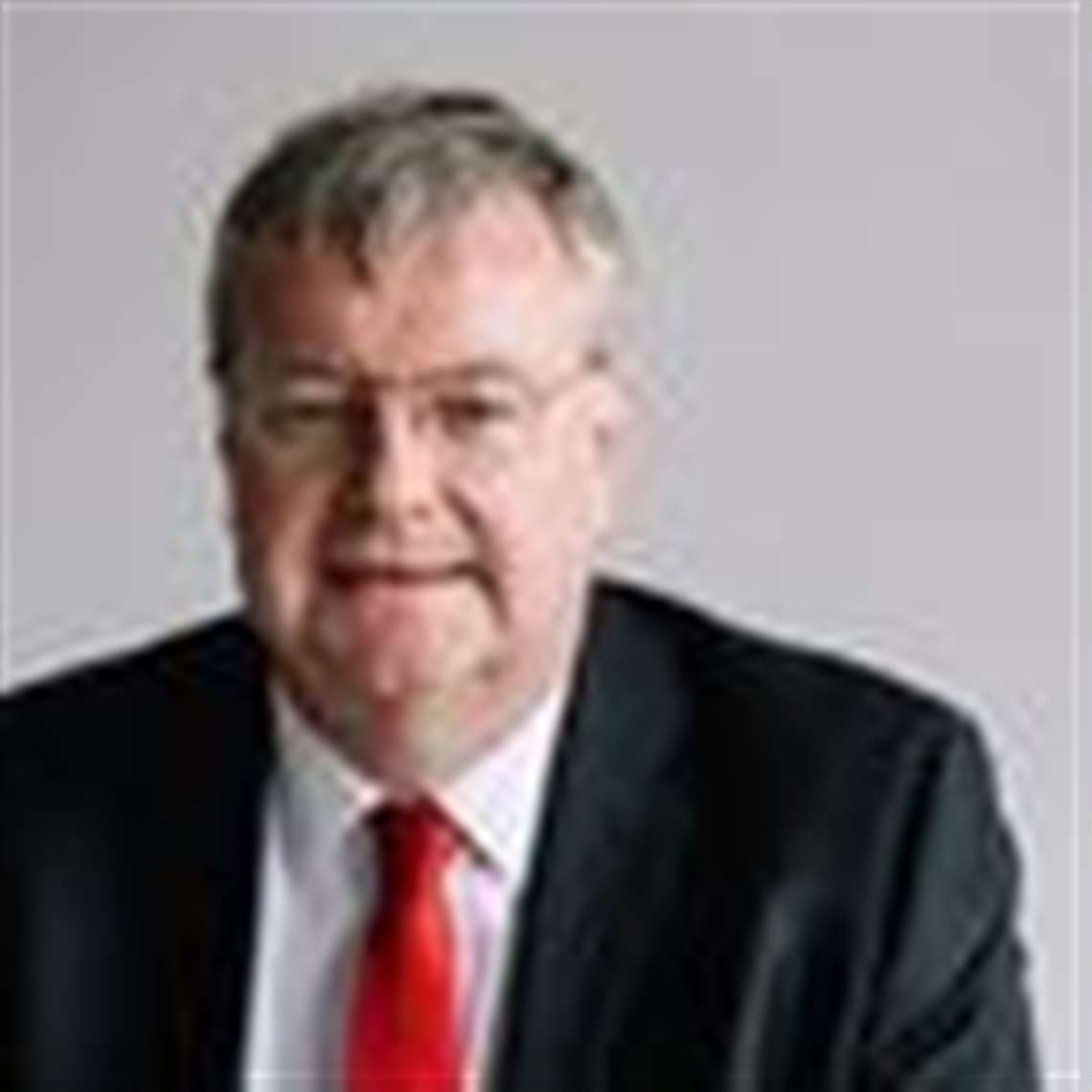 Steve Ducker
Editor, Demolition & Recycling International
Tel: +44(0) 1892 786 210
E-mail: steve.ducker@khl.com
CONNECT WITH SOCIAL MEDIA