Attachments sector's upturn in fortunes following Covid-19
D&Ri reports on how the attachments sector bounced back after the Covid-19 pandemic, and its current role in creating a more productive demolition and recycling industry.
Sean Heron, managing director with Worsley Plant, recalls when the attachments market in the UK started to emerge from Covid-19.
Worsley Plant is the UK distributor for brands as internationally diverse as MB Crusher of Italy, Dutch company Rotar and North America-based Montabert.
Heron said, "I thought 'We are in countdown time until we wind the company up' when it hit in March last year. It seemed the end of the world really. But we had a quiet week or two and after that, the phones began to ring, and they rang and rang."
"They never really stopped. From expecting terrible things to develop and wondering if we were going to make it to Christmas, it turned out that we actually had a bumper year.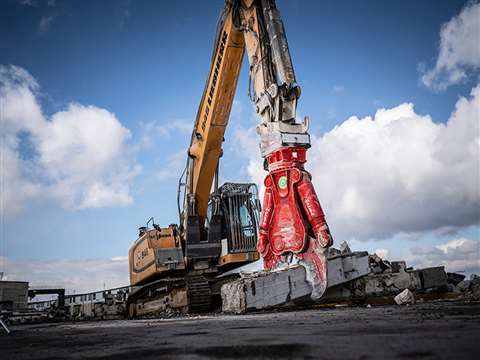 "The UK was a buoyant market for Rotar last year, as it was for MB Crusher. Other markets did drop and certain countries came to a standstill. It is not that we were doing anything special, we were just in that market sector where the demand was driven by the smaller companies.
"The demolition guys got hit hard, especially the larger firms who were working for the blue chips, because they all had to be seen to be abiding by the government line. But we were getting big demand from the groundworks people for our crushing and screening attachments.
"The skip guys were driving the business on grabs and hydraulic breakers, it was like growing a customer base by default."
"I think that the market in attachments is growing all the time. It is becoming more and specialised. If a buyer is looking for an attachment and he wants to buy, he wants to be advised correctly. He wants to know that he can get product, he can get back up, service.
"Operator comfort is a massive growth area, and it is going to grow because the scarcity is not the money, the scarcity is the guys driving the cab.
"I think owners are trying to get more from them during that time when they are at work. If they can get drivers to increase their output by buying the attachment, that is the path we see them going down. If you are going to make an investment, especially in the demolition sector, it requires fewer excavators doing the same volume of work.
"I hear it all the time from customers. On larger jobs they would have had six or seven machines on the demolition site, but now it is four or five maximum."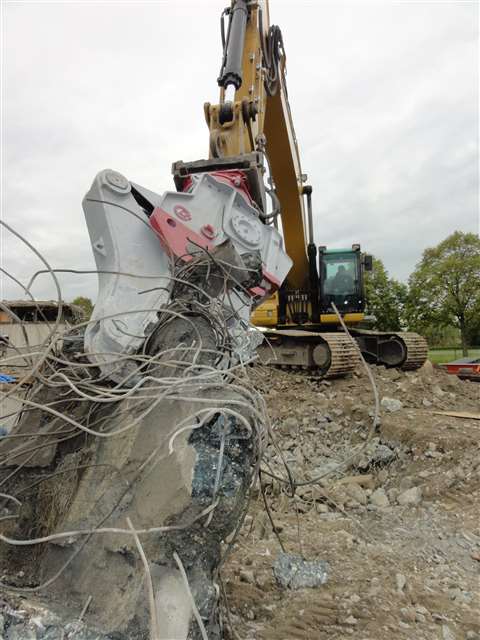 Demarec, one of the top manufacturers of equipment for the demolition and recycling industry, is also well placed to comment on changes in the market as it is celebrating its 20th anniversary in business this year.
Marcel Vening, the Netherlands-based company's managing director of marketing and sales, explained,  "The market has changed quite a bit in a couple of areas compared with 20 years ago. However, our vision has remained largely the same.
Adjusting and remodelling for Demarec
"We noticed that the market is becoming more and more price-centred, and that requires us to keep adjusting along the way."
Ruud de Gier, who set the company up alongside Vening at the start of this century, said: "In the past 20 years more competition has arisen, and that leads to price-centred selling. We have had to adjust our vision a little bit, even though we still focus on developing and delivering qualitative products with which we distinguish ourselves from the rest.
"Of course it can cost a little bit more, but the gap between us and our competition cannot become too large. It should remain affordable and sellable.
"Also, you can tell customers have become more critical. As now everything has to be right, from the cost price and the quality to the performance a product can deliver.
"We have all become more critical, which is very logical as parts can be bought over the internet and you are able to demand a certain service from a producer. That is quite a difference compared to back in the day and that is what we are focusing on more right now."
For both Vening and De Gier, the future is all about introducing innovative products to the market.
Vening added, "We do not work in an industry that is constantly moving at a fast pace. Our products have not been refined as quickly as, for example, mobile phones that have become indispensable over 10 to 20 years.
"In our industry we will turn our attention to dust production, vibrations and sound. These are some things that we are currently working on.
"The biggest challenge for us in the future is developing our tools with a better cost awareness. We have customers that spend a million euros on a machine, but rather opt for a cheaper tool that can cut 25 per cent less than ours.
"We always say that in the end, it is only about the tool. That challenge, to make people aware that investing in quality will provide you with better results, is one that will be on our minds over the next few years."
ALLU redefine their efficiency and sustainability goals
For Finland-based ALLU, recycling and sustainability are key to success as the industry and jobsites within it change. 
The company claims construction and demolition waste recycling is an industry issue and required when buildings are demolished and/or during the construction process. While the use of environmentally friendly construction materials has helped to reduce the number of materials simply being disposed of, rather than recycled, demolition and construction activities mean that a large amount of material must be dealt with.
Materials that are left over from the process must be sorted in some way, even if the material – inert – is being directly sent to landfill. This is because most landfill sites will not accept some types of material, and often require sorting into categories prior to disposal.
Traditionally this has meant that the material is sent to recycling centres resulting in haulage costs, charges to the recycling centres and then landfill costs themselves for materials that cannot be recycled or reused.

ALLU has developed its range of products to make construction and demolition businesses more efficient and productive when recycling. By using the company's equipment, they can process and reuse material on site, while ALLU Transformer screening buckets mean that there is no need to bring both a wheeled loader or excavator and a crusher or screener.
According to ALLU, despite the equipment being available to recycle waste, many construction and demolition companies do not handle the material processing themselves.
They either subcontract the recycling out to someone else, or it is simply hauled away to a recycling plant before most of the material is sent for landfilling. This is a serious cost for a construction and demolition company, and a waste of highly valuable materials.
An area where legislation is now requiring the use of recycled materials across the world is with respect to aggregates.  If waste material can be satisfactorily processed, then it can be turned into an aggregate for reuse and resale. If this can be done onsite then the entire operation becomes more efficient, as there is no need (nor cost) for hauling away material to a recycling centre for processing.
One such solution to dealing with waste at source is the ALLU D-Series or AC Crusher. The company says these attachments can crush soft and brittle material, separate hard unwanted impurities, while loading a dump truck or stockpiling system.
Xcentric promise maximum power
The experience of Spanish attachment specialist Xcentric is that clients from the most advanced are demanding crushers for their machinery when recycling onsite. Usually the types of machines that they use are skid steers, telehandlers and backhoes. Xcentric, in response to this demand, developed its first front crusher model – the XC5F.
The company explained that, during the development, the best balance was sought between maximum power offered by the excavator and greater input size capacity in the crusher. The result after intensive use of the crusher in all type of conditions was to make it possible to work with flow rates of 90 l/min and pressures ranging between 16 MPa and 24 MPa.
The material input capacity is 810mm x 360mm, which allows practically all the material to be ground in this type of work to be directly admitted by the crusher without having to previously reduce its size. Thanks to the dynamics of the movement of the mobile jaw, this crusher model supports crushing in two directions, "forward" and "reverse".
According to Xcentric, work in "forward" mode is suitable for dry material and larger pieces. Work in "reverse" mode produces clearly better results on wet material and especially on asphalt, keeping the jaws clean of material that sticks to them.
The change from "forward" to "reverse" is immediate from the joystick of the excavator, achieving with the combination of these working modes, under the operator's choice, a great performance in each cycle. The operator can easily choose the most suitable mode to grind and switch immediately if necessary.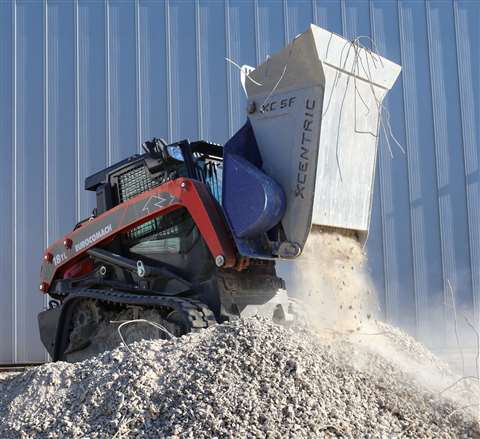 New machine hitch innovations from engcon
Swedish company engcon, a leading manufacturer of tiltrotators, has been known in recent years for excavators in the weight class over 6 t, enabling the coupling of hydraulic tools without the operator having to leave the cab.
The business said that it is also continually improving the flexibility, efficiency and safety even for smaller excavators. With the latest innovation, engcon's automatic quick hitch S40 is said to cover the entire range from 2 t to 40 t of machines. The new machine hitch will have the same safety features as the larger and earlier models in engcon's machine hitch programme.
To coincide with the launch of the new machine hitch, the EC206 tiltrotator has also been updated for excavators in the 4 t to 6 t weight class with a new tilt top that is adapted for engcon's automatic quick hitch system. This means that the driver can attach and detach the tiltrotator without leaving the cab.
Fredrik Jonsson, development manager at engcon Group, explained, "Being able to connect hydraulic tools without leaving the cab has recently become an increasing desire even for the smaller machines. The problem has been to fit all the smart technology in such small brackets, but we have now solved that in a good way," said
"It is noticeable that safety around excavators is getting higher and higher on the agenda, and especially with the problem of buckets that are dropped due to incorrect handling. These problems are minimised with our machine hitches/quick hitches and our smart locking system, ."
EC-Oil automatic connection of hydraulic, electrical and central lubrication is included as standard when purchasing a machine hitch, tiltrotator and engcon's control system. These make it possible to connect the tiltrotator or other hydraulic tools to the machine hitch without the need to leave the cab.
NEWSLETTER
Delivered directly to your inbox, Demolition & Recycling International Newsletter features the pick of the breaking news stories, product launches, show reports and more from KHL's world-class editorial team.
CONNECT WITH THE TEAM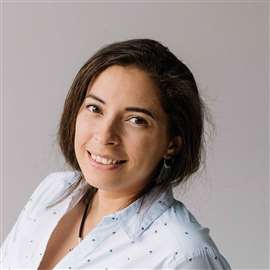 Leila Steed
Editor, Demolition & Recycling International
Tel: +44(0) 1892 786 261
E-mail: leila.steed@khl.com
CONNECT WITH SOCIAL MEDIA