A new world record for Safedem
By Steve Ducker15 February 2021
On 27 November 2020, at a height of 165.032 m (541.44 ft), the demolition of the Mina Plaza complex in Abu Dhabi, United Arab Emirates (UAE), set a new world record for the tallest building demolished using explosives.
The new world record for controlled demolition was achieved by Modon Properties (UAE) in association with Safedem, an international explosive engineering company based in Scotland.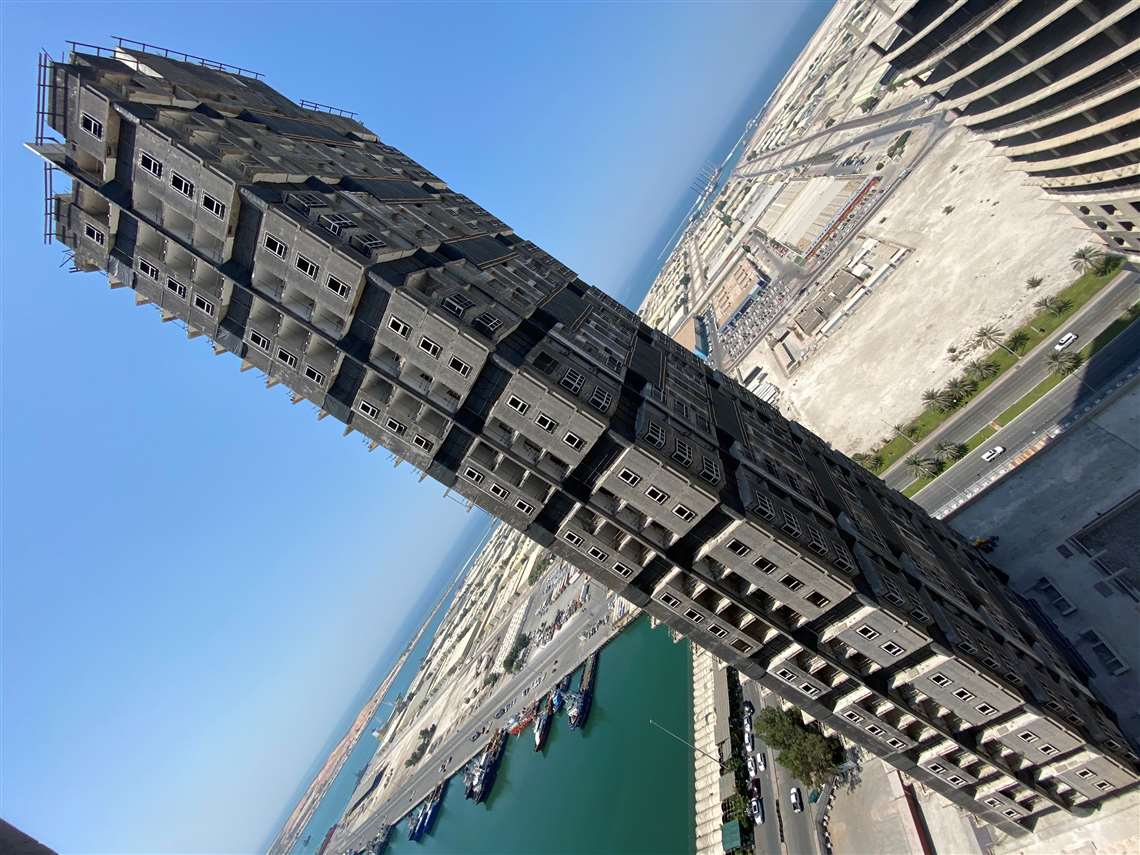 Modon Properties was set up in January 2018 as a real estate company developing integrated tourism destinations and sustainable communities.
William Sinclair, managing director and lead explosives engineer at Safedem, first surveyed the structures in June 2019, and immediately recognised the challenge ahead.
"The sheer scale of Mina Plaza was immense," said William.
"We were dealing with four huge tower blocks all built on top of a nine-storey podium structure that made this project extremely involved, to say the least."
Mina Plaza - seven years to buld and structures up to 50 storeys high
Mina Plaza took seven years to construct before being completed in 2015, with structures ranging from 27 to 50 storeys in height), all constructed on top of the podium.
Three of the tower blocks were residential apartment buildings and the fourth had been designed as a hospital and medical centre. The podium included car parking, retail and leisure facilities. The complex was built in reinforced concrete with pre-stressed floor slabs and select post tensioned structural members.
"Most high-rise structures we have demolished to date are 40, 50 or 60 years old," said William.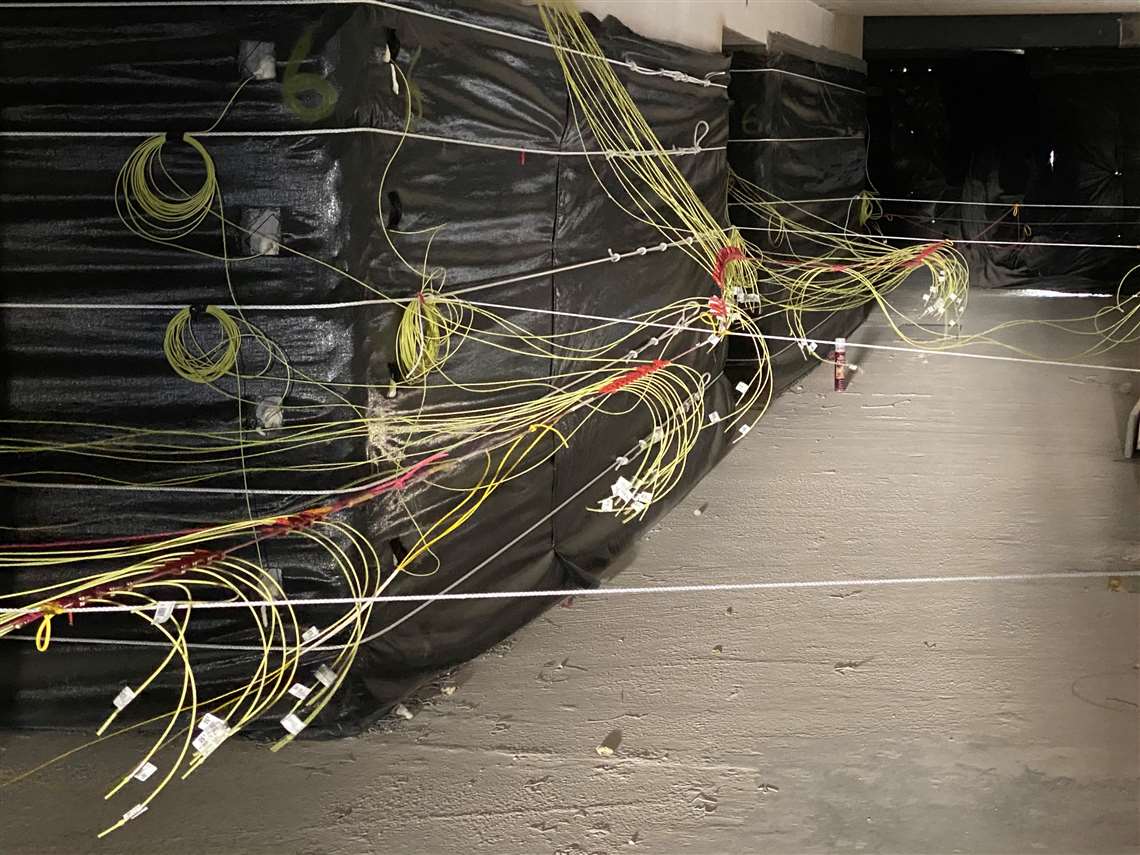 "Mina Plaza was designed and constructed in the last decade, using the latest construction techniques to maximise open floor plans with breathtaking views of the Gulf and Abu Dhabi Corniche. The structures and reinforcement were incredibly robust and the load paths through the structures were complicated.
"We had to undertake detailed structural analysis – more detailed than normal – and detailed engineering calculations to determine the collapse mechanism and our ultimate demolition design."
Safedem and structural engineer Effective Engineering put together the preparatory works
Following detailed structural analysis and surveys, the demolition design – including preparatory works, charge weight calculation, protection design, collapse mechanism and delay sequence – applied at Mina Plaza was fully developed and designed by Safedem and its structural engineer Effective Engineering, a company with whom it has worked for more than 25 years.
William Sinclair explained: "When it comes to engineering input and temporary works design, we needed to be sure that the preparatory works were safe and robust for our employees to work within the structures, but when I pushed the button, the design also had to ensure a safe and controlled demolition."
"The relationship and experience built up with Effective Engineering was invaluable when we took down Mina Plaza."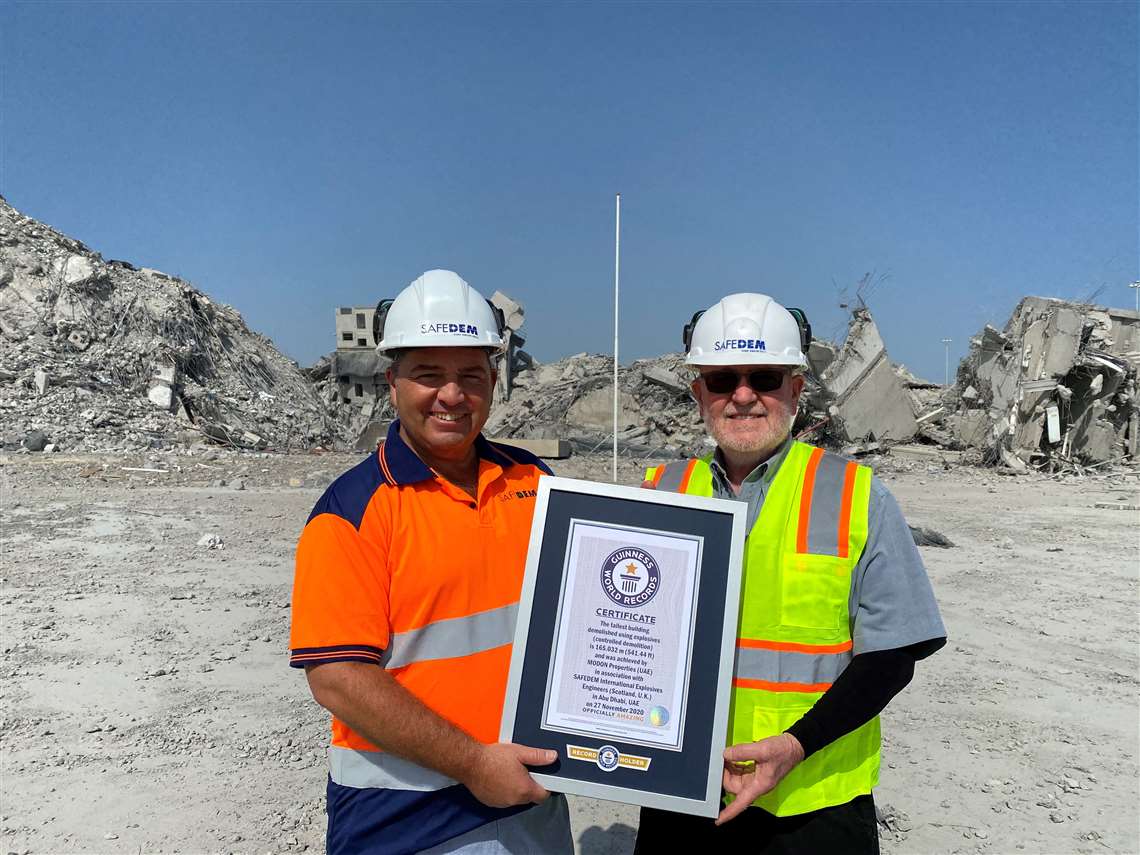 To present Safedem's demolition proposals to Modon and the Abu Dhabi authorities, Safedem approached Applied Science International (ASI), which subsequently constructed a detailed model and simulation of the collapse of the combined towers that was used to validate Safedem's design in advance of demolition. The model portrayed how the structures would react during the collapse and confirmed Safedem's proposals would result in a safe and effective demolition of the buildings and that the resultant debris piles would be contained within the required drop zone.
The delay sequence that would ultimately control the bias and direction of collapse ranged from 25 to 8,000 milliseconds.
To better control the rate of collapse and maximise the break-up of the structures, Safedem elected to place explosives on 51 of the 144 floors being demolished.
The delay sequence and break-up of the structures through collapse were designed to minimise ground vibration and air over pressure levels arising from the demolition.
The highest ground vibration readings were recorded at approximately 50 m (164 ft) from the base of the structures and measured less than 10 mm/sec, which is significantly below any trigger levels for damage to nearby assets or infrastructure.
Over 16,000 individual non-electric delay detonators were installed in shot holes to initiate emulsion type explosives and detonating cord of various explosive strengths.
Detonation velocity
With typical temperatures in Abu Dhabi over 37° (100°F), the emulsion type explosive – manufactured in Saudi Arabia – was selected for its high detonation velocity properties and stability in extreme temperatures.
It was the first time Safedem had used this product but test blasting on replica columns soon confirmed the product a suitable substitute to nitroglycerin-based materials typically used in both the USA and the United Kingdom.
Over 250,000 m (820,000 ft) of shock tube and detonating cord were installed throughout the structures, and a total explosive charge weight of nearly 6,000 kg (13,227 lb) was used to bring the structures down.
"Every explosive demolition project requires a bespoke approach." William added.
"Of course, the technical and explosive engineering elements require detailed consideration, but each and every explosive project is unique according to its locale and environment."
At Mina Plaza, Safedem introduced the local project team to procedures developed on previous safe and successful demolition projects delivered in the United Kingdom for clients such as Dundee City Council, Glasgow Housing Association and Sanctuary Housing.
"The Safedem template, including structured planning and co-ordination meetings, and the development of a blowdown manual for the day of demolition, were all elements that we recommend to all our clients and local stakeholders," William said.
According to Safedem, all stakeholders were supportive and engaged from the first meeting, and the collaborative approach underpinned and ensured the success of the project from planning through to blowdown.
Safedem and its client Modon turn to video conferencing to progress the project
With a UK-wide lockdown imposed in March, and international travel effectively suspended, the Safedem and Modon teams turned to video conferencing to communicate and monitor the preparatory works.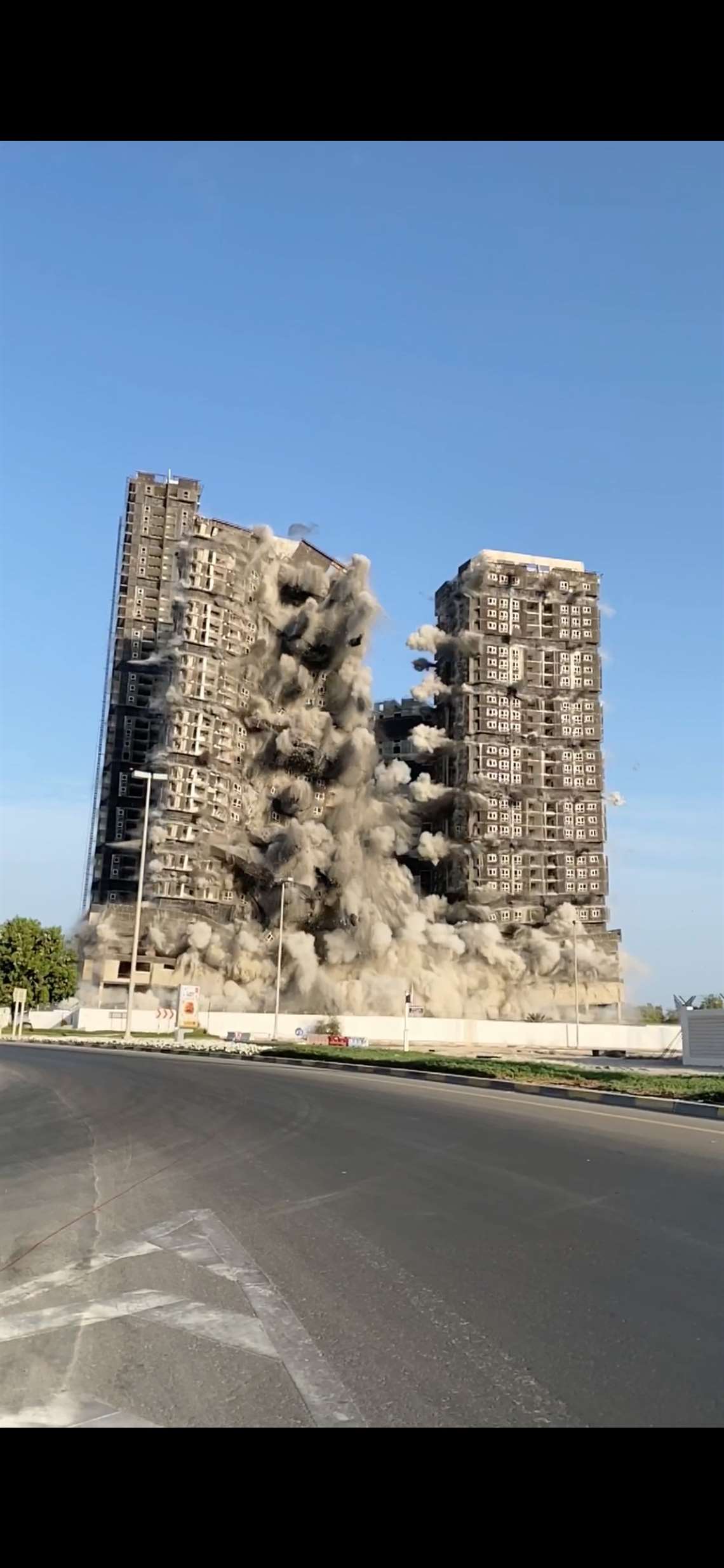 William Sinclair recalled: "Being unable to attend site for over six months was a concern, and I confess that I was not sure what I would be faced with when I eventually managed to return to Abu Dhabi in September.
"I had no need for concern. Thanks to the professionalism and diligence of the Modon team on site, I was delighted to find the site preparatory works had been delivered to the very highest standards."
A few weeks later, in October and with daily temperatures having dropped to around 30°C (the high 80s Fahrenheit) a team of eight Safedem explosive specialists arrived to join William on site and to charge the structures over a six-week period.
To facilitate the charging operations and to meet the programme the explosives were delivered every two days with the guidance and support of the Ministry of the Interior and the Abu Dhabi Police.
The previous record for the tallest building demolished by explosives had stood since 1998 for the Hudson Department Building in Detroit, USA, at just under 134 m (439 ft).
Following a site visit by Guinness World Records independent surveyors and third-party verifiers, the record height for Tower 1 at Mina Plaza was confirmed.
On completion of all scheduled safety checks, and as scheduled at 8 am on 27 November 2020, Guinness World Records verifier Danny Hickson, along with thousands of onlookers, witnessed the explosive demolition of Mina Plaza.
Article first published in the January-February issue of Demolition & Recycling International
NEWSLETTER
Delivered directly to your inbox, Demolition & Recycling International Newsletter features the pick of the breaking news stories, product launches, show reports and more from KHL's world-class editorial team.
CONNECT WITH THE TEAM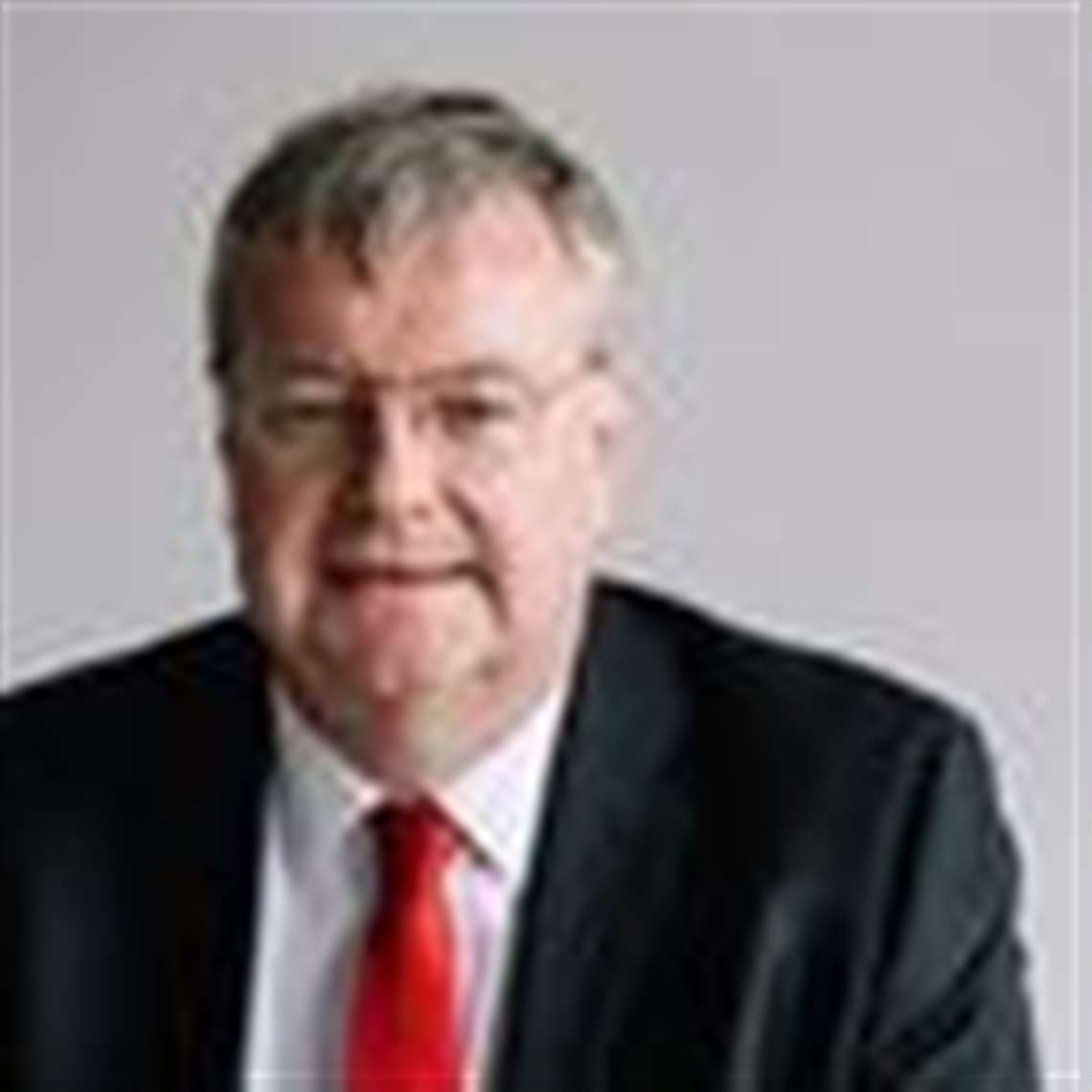 Steve Ducker
Editor, Demolition & Recycling International
Tel: +44(0) 1892 786 210
E-mail: steve.ducker@khl.com
CONNECT WITH SOCIAL MEDIA