A major bearing on bridge maintenance
Motorway traffic is thundering by a couple of metres above, but the sound of 40 t trucks is being drowned out.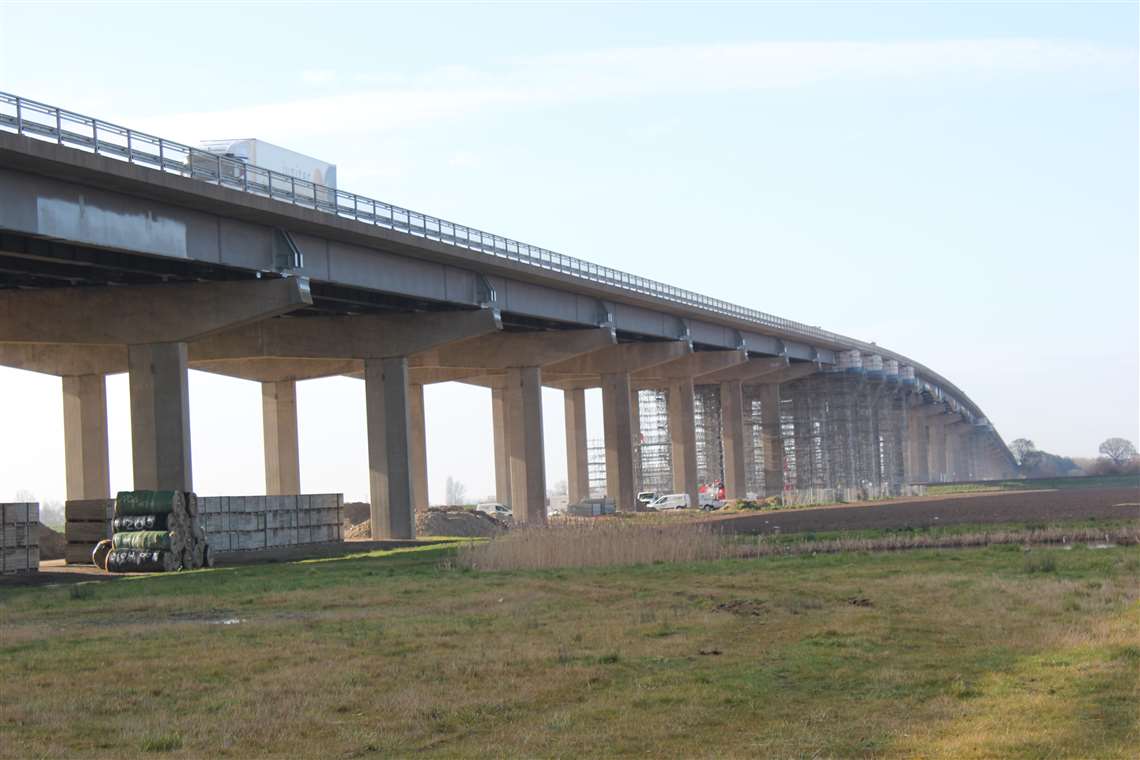 With a whoosh, crack and a roar, a water jet is removing rock-hard material holding firm a bearing under one of the United Kingdom's longest bridges.
The impact of water leaving a jetting gun's nozzle at supersonic speed looks as ferocious as it sounds.
Water is flying in all directions accompanied by hundreds of shards of material that bounce around like ricocheting bullets.
Some of it fires straight back at the water jetting operative standing almost immobile in the middle of a man-made storm.
What looked like a scene of chaos was, in fact, a way to support essential maintenance work needed on the Ouse Bridge across the M62 motorway in Yorkshire in the north of England.
Highways England's principal contractor A-one+ needed to replace 208 bearings under the 1.6 km (one mile) long bridge.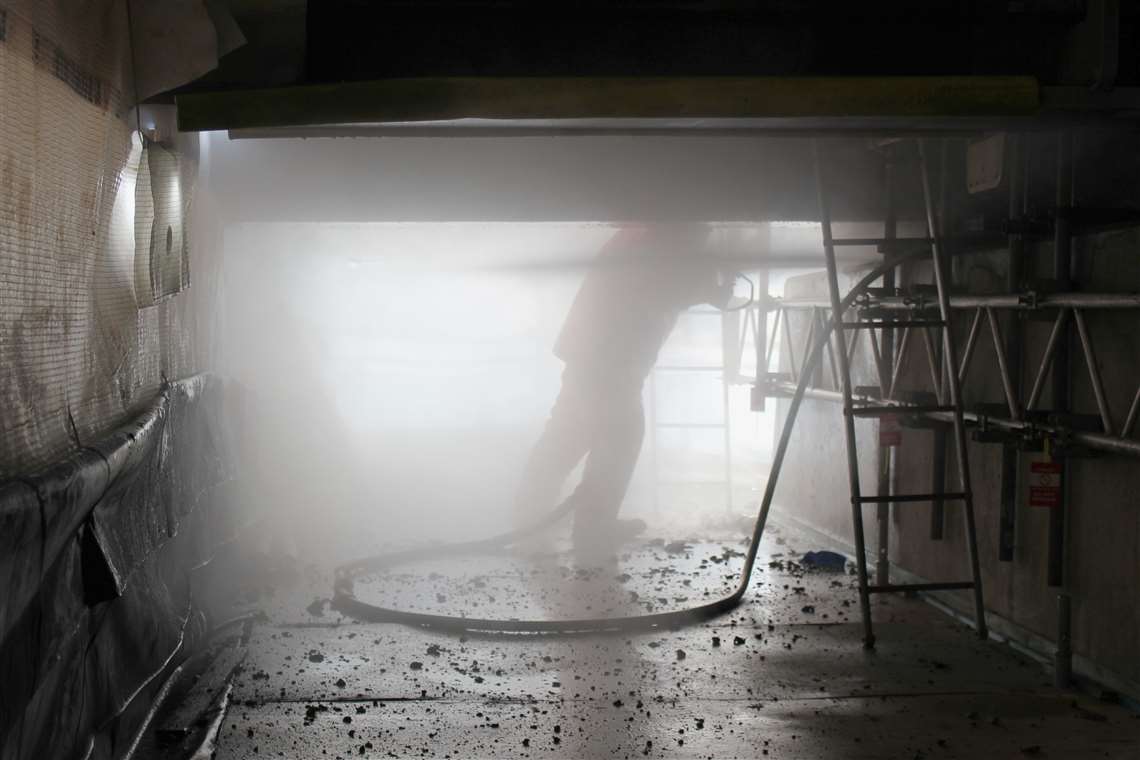 It commissioned specialist sub-contractor Freyssinet, supported by its subsidiary, Aquaforce Concrete Services, to carry out the work.
Aquaforce, based in Telford, Shropshire, and a member of the UK's Water Jetting Association (WJA), carried out hydrodemolition to undermine and release each bearing. Freyssinet engineers could then remove them and install new ones.
Supporting maintenance
The success of the 18-month project has demonstrated the advantages of hydrodemolition in supporting maintenance tasks on bridges.
Its advocates say it has almost none of the hand arm vibration (HAV) risks of mechanical tools, like jackhammers. Likewise, it causes no vibration damage to the structures being worked on.
Particles released are held within water, so there was less risk of dust pollution or a highway visibility hazard.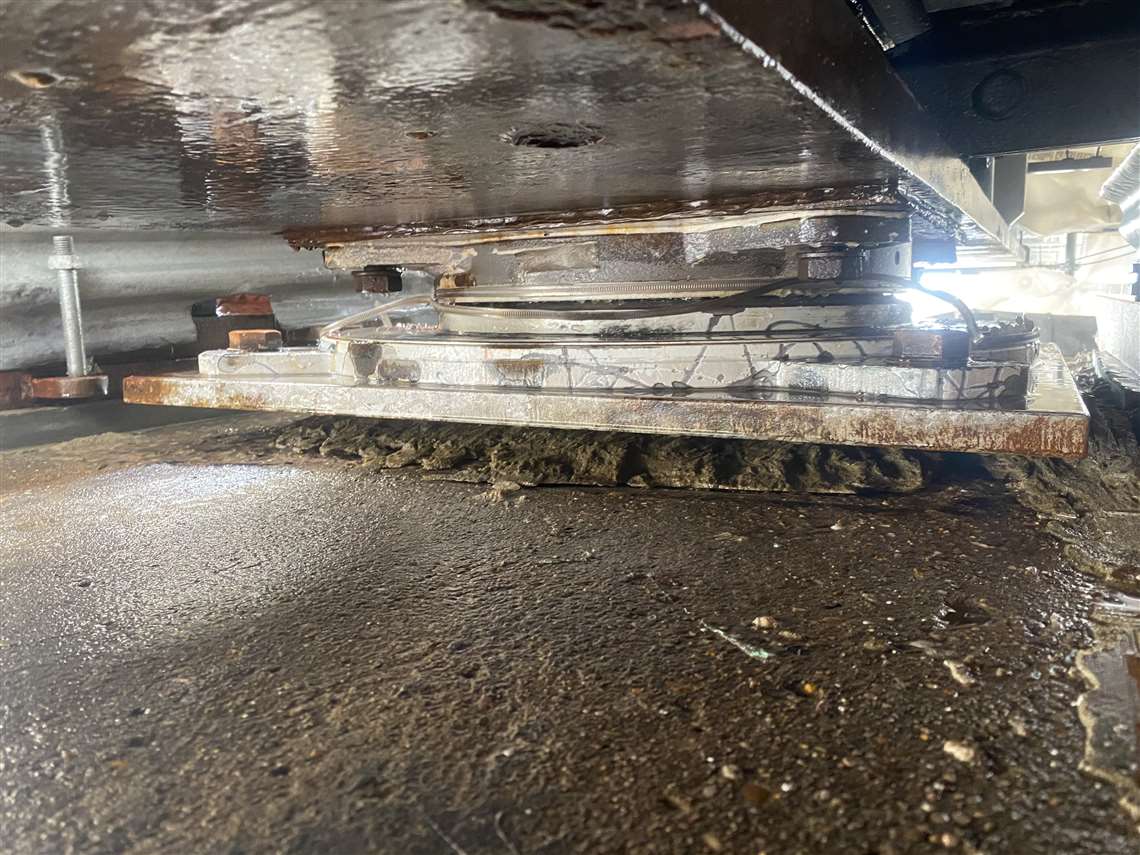 They add that hydrodemolition can also be carried out with significant precision, and only the minimum amount of material needs to be removed.
Structures that need to be retained, like rebar, are not damaged, and surfaces need little further preparation before being reworked.
"The project has been a great success and demonstrated our ability to work together with colleagues in Freyssinet and A-one+ to overcome any technical challenges," said Gavin Thomas, Aquaforce general manager.
"High pressure water jetting was the fastest, safest and most precise way to release the bearings so played a significant part in the project's success."
Plate and girder
The Ouse Bridge is a reinforced concrete plate and girder bridge that carries the M62 across the River Ouse between Goole and Howden in East Yorkshire.
It was built between 1973 and 1976 by Costain and was designed by Scott Wilson Kirkpatrick & Partners. The bridge was officially opened to traffic in May 1976.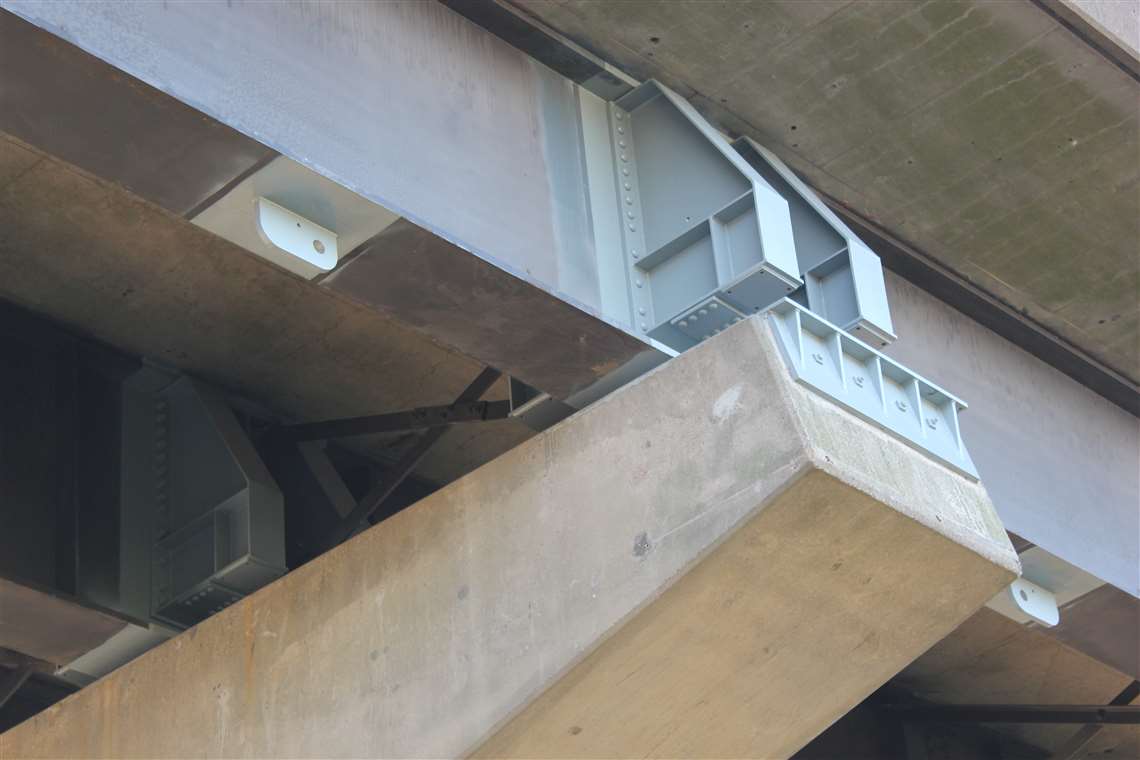 The maintenance programme, between January 2019 and May 2020, involved replacing 208 bearings located on 26 of the bridge's 30 piers.
The bearings allow the bridge sections to flex and move to prevent vibrations caused by vehicles using it from stressing and damaging the structure. Over time, though, they can seize up and need to be replaced.
Working on behalf of Highways England, A-one+ also wanted to install the latest remote sensing devices installed to monitor the structure.
Simultaneous working
Under the work programme, bearings were replaced on successive piers working simultaneously from both ends of the bridge towards the centre.
Freyssinet teams used a system of hydraulic jacks with a maximum capacity of 8,000 t to simultaneously lift bridge sections a maximum of 3 mm, unloading the eight bearings beneath each girder without hindering traffic.
Aquaforce could then deploy two water jetting teams to carry out the hydrodemolition.
They worked one week every month in day shifts, Monday to Friday, aiming to release the eight bearings on each pier every week.
Each team had four personnel – two water jetting operatives, a third man and a pump operator.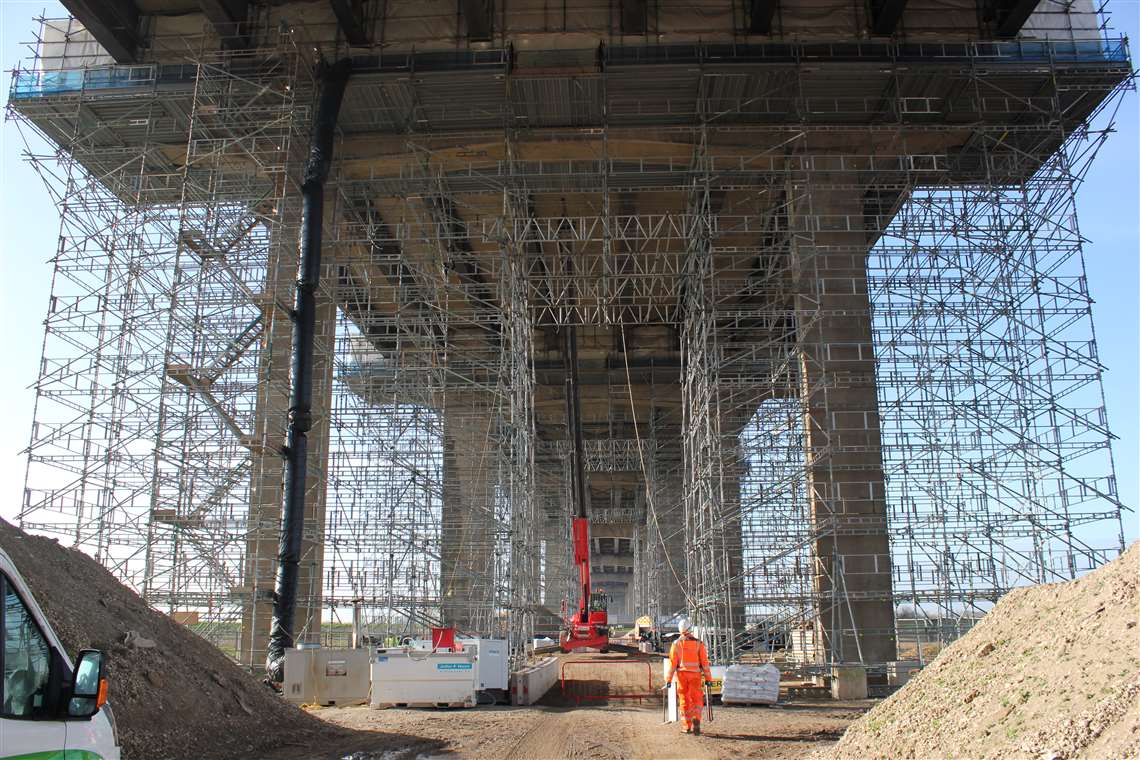 Since water can cause fluid injection injuries, where a jet pierces skin, at pressures as low as 7 bar or just over 100 psi (6.89 bar), the operatives wore appropriate water jetting PPE (personal protective equipment), including body suits, gauntlets, and visors.
Also, in accordance with Aquaforce health and safety procedures, aligned with WJA codes of practice, all operatives were trained and qualified.
"All our water jetters undergo WJA's accredited training, which is augmented by our own induction and ongoing training programme," said Gavin Thomas.
Two 26.5 t tankers supplied fresh jetting water from a nearby Yorkshire Water metered hydrant and disposed of wastewater produced. Aquaforce used Calder MultiJet 120 trailer-mounted high-pressure water pumps and handheld jetting guns operating at an average pressure of 17,000 psi (1,100 bar) at a water flow rate of 48 l/min (10.6 gal/min).
This meant each team used approximately 10 cu m (353 cu ft) of water per shift. Water jetting operatives working alternatively one hour on and one off to reduce fatigue.
Wastewater was collected in bunds beneath each pier and directed through Siltbuster filtration and pH balancing units to storage tanks. It was then tankered off site to a Yorkshire Water treatment works at Hull.
Key challenge
A key challenge over the course of the programme was the differing durability and volume the material the teams encountered.
"We were working on three main types of material, concrete, resin and grout and each one responded differently," Gavin Thomas explained.
"Resin was much harder. We assume it had been used during previous smaller scale bearing replacement schemes. The shorter curing time for resin makes the process less disruptive to traffic.
"With resin, bearings could take twice as long to release. But with concrete there could be more material to remove."
With the bedding material removed,Freyssinet engineers could install new bearings, along with sophisticated remote monitoring equipment.
In line with current design codes, the bearings were designed so they could be taken out without removing cast-in upper and lower load plates.
They also installed jacking brackets as part of betterment works to facilitate future deck jacking.
The Water Jetting Association
The WJA represents water jetting contractors, manufacturers, hirers, training providers and water jetting users – and 2020 is its 40th anniversary year. It has two codes of practice – the Blue Code for use of high-pressure and ultra-high pressure water jetting equipment and the Red Code, for water jetting in drains and sewers – setting internationally-recognised standards for safety and productivity. It is also the UK's largest water-jetting training provider. City & Guilds-accredited courses are delivered by registered training providers and approved instructors. For more details please visit www.waterjetting.org.uk
Article originally published in the November-December 2020 issue of Demolition & Recycling International
NEWSLETTER
Delivered directly to your inbox, Demolition & Recycling International Newsletter features the pick of the breaking news stories, product launches, show reports and more from KHL's world-class editorial team.
CONNECT WITH THE TEAM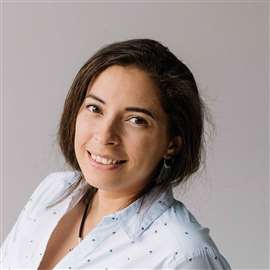 Leila Steed
Editor, Demolition & Recycling International
Tel: +44(0) 1892 786 261
E-mail: leila.steed@khl.com
CONNECT WITH SOCIAL MEDIA