World Demolition Awards shortlists - Urban Demolition under $10 million
Coleman Group
Country United Kingdom
Project Coventry Point
Client Coventry City Council
In February 2019, The Coleman Group were appointed as principal contractor and designer, for demolition of a vacant multi-storey twin tower office block in Coventry, United Kingdom.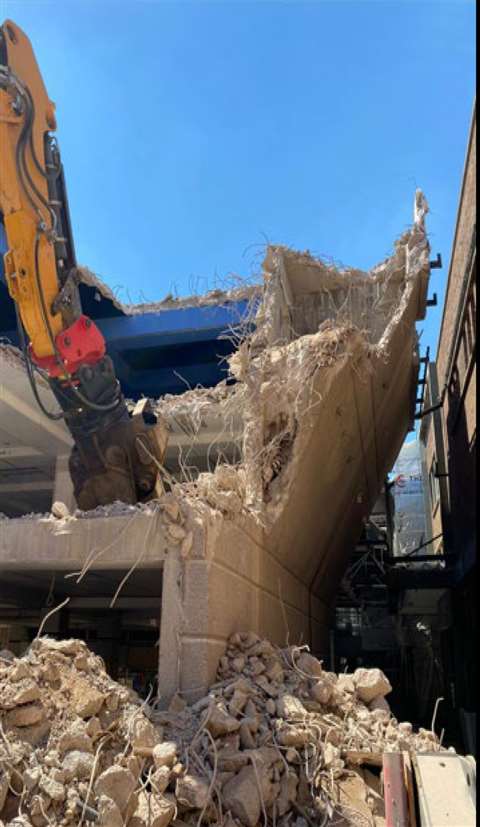 Consisting of two precast concrete clad towers with construction above the third storey to roof pre-cast concrete framing of columns, beams, walls, and floor planks connecting both blocks at each floor by a glass walkway with three-storey "plinth" section constructed from in situ reinforced concrete including walls, floors, beams and columns depths between 350 and 500 mm (13 and 19 in) thick and an open overhead walkway connecting the roof of this section to a nearby multi-storey car park (MSCP) with the tower peripheries cantilevered and projecting over pedestrian areas on all sides.
Coventry Point was in a key strategic position in the heart of the main shopping district of the city. In a largely pedestrianised area of the city with busy shops on all elevations, a public MSCP to the east of the site. In addition, residential apartments located above some of the shop units accommodated foreign students studying at Coventry University, 5 m (16 ft) from Coventry Point Structure.
Coleman completed the design and demolition including mechanical and electrical decommissioning, asbestos removal, hazardous material removal, soft strip, engineering analysis and demolition/deconstruction of the two blocks joined by glazed link bridges, removal of ground obstructions, backfilling and reinstatement for future development.
The project was delivered to budget and on programme without any major accident or incident.
Flesan Demolition
Country Chile
Project Demolition of former Servet clinic
Client Confuturo Insurance Company
The demolition project of former Servet Clinic was on the corner of Pérez Valenzuela with Almirante Pastene streets, in the Providencia division of Santiago.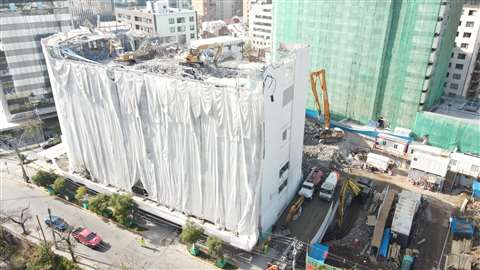 Surrounded by narrow streets, residential buildings, commercial premises a street from Providencia Av., this is an important area of the city.
Built in reinforced concrete with metallic structures of different heights and dimensions, it had an 11-storey, 40 m (131 ft) building with five underground levels, and another eight-storey building that was 27 m (88 ft) high with three underground levels.
During the early stage, demolition planning, it was expected to have all permits to begin works  in the area. In addition, layouts were revised and site identification was performed to determine sequence and control measures.
After non-structural elements removal, manual dismantling of metallic structures began along with undergrounds demolition. Then, Cat 345 CL long reach arm excavators with shears for concrete were lifted to the highest floor for layered demolition towards lower levels.
Also, 40 to 50 t excavators were used for demolition at street level, finishing with the demolition of foundations with hydraulic hammers.
The last step of the process was the ongoing debris removal that could not overload slabs nor remain scattered on site. Its removal was performed on authorised dumps prior to coordination with demolition.
Mann Group
Country Australia
Project The Malt Stage 2 Silo Demolition Package
Client Probuild Construction
The Mann Group believes the Malthouse Silo project was one of a kind. When it was approached by the client for a tender workshop meeting, the client said traditional demolition methods would not work and Mann needed to think outside the box, considering all the commercial and environmental conditions and restrictions.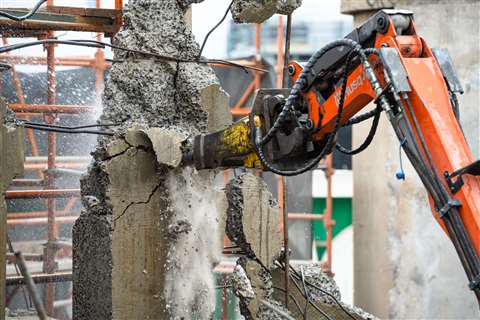 Mann put together over 200 years of demolition experience from multiple branches (Melbourne and Sydney) of senior management, site managers, operators and labourers. It adopted a Venn diagram concept to eliminate each single restriction with at least three solutions and was then able to apply this brainstorming method multiple times with an outcome that was not only financially feasible but safe for employees and the public.
Internally this project has gelled and strengthened employee relationships through the different branches as the new demolition concept was something for everyone involved to be proud of.
The project was successfully completed on time.
Priestly Demolition
Country Canada
Project Hotel 89, 89 Avenue Road, Toronto
Client Armour Heights Developments
The demolition of 89 Avenue Road in Toronto (Hotel 89) was one of the most challenging urban demolition projects that Priestly has undertaken in recent years.
Completely surrounded by active neighbouring buildings and the busy roadways of Avenue Road, there there was literally no room for error during the demolition.
There were many different design facets Priestly chose to implement on the project to combat the constraints posed by the challenging demolition.
These designs and strategic planning aided in facilitating each phase of the project.
Material egress, access, dust control, proximity to neighbouring buildings, active roadway and pedestrian walkway, protective measures and screening required were some of the many challenges faced on this complete demolition project.
Combatting these elements to demolish the nine-storey building without incident was a successful undertaking to which the Priestly team can thank all members of the crew, operations team and engineering for their attention to detail.
This achievement took place while remaining within budget and on schedule.
Rosenlund Contractors
Country Australia
Project Brisbane CBD Multiple High-Rise Demolition
Client Charter Hall Investments
Rosenlund Contractors was chosen as principal contractor to demolish four high-rise buildings in the Brisbane central business district.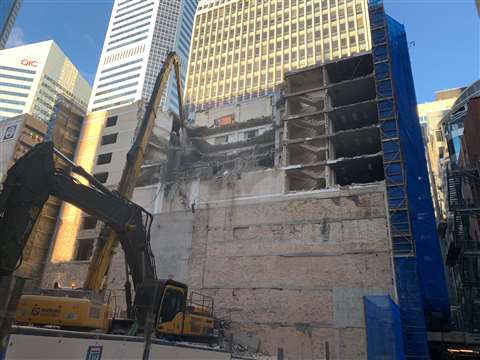 These concrete and steel structures were built in the 1970s. As such, they were also heavily contaminated with friable and bonded asbestos which Rosenlund remediated prior to demolition works.
Approximately 60,000 cubic metres (2.1 million cu ft) of buildings were demolished using multiple means of demolition including craning, high reach, top-down and traditional demolition techniques.
It was a complicated demolition requiring co-ordination between multiple teams and trades to complete.
The project had a Greenstar rating requirement to recycle a minimum of 90% of all generated waste. The works generated nearly 26,000 t of waste, of which over 96% was recycled.
Innovative aspects of the demolition included using cantilever scaffold to protect adjacent lower buildings while beginning top-down demolition works and engineering a specialized arm to allow for a 12 m (39 ft) reach by a 12 t excavator which also aided in conducting works to remove an asbestos mastic between buildings during a top down methodology.
The project took a year to complete including the remediation of inground contamination a nd213 workers were inducted to site. A total of 37,956 project hours were worked with no lost time injuries.
At the project height approximately 40 workers were on site amongst multiple trades that had to be managed on multiple fronts. The works were completed on-time and on budget with no health and safety incidents.
NEWSLETTER
Delivered directly to your inbox, Demolition & Recycling International Newsletter features the pick of the breaking news stories, product launches, show reports and more from KHL's world-class editorial team.
CONNECT WITH THE TEAM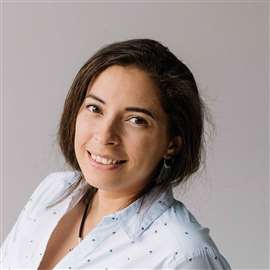 Leila Steed
Editor, Demolition & Recycling International
Tel: +44(0) 1892 786 261
E-mail: leila.steed@khl.com
CONNECT WITH SOCIAL MEDIA