6 hydrodemolition questions for Aquajet's Richard von Harpe
Hydrodemolition is a concrete demolition technique that uses high-pressure water to remove sections of damaged or old concrete. It has been used for decades in Europe and Asia, and has recently gained popularity in North and Latin America.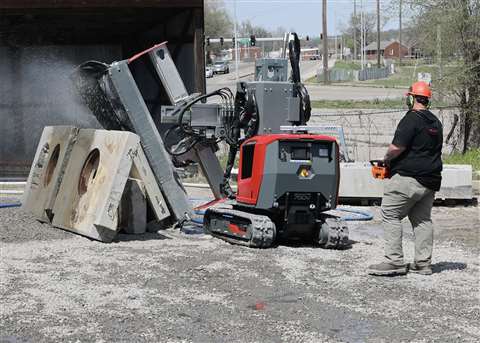 Contractors use hydrodemolition for concrete repair projects on roads, bridges, dams, parking lots, buildings, and other concrete structures. The technique has become very popular due to its efficiency and effectiveness in selective removal, resulting in more precise, high-quality repairs.
Furthermore, hydrodemolition has been described as a safer and more environmentally friendly option compared to traditional demolition methods. It does not produce dust and reduces noise and vibrations.
It is important for contractors to learn about this technique and consider using it on their projects to increase efficiency on the jobsite and improve the quality of concrete repairs.
Which is why Construcción Latinoamericana spoke with Richard von Harpe, area manager of Latin America and the Caribbean for hydrodemolition equipment manufacturer Aquajet, to learn more about these techniques and what a company like Aquajet offers to the market.
What are the latest advances in hydrodemolition equipment?
We introduced the Aqua Cutter 750V at World of Concrete 2022 and brought never-before-seen technology to hydrodemolition.
The new model launched Aquajet's revolutionary patented Infinity oscillation. It moves the water jet in an infinity — or Figure 8 — pattern that removes more concrete in a single pass to boost efficiency. Furthermore, it reduces shadowing, eliminating the risk of pipe holes caused by inconsistent lance speed during concrete removal that can compromise the bond.
The 750V also features the next-generation Evolution 3.0 Control System that includes a multitude of new functions. This technology offers the ability to automatically calculate optimal settings for lance motion, allowing greater precision and efficiency.
Like all other Aqua Cutters, the 750V cleans and descales rebar without causing microfracturing — minuscule cracks in sound concrete that are detrimental to its integrity.
How does hydrodemolition technology improve safety and efficiency in the construction industry?
Safety is critically important in the construction industry. Hydrodemolition takes less of a physical toll than wielding a jackhammer since users remotely operate robots from a safe distance.
Hydrodemolition also virtually eliminates harmful silica dust that results from impact demolition. Constant exposure to silica dust can have adverse long-term health effects, including silicosis, which results in permanent lung damage and can even be fatal.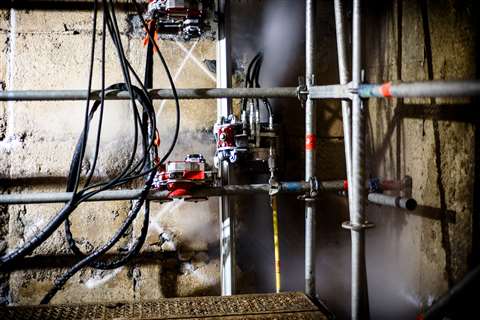 The Aqua Cutter's remote operation is another significant stepping stone toward achieving worksite safety.
Take the Aquajet Ergo, for instance. The Ergo excels at close-quarter hydrodemolition projects due to its compact size.
Operators can deploy the Ergo to demolish a concrete slab in a pit, for example, and avoid flying debris by controlling the machine from a safe distance on the ground above the work area.
Hydrodemolition offers these safety benefits while being up to 25 times more efficient than hand tools and requiring less labour.
Each project can be accomplished with a significantly smaller crew than manual demolition work since the machine can be operated by one person.
Once contractors take the leap and invest in hydrodemolition equipment, they see how the machines finish projects with vastly improved productivity.
What are the emerging trends in the hydrodemolition Industry and how are companies adapting to them?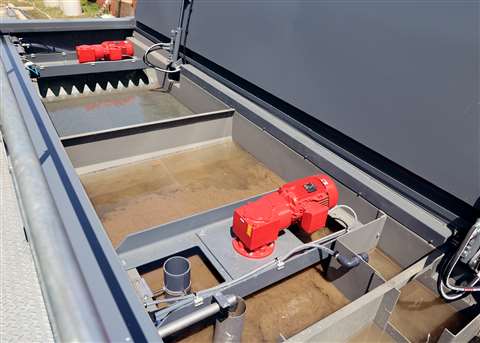 Around the world, we are seeing hydrodemolition specified more and more for concrete restoration projects, such as road and bridge repairs, opening greater opportunities for contractors.
Hydrodemolition is also being used in new ways that go beyond flatwork.
It can be used for projects that include hard-to-reach or awkward spaces like pillars, underwater work and removing the coating from a metal pipe or inside a cargo ship. It is exciting to see the new, creative ways contractors are using hydrodemolition beyond concrete work.
Water is always a discussion point in hydrodemolition, especially today as contractors adhere to globally evolving environmental regulations.
We offer a fully automated water treatment system — the EcoClear — that allows contractors to treat water on-site and recirculate it to reduce the amount of water needed for the project.
Furthermore, the EcoClear neutralizes the pH and removes suspended solids, ensuring it is safe to release back into the environment.
What is the current demand for hydrodemolition services in the Latin American market?
It is still a non-traditional method, so demand is continuing to build.
We have, however, seen a need in the market to implement this technology as contractors want to improve efficiency and be more productive.
They have realised that hydrodemolition equipment can conquer projects in a more profitable, safe and efficient way than traditional methods.
How have regulations and environmental considerations affected the hydrodemolition industry in Latin America?
Because hydrodemolition is still a fairly new method here, Latin America uses regulations from the United States and Europe as guidelines. In the US, for example, how to properly deal with wastewater is a prominent talking point.
We have seen these guidelines reflected in the Latin American market.
NEWSLETTER
Delivered directly to your inbox, Demolition & Recycling International Newsletter features the pick of the breaking news stories, product launches, show reports and more from KHL's world-class editorial team.
CONNECT WITH THE TEAM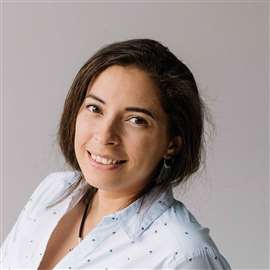 Leila Steed
Editor, Demolition & Recycling International
Tel: +44(0) 1892 786 261
E-mail: leila.steed@khl.com
CONNECT WITH SOCIAL MEDIA